Pantone Color of the Year is finally here! This is the moment we've all been waiting for; The Pantone Color Institute has just officially announced that the Pantone Color of the Year for 2023 is Viva Magenta.
The color, which Pantone describes as "vibrating with vim and vibrancy," is a natural from the red family and signals renewed strength. Exactly what we need as we enter the new year ahead.
So, What Is the Pantone Color of the Year 2023?
Many think that the color of the year 2023 is pink, like Barbie pink, a millennial, valentine, or baby pink. It's a blush – or "shades of deep red" – that the brand describes as "an unconventional red for an uncommon time." It introduced the world to what Pantone defines as "The Magentaverse," a nod to Mark Zuckerberg's Metaverse and color that cuts across digital and physical environments.
Here is Pantone's announcement for Color of the Year 2023: "Harnessing the experimental spirit of Viva Magenta, Pantone explores the dynamics between Artificial Intelligence and human creativity to create publicly available "The Magentaverse" for the first time. PANTONE 18-1750 Viva Magenta writes a new narrative. Bold and fearless, a pulsing color whose joy encourages optimism and joy. Powerful and empowering, this is an animated red that encourages experimentation and self-expression without boundaries, an electrifying, borderless color that's visible "out there" and a statement that stands out. Bold, witty, and all-inclusive, PANTONE 18-1750 Viva Magenta welcomes anyone and everyone with that same rebellious spirit.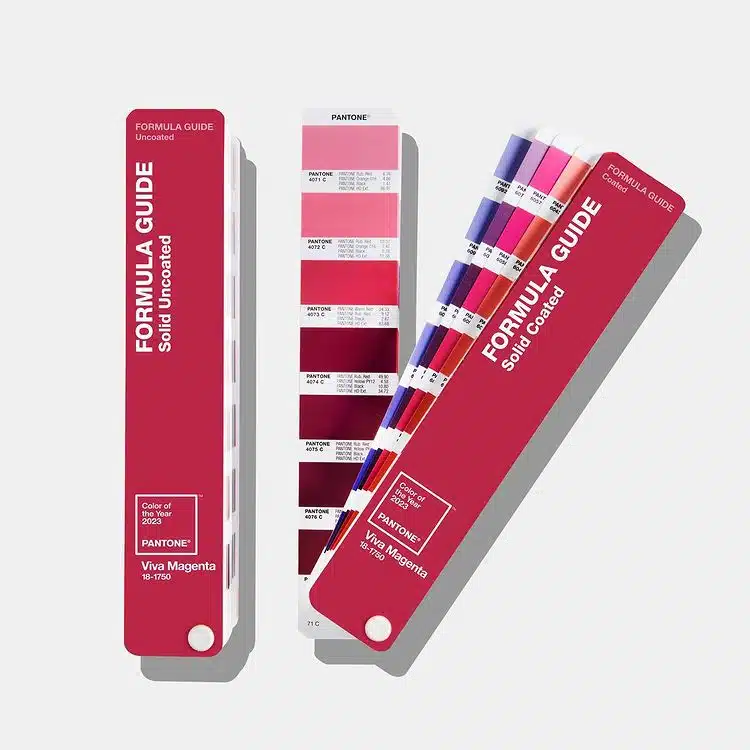 A crimson red tone that strikes a balance between warm and cool, PANTONE 18-1750 Viva Magenta is also a color hybrid, comfortably straddling the physical and virtual, evocative of our multidimensional world. Firm but not aggressive, this deep red doesn't overbearingly dominate but takes a "fists in velvet gloves" approach. Exuding dynamism, PANTONE 18-1750 Viva Magenta is a transformative red tone capable of driving design to create a more positive future."
According to the executive director of the Pantone Color Institute, Leatrice Eiseman, it's time for another red-based Color of the Year. Red has undoubtedly taken the fashion world by storm, with designers from Tom Ford to Roksanda introducing shades of red on the runway, including magenta.
Source: envato.com, pantone.com