Design trends, styles, and techniques are constantly changing as the graphic design industry evolves. So, with the new year just around the corner, which graphic design trends will dominate design in 2023?
We predict 2023 graphic design trends will feature creativity, futurism, and boldness. There will be an increased focus on simple and stripped-down designs, highlighting humanism, authenticity, and personality. Ready to learn about the future of design? From anti-brand to stark minimalism, here are the top graphic design trends for 2023.
1. Anti-Branding
While 'anti-branding' may sound counterintuitive, many brands are embracing this trend to convey authenticity and connectedness. Anti-branding that is minimal, aspirational, and focused on the future is closely related to the "new eco" trend expected to dominate branding in 2023.
Anti-branding trends often feature monochromatic packaging, barely-there branding, and minimalist messaging; it's a stripped-back consisting of everything from a neutral embossed logo to imprecise handwriting and typography. Designers use anti-branding to give designs human expression.
"In some cases, the brand doesn't use any recognizable branding at all! This 'anti-brand' trend shows a straightforward and down-to-earth company whose products are made by human hands and motivated by genuine passion." says Ruby Rimmer, founder of The Brand Kit.
2. Creative Typography
"If you're tired of Helvetica, there's no need to worry," says Janine, professional graphic designer, and creator of Janine Designs Daily. "Experimental typography is about pushing the boundaries of traditional typography and exploring new ways to create text-based designs. As technology rapidly evolves, graphic designers will use increasingly experimental techniques to create unique, eye-catching designs that stand out from the crowd. Experimental typography is worth exploring if you are looking for something new and interesting to try in your graphic design work."
Take for example this stunning print by Barcelona-based designer Andreea Robescu. From her collection aptly named 'Words Matter', every phrase in Andreea's work is filled with color and creates eye-catching silhouettes.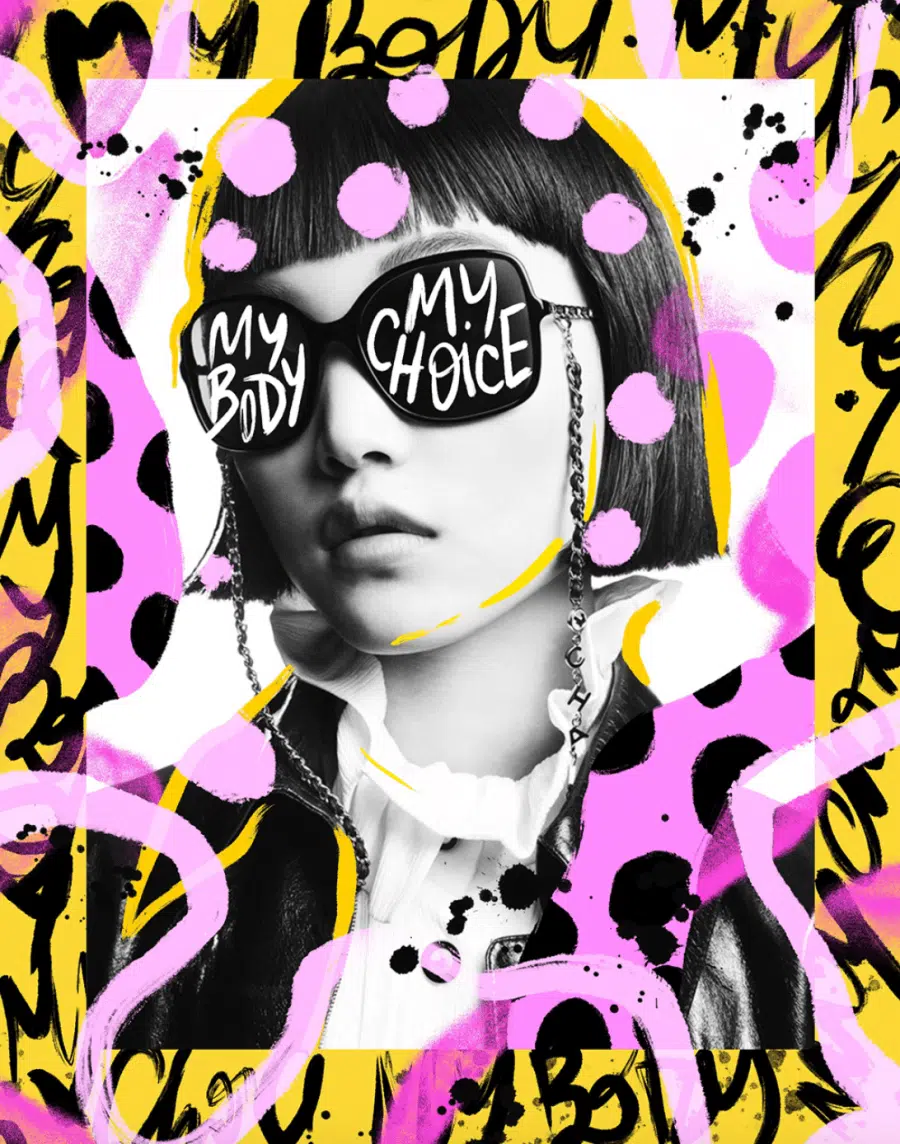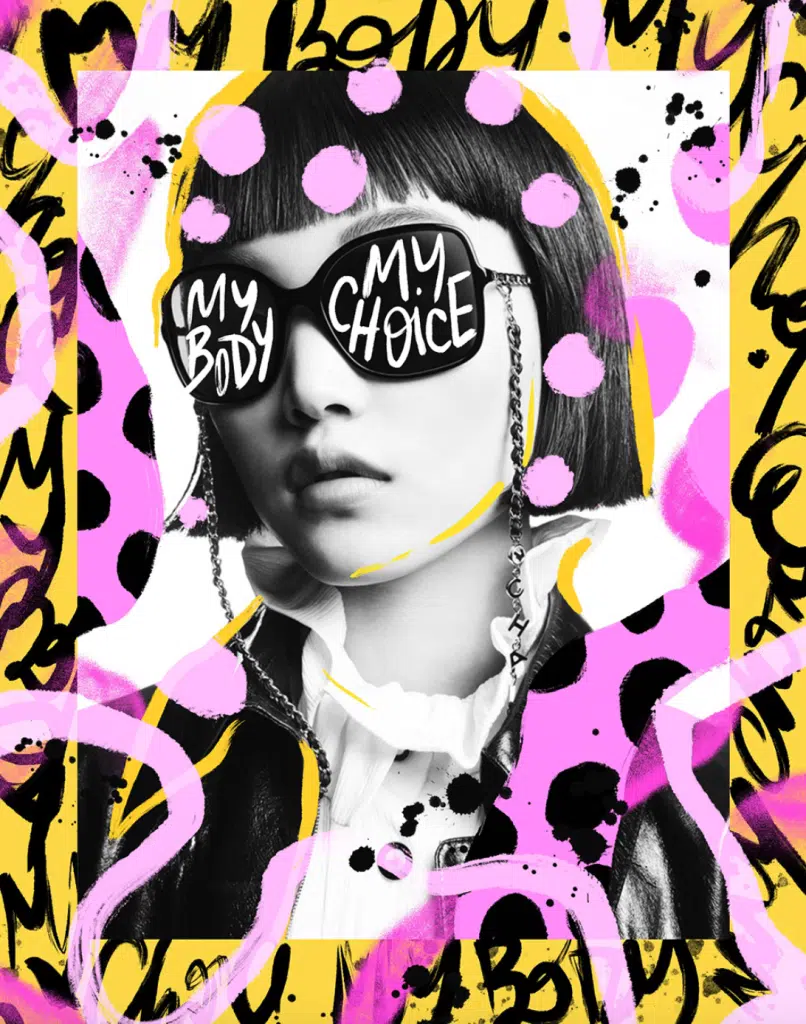 To get creative with typography, try this collage-inspired typeface, Retroma Vibes. This font consists of newspaper-style clippings and old-school typewriter text to create a chaotic effect. Switch between upper and lower case, and sans serif and bold serif, for a mix and match look that's instantly memorable.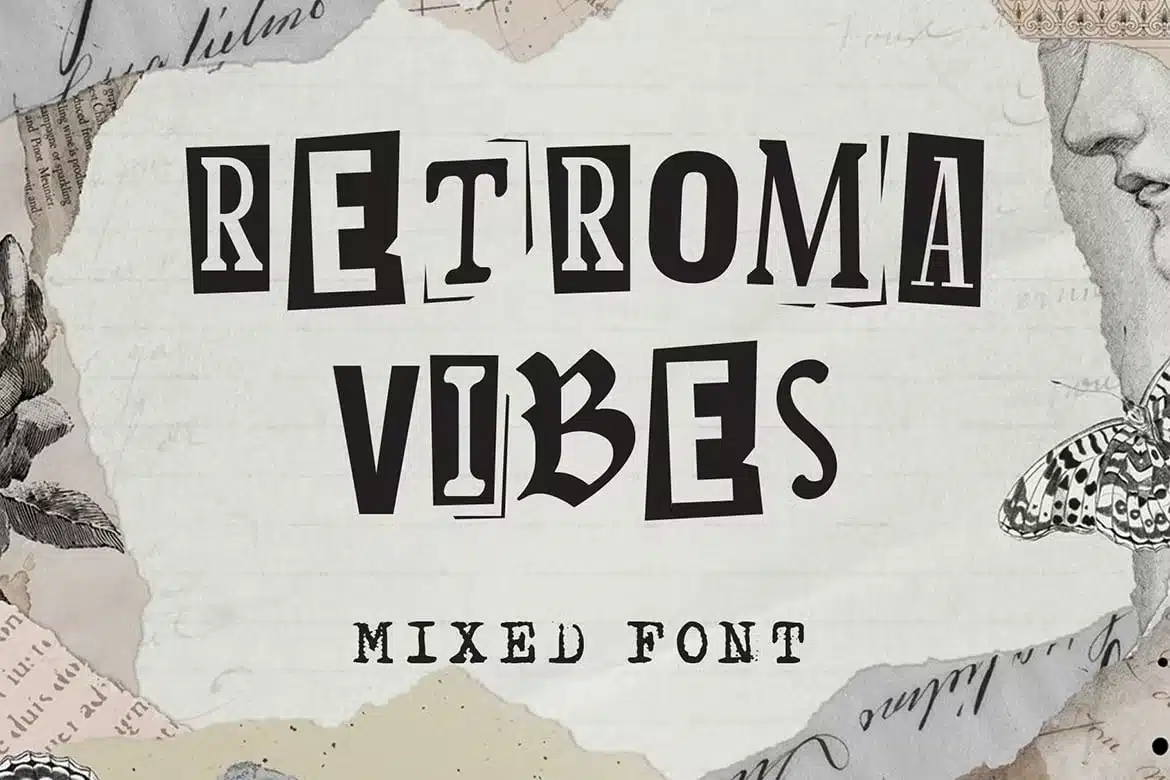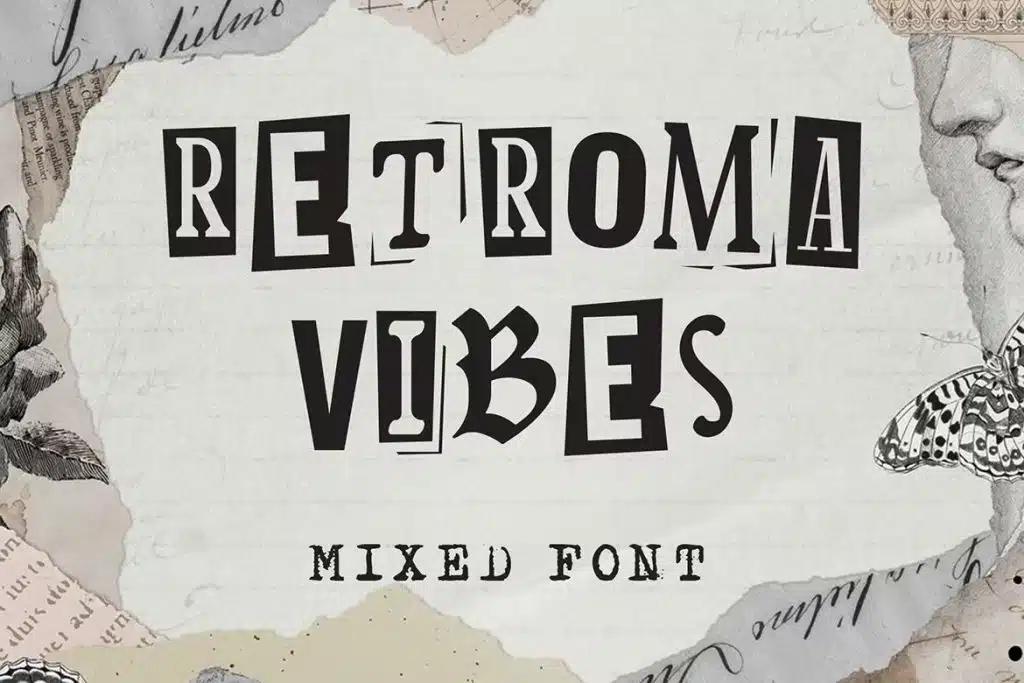 Or use a font from muntab_art which is ideal for later use in illustrations, web designs, or branding projects.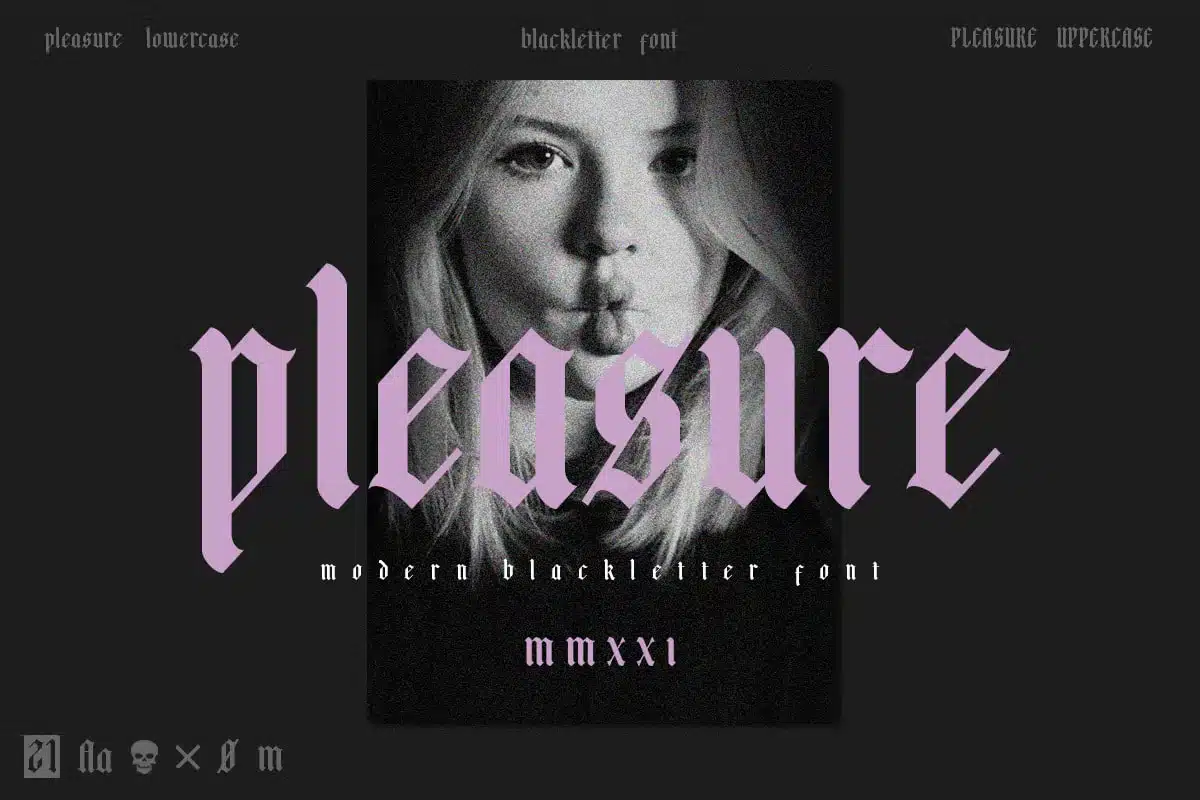 3. Y2K Evolution
The nineties continue to influence the latest design trends, and many graphic designers, artists, and illustrators are taking Y2K Aesthetic to the next level. As a result, micro-trends – like grunge, pastels and bubblegum colors, cyber-inspired imagery, 3D shapes, and metallic textures – are popping up everywhere.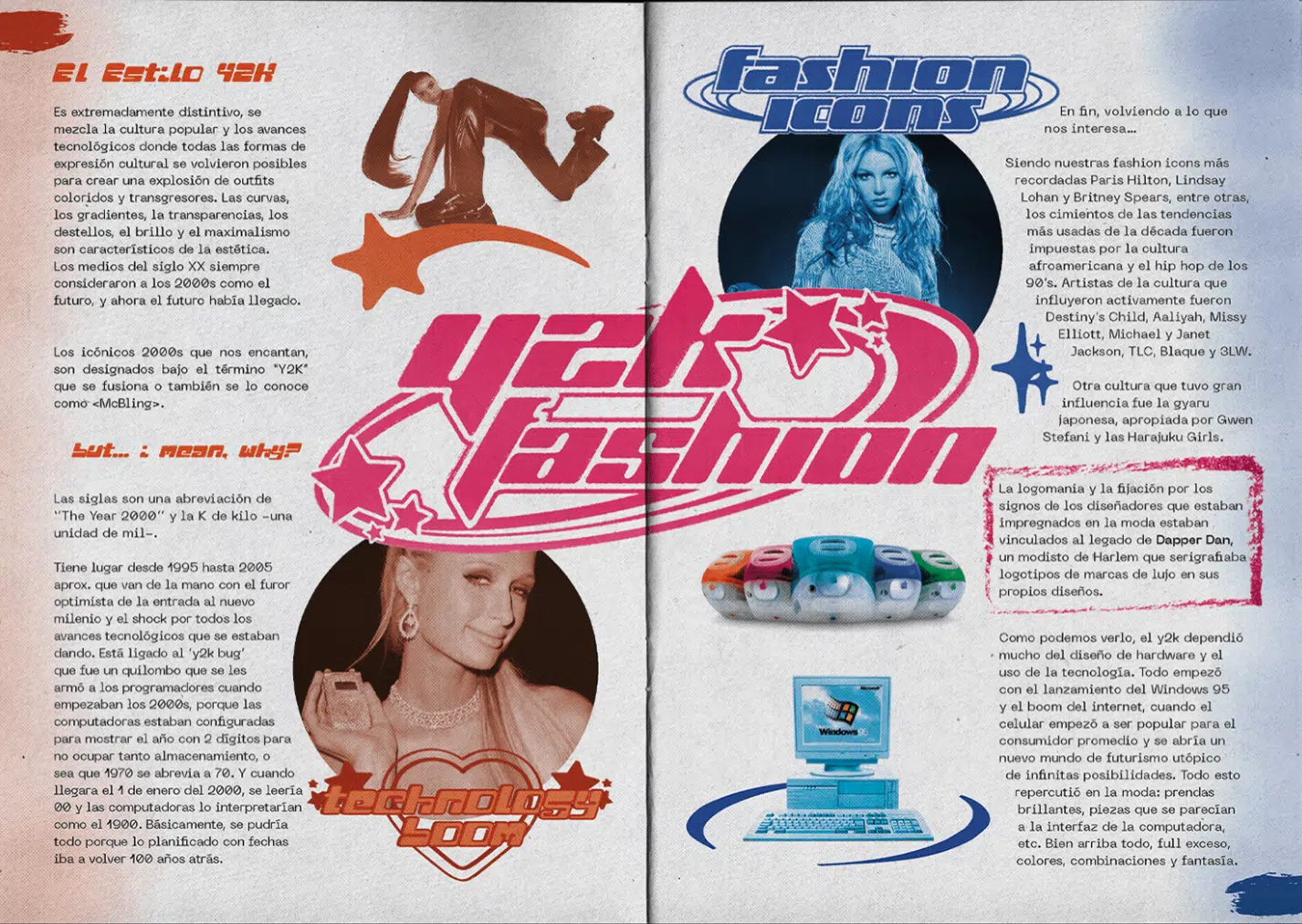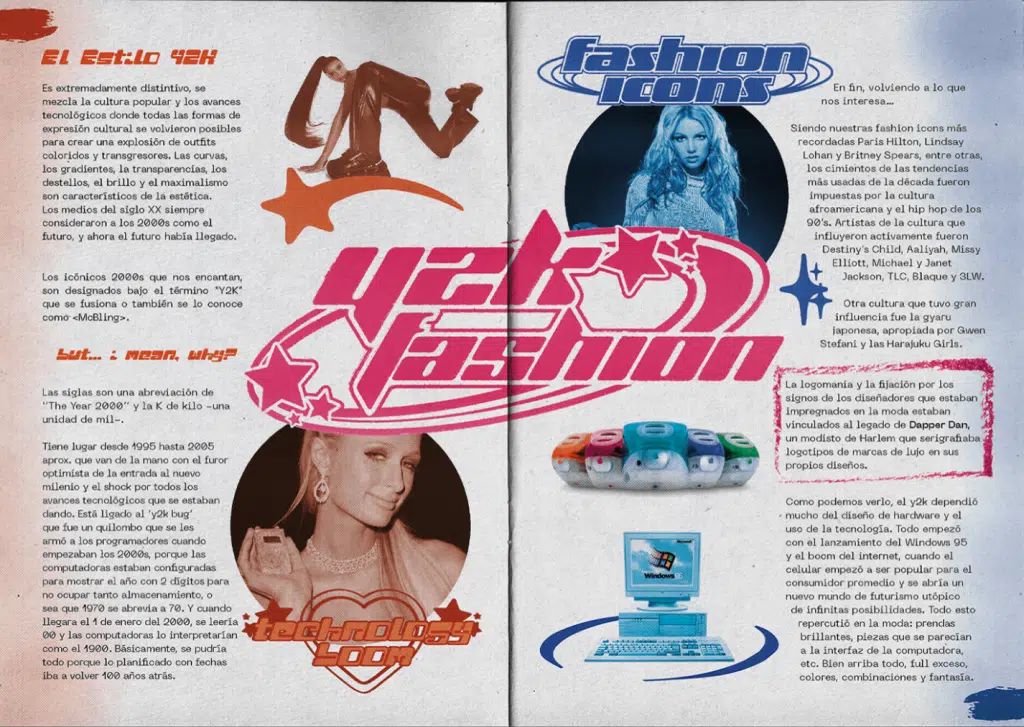 Pinterest even recently launched Shuffles – an app centered around digital collages – proving that nostalgia is still at home in today's fast-paced and futuristic world.
"Nostalgic designs help brands stand out from the more futuristic, high-tech brands that keep popping up," says Janine. "This style of graphic design is perfect for brands looking to communicate a modern sensibility without losing sight of their history. In an increasingly busy and chaotic world, nostalgia provides a much-needed breath of fresh air. It's also incredibly versatile, working well across a variety of digital and print media. This trend in graphic design is unlikely to go out of style soon."
If you've got the millennial bug, check out these Sweet Y2K Instagram Sets to bring some nineties-era cuteness to your social media feeds.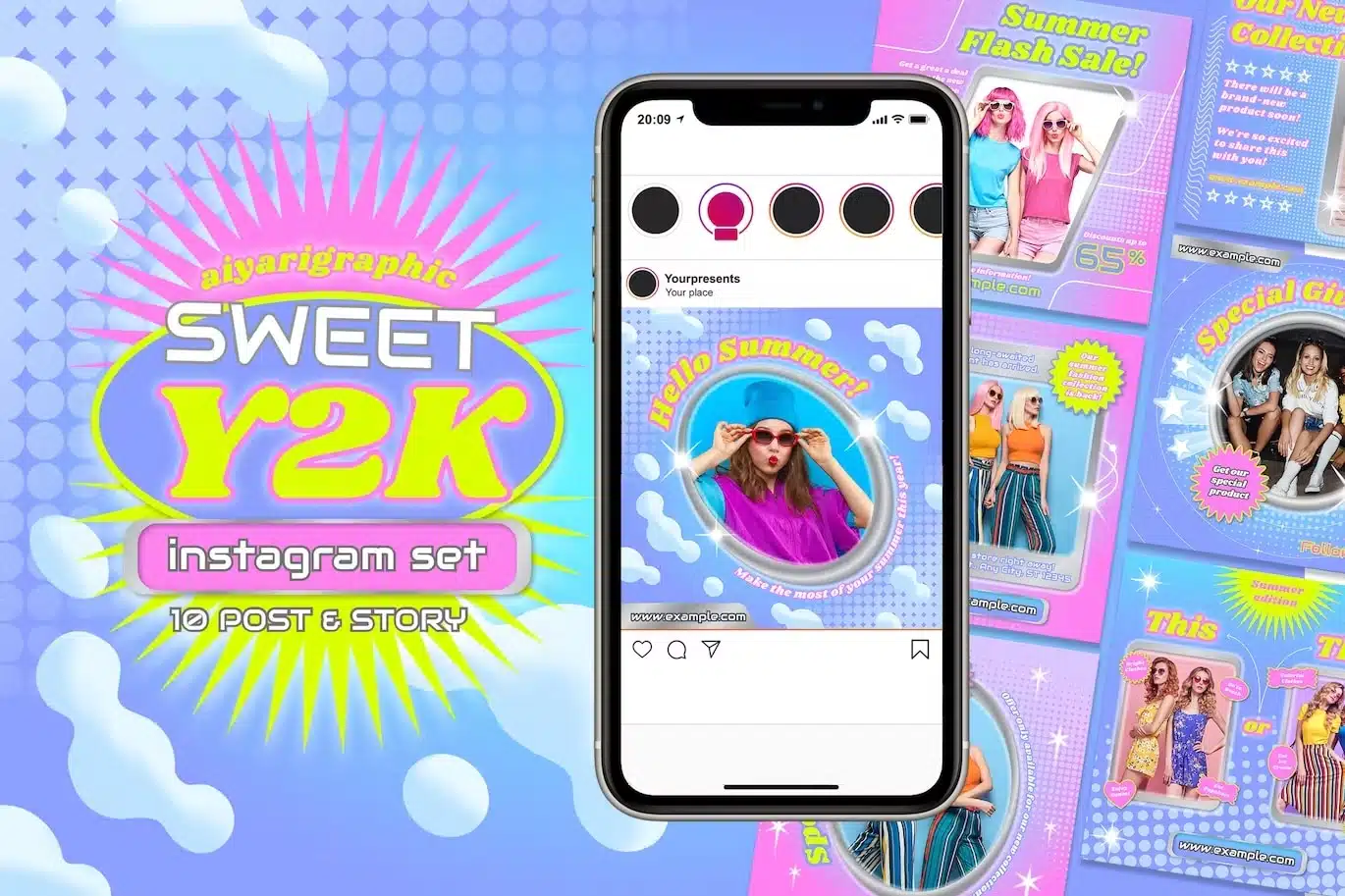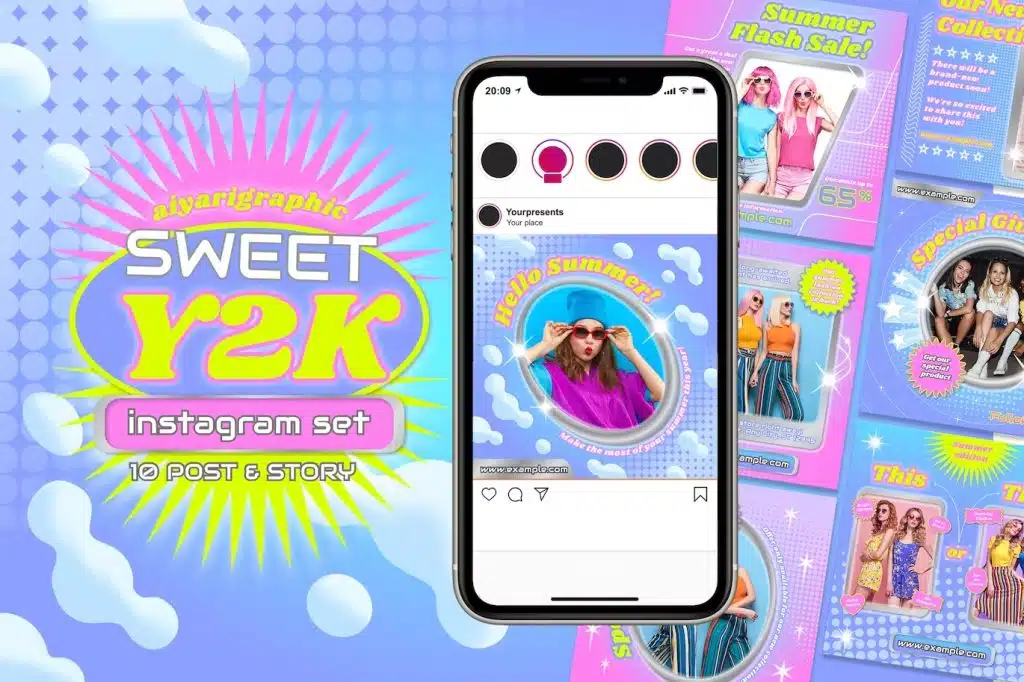 4. Radiant Gradients
Gradients are versatile, visually pleasing, and an easy and effective way to add color and texture to any design. While they have been popular for quite some time, designers have turned up the heat with more experimental executions.
This experimentation has resulted in some very unique and disorderly mixes, such as this flyer for ANTI FASHION WEEK London, which features stylish splashes of spray paint in deep pink.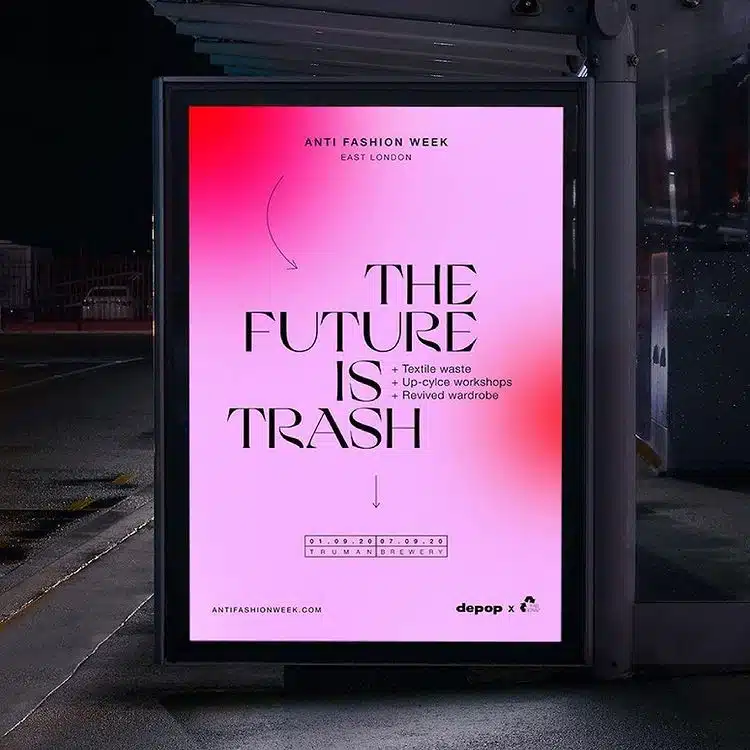 5. Vivid Minimalism
While stark minimalism was hugely popular in product packaging throughout 2022, the trend is now finding its way into other areas of design. The vibrant minimalist trend blends simple design elements with bold, bright colors, restrained balance, and playfulness.
"Vivid minimalism brings a fun energy to a project without sacrificing a clean design," explains Envato Senior Designer Keiron Lewis. "This trend juxtaposes minimalism with maximalism, allowing designs to maintain sophistication while also having a unique point of difference."
The pink and mustard yellow business cards from Surgente Estudio and Cul-de-sac Creative perfectly exemplify this trend, making a statement while maintaining a sense of sophistication. The balance of 'low-key' and 'loud-and-proud' makes the design simultaneously chic and eye-catching.
6. AI Design
Text-to-image AI generators can now generate stunning images and artwork using algorithms and datasets. And, by doing so, they speed up workflows and open up endless opportunities.
Many design agencies have started using AI-powered platforms to generate brand work and marketing campaigns. Some have raised concerns about the software replacing real-life designer skills. However, in the right hands, AI can evolve in ways that help the design community rather than hurt it.
7. "New Freedom"
The pandemic came with lots of rules and restrictions. But, as we return to normality, designers are experimenting with our collective sense of newfound freedom. This "new freedom" has resulted in positive artwork, a bright and upbeat color palette, and expanded design horizons.
Bringing a tinge of warmth to the breakfast table, this abstract artwork from the Spanish design studio Requena combines primary colors and organic shapes to produce a very bright tea. Instead, Pink Pony Creative has used mood-boosting pink, purple, and orange in The Good Company's branding, blending tropical imagery reminiscent of happy holidays and carefree days.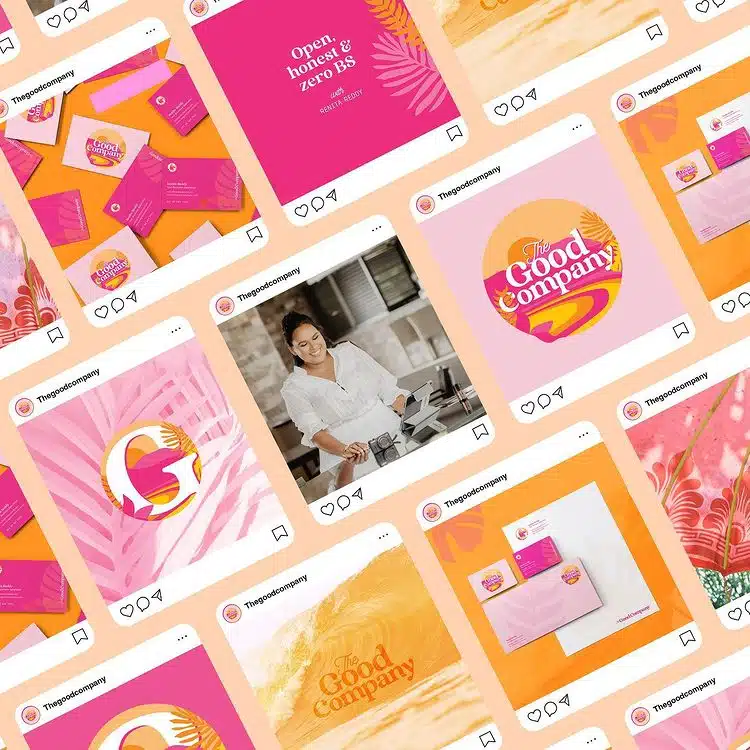 8. Candy Pastels
While bright colors are getting a lot of voices this year, the never-ending popularity of pastels proves that soft, soothing tones are here to stay. The perfect antidote to tacky bright and bold colors, these sweet and cool colors add aesthetic appeal to any design project – from packaging and branding to marketing and graphic design.
"As digital displays improve and color richness increases, this calming color is being used more and more across social media assets and web design. They are the perfect antithesis to the bright, bold colors that are also on trend," says Keiron.
Skincare brand BYOMA combines baby blue, bubblegum pink, and sunshine yellow to bring a fun vibe to their product packaging.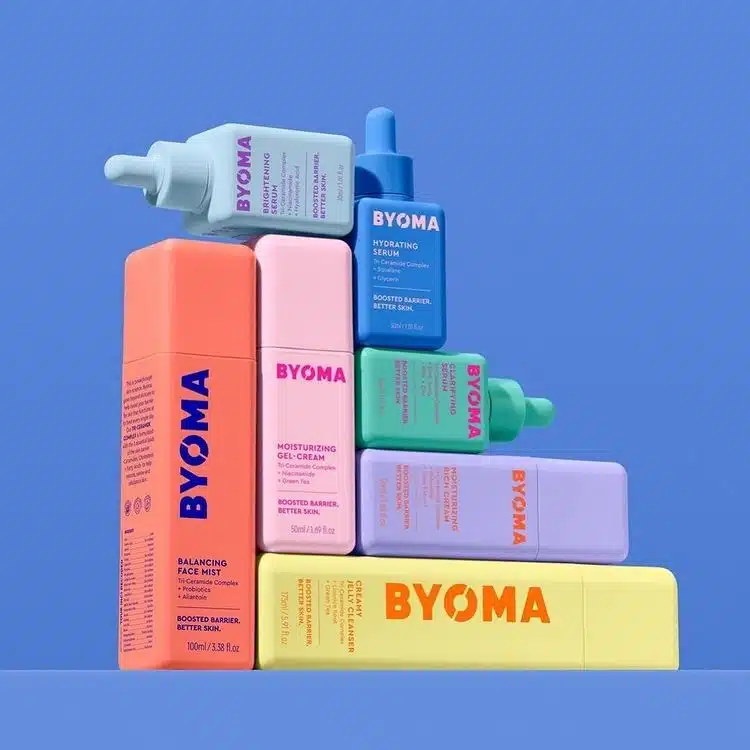 In contrast, Microsoft Fluent AI cleverly combines pearly pastels, swirling muted tones, and tactile textures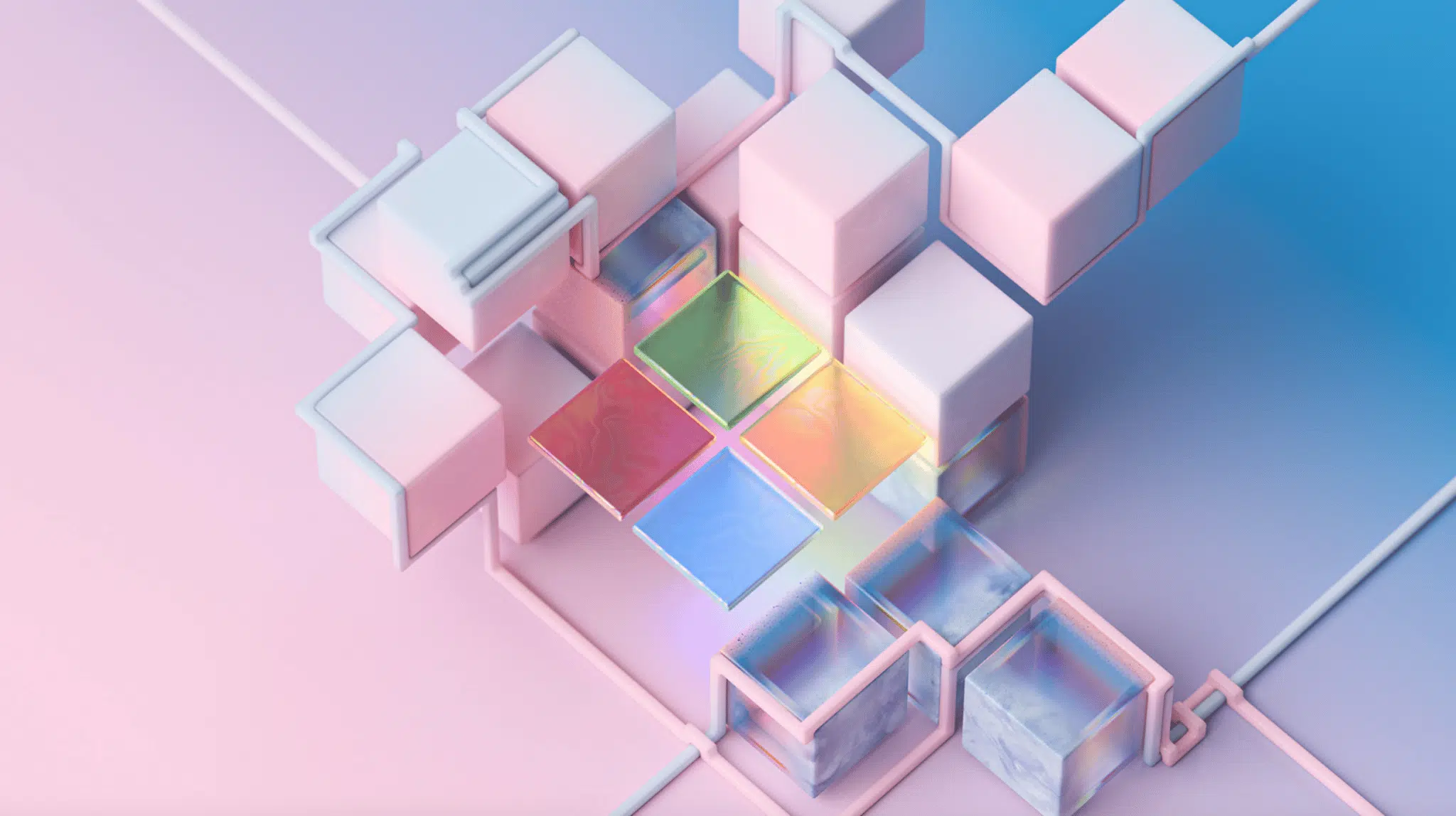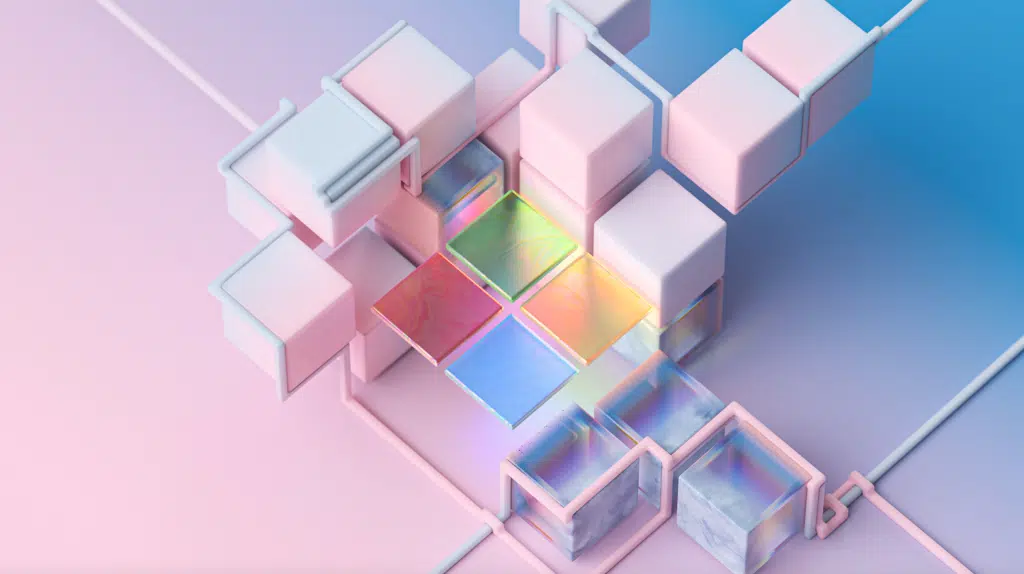 9. Foundational Diversity
Diversity isn't a fad – it's a practice and a commitment. However, the "fundamental diversity" trend is about brands making diversity a core value, and embracing diverse practices across everything they do – including their branding and design.
Swedish ready-to-wear brand Djerf Avenue frequently features disabled people and members of the BAME community on its mood boards and picture lookbooks – also vowing to never improve its models' image.
"While highlighting diversity in real-life images and video isn't a new trend, it's sadly less common in graphics," said Ruby. "In 2023, brands will start using illustrations, icons, and animations that are much more inclusive than in previous years, especially brands that want to maintain a socially conscious image."
If you have read our article, please think about your design in 2023. Do you want to try something new or just want to save it for reading?
Source: envato.com