If you're really going to use the Elementor template kit, Elementor isn't the only party providing template kits. You can also get Elementor template kits from third-party sites.
Here are some websites you can refer to download Elementor template kits:
1. Themeforest
If you've been using WordPress for a long time, then ThemeForest is no stranger to you. This is the leading website for getting paid WordPress themes.
You can find template kits in various categories. Before buying a template kit, you can preview it first.
To make it easier for you to install template kits, ThemeForest offers a special importer plugin. One thing. Some template kits may require additional Elementor add-ons. Please read the terms carefully before you buy them.
Themeforest itself, as we all know, is under the auspices of Envato, where Envato has collaborated with Elementor to create an Elementor template kit.
2. Envato Elements
Envato Elements is a huge collection of free Elementor pages. Today, you get access to over 2,000 Elementor page templates spread across 70 template kits, including block templates and templates for Elementor Popup Builder.
Once you have installed and activated the free Envato Elements plugin, you will be able to browse all the available templates from within your WordPress dashboard and choose which ones to import.
Any template marked Pro only requires Elementor Pro to use – that doesn't mean you have to pay Envato to use it.
After you import a template, it will be available in the My Templates tab in Elementor.
There's a reason so many people turn to WordPress page builder plugins: they can make creating the most complex page layouts and features relatively easy.
No wonder then, Elementor has become the entry page builder in the market. This not only simplifies content creation, but This plugin also offers some exciting extras. These features make for a more pleasant and efficient user experience.
Among the biggest bonuses is the inclusion of the Elementor Template; premade page templates that you can import into your website. From there, you can edit it to suit your needs. Change text, colors, and images–even delete elements you don't need. Almost every aspect can be changed.
Consistency is one of the keys to a great design. The Elements template kit offers a set of templates to match – perfect for use throughout your website. Use them to add a consistent look and feel instantly.
As we said in a previous article, we are going to show you how you can start using Elementor Templates on your WordPress site. Let's get started!
1. Install and Activate Elementor
Elementor templates sound pretty amazing, right? The only technical requirement to get started is to install and activate the free version of the Elementor page builder plugin. In addition, you'll need a free personal account with Elementor–which we'll get to later.
But first, let's install the plugin:
Install and Activate Elementor Page Builder
Inside WordPress, visit Plugins > Add New.
In the search bar, type in Elementor Page Builder. Click the Install Now button.
Once the plugin has been installed, click on Activate.
You're all set! Now, it's time to put Elementor templates to work.
2. Add an Elementor Template to Your Page
For this step, you'll need to choose or create a WordPress page where you'd like to add an Elementor template. In our example, we'll create a new page called "About Us".
Find your page
Navigate to your page within the WordPress Dashboard by visiting Pages > All Pages. Next, click on the page you want to edit.
Edit with Elementor
Inside the editor, click on the Edit with Elementor button on the upper left of the screen to launch the page builder.

Enter the Elementor Template Library
Once inside the Elementor page builder, you'll notice that there are a lot of settings. But for our purposes, we'll focus solely on the box in the middle of the screen.
The box, surrounded by a dashed border, contains two icons: a pink plus sign and a gray folder. Hover your cursor over the gray folder icon and you'll see a tooltip: Add Template.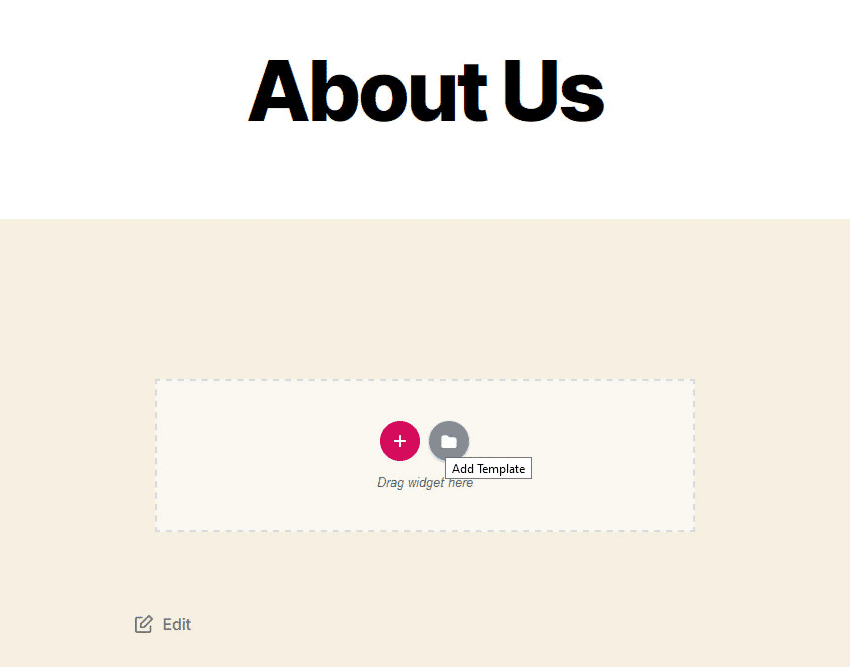 Click on the icon to enter the Elementor Template Library.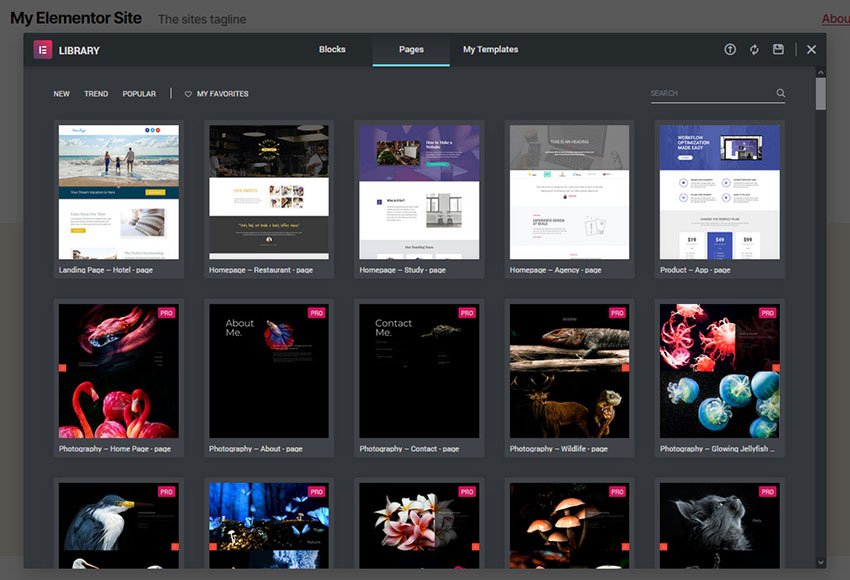 Import an Elementor Template from the Library
There are a number of free Elementor templates to choose from. In addition, users of the Pro version of Elementor also have access to a variety of exclusive templates as well. And don't forget you can check out the latest offering of Elementor Template Kits on Envato Elements.
Here, I'll show you how to import a free Elementor template directly from their library, as well as how to import a downloaded template .zip file.
The Elementor Template Library has a lot of choices, so let's narrow it down a bit. By searching for about, we'll see just the Elementor templates that apply to our page.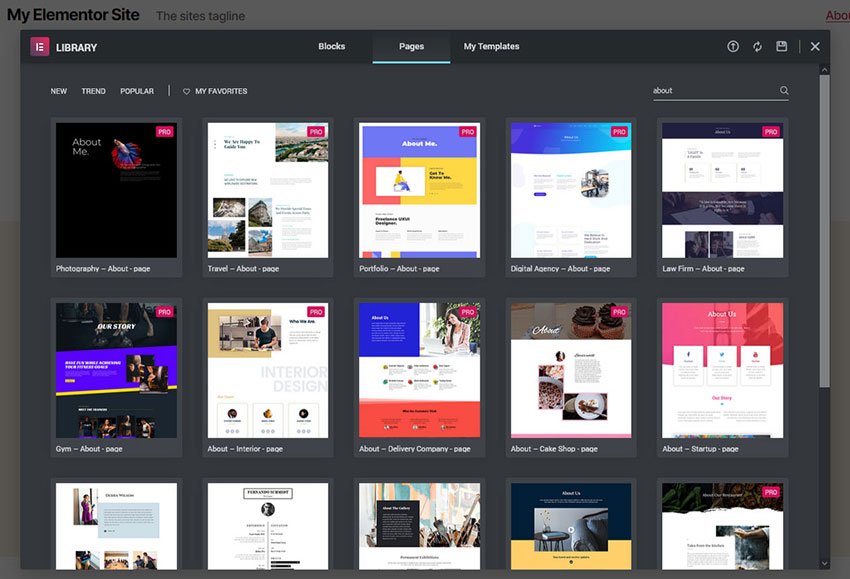 Scrolling through the results, we find the perfect free Elementor template for our needs. Clicking on it provides a closer look.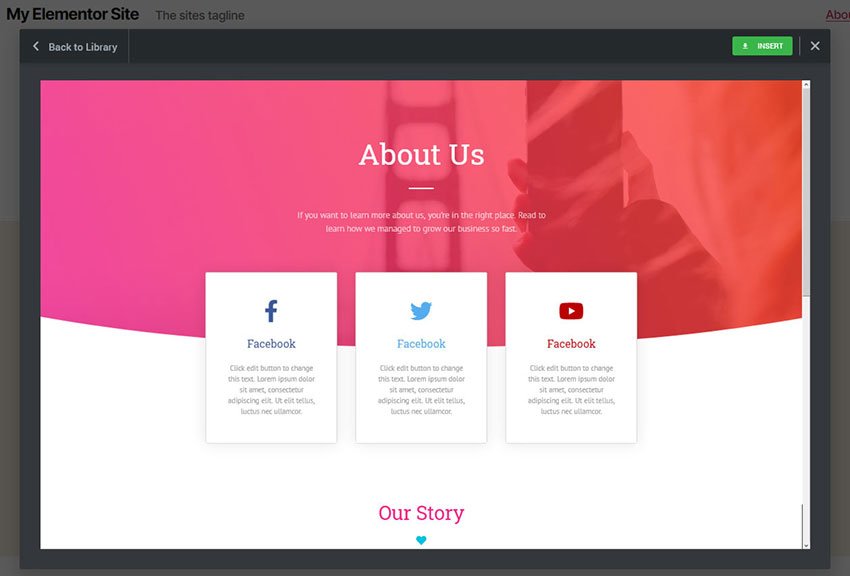 This looks to be a great fit! To use it, click on the green Insert button on the upper right of the screen.
Create a Free Elementor Account
At this point, you'll be asked to sign up for a free personal account with Elementor. Follow their signup process and, once you've confirmed your account, you can connect it to your website.
Connecting your new Elementor account to your website will finish the import process. Now, your Elementor template will be displayed on your page.
Upload an Elementor Template .zip File
Alternatively, if you have downloaded a template from Envato Elements, importing requires a few extra steps.
First, you'll want to install and activate the free Template Kit – Import plugin from Envato. Inside WordPress, visit Plugins > Add New.
In the search bar, type in Template Kit – Import. Click the Install Now button.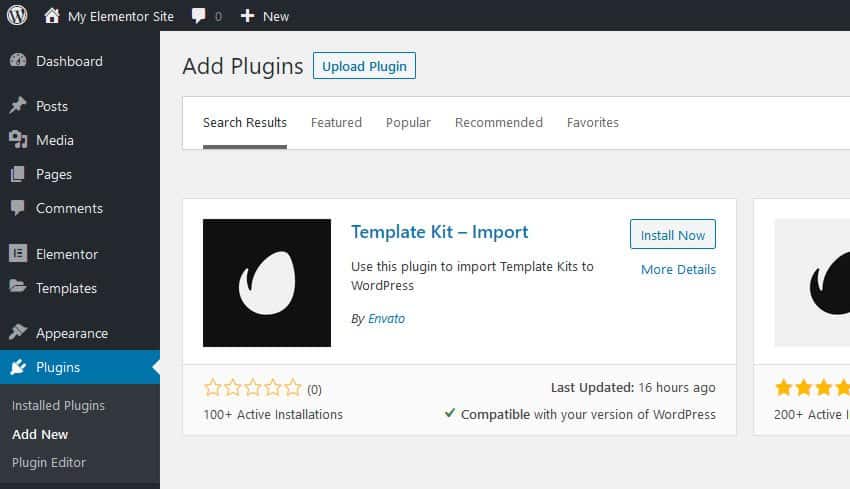 Once the plugin has been installed, click on Activate.
Next, you'll need to upload your template to your website via the Template Kit – Import plugin.
Navigate over to Tools > Template Kit inside WordPress. Click on the Upload Template Kit ZIP File area of the screen.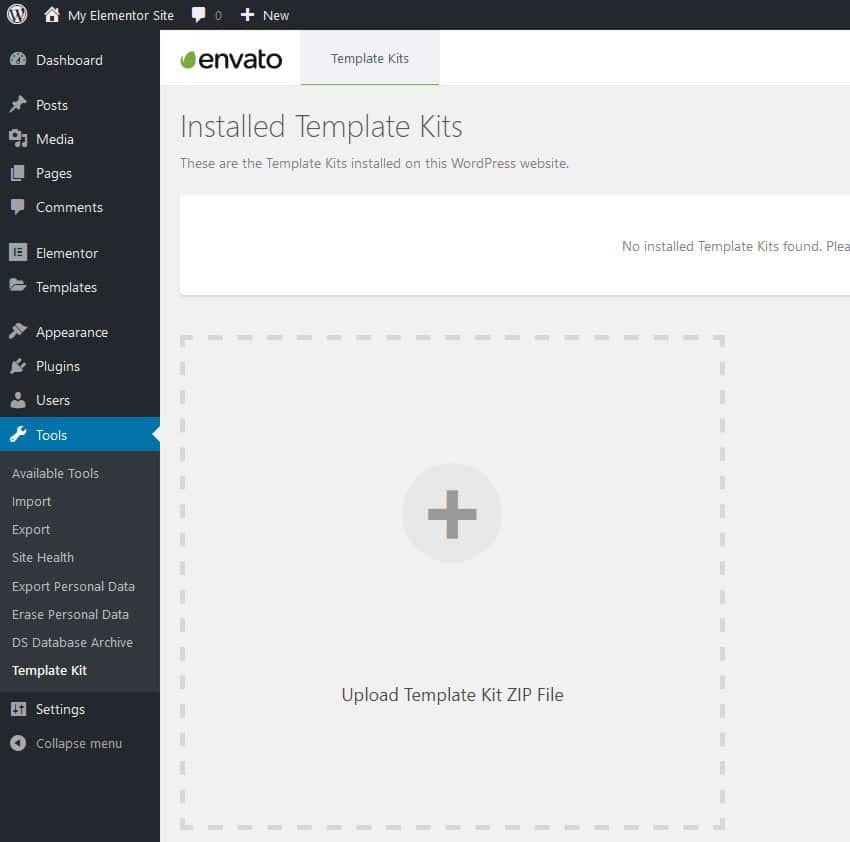 Find the Elementor template kit ZIP file on your device, then upload it to your website.
Once your Elementor template kit has been successfully installed, you'll see a listing of new templates that are ready to use.
Finally, insert the desired template into your page.
Customize the Elementor Template
Don't forget about this, you can customize each element according to your wishes and needs.
To get started, you can click on the element you want to edit. Then you can edit directly or use the toolbar on the left side of the screen.
Change Layout
By clicking on the dotted Edit Section icon at the top of the template, we can activate the full-width layout. Note that this process needs to be repeated for each imported page section.
Editing Colors
If you don't like the color used in the initial template, just change the color to your liking. Select the style menu on the left bar.
Customize Everything
There's really no limit to what you can customize when it comes to Elementor templates. Clicking an element allows you to edit its content, appearance, and layout. You can also drag new elements onto your page.
Save Your Changes
Once you are satisfied with the result of your work, click on the green Update button at the bottom left of the screen. This will save the custom-created page.
If you don't understand the explanation above, maybe by watching the following video from Envato you will understand the steps better:
Source: webdesign.tutsplus.com, elementor.com