Currently, Japanese style has been widely implemented into designs such as logos, advertisements, digital artworks, and also Japanese style fonts. The unique and original Japanese styles and motifs make these designs have a valuable value and are different from other design styles. Here we provide some Japanese graphic design inspiration that you can use in your brand.
Characteristics of Japanese Design
Geometric Shapes
Between 1955 and 1961, Japan experienced what is referred to as the "Japanese economic miracle", or Golden '60s, in which rapid economic growth swept across the country. This period, along with Japan's industrialization, was when European design movements and concepts such as the Bauhaus merged with Japanese symbolism and created new forms of Japanese design that are responsible for the heavy use of strong geometric shapes in modern Japanese graphic design.
Shapes represent different abstract ideas in Japanese culture, which is why you will often find abstract geometric shapes such as circles, squares, and rectangles in different traditional and modern art.
Minimalist Design
Japan involves using simple shapes, brush strokes, a monochrome color palette, and lots of negative space. This can be observed in various printed and online materials such as packaging and posters of various Japanese brands.
Kawaii Design
Kawaii or cute culture is perhaps the most prominent form of Japanese pop culture. Colorful designs, cute patterns, and animals or cartoon characters are just a few of the things that make up the kawaii aesthetic. You may have noticed how very common for Japanese products to have cute faces imprinted on them.
Japanese Typography
Japanese is one of the most complex languages ​​in the world. It has three letters — hiragana, katakana, and kanji with over 2000 characters — which is why writing in Japanese can almost be considered an art, and creating custom typography based on a few selected Japanese characters is an important aspect of Japanese design.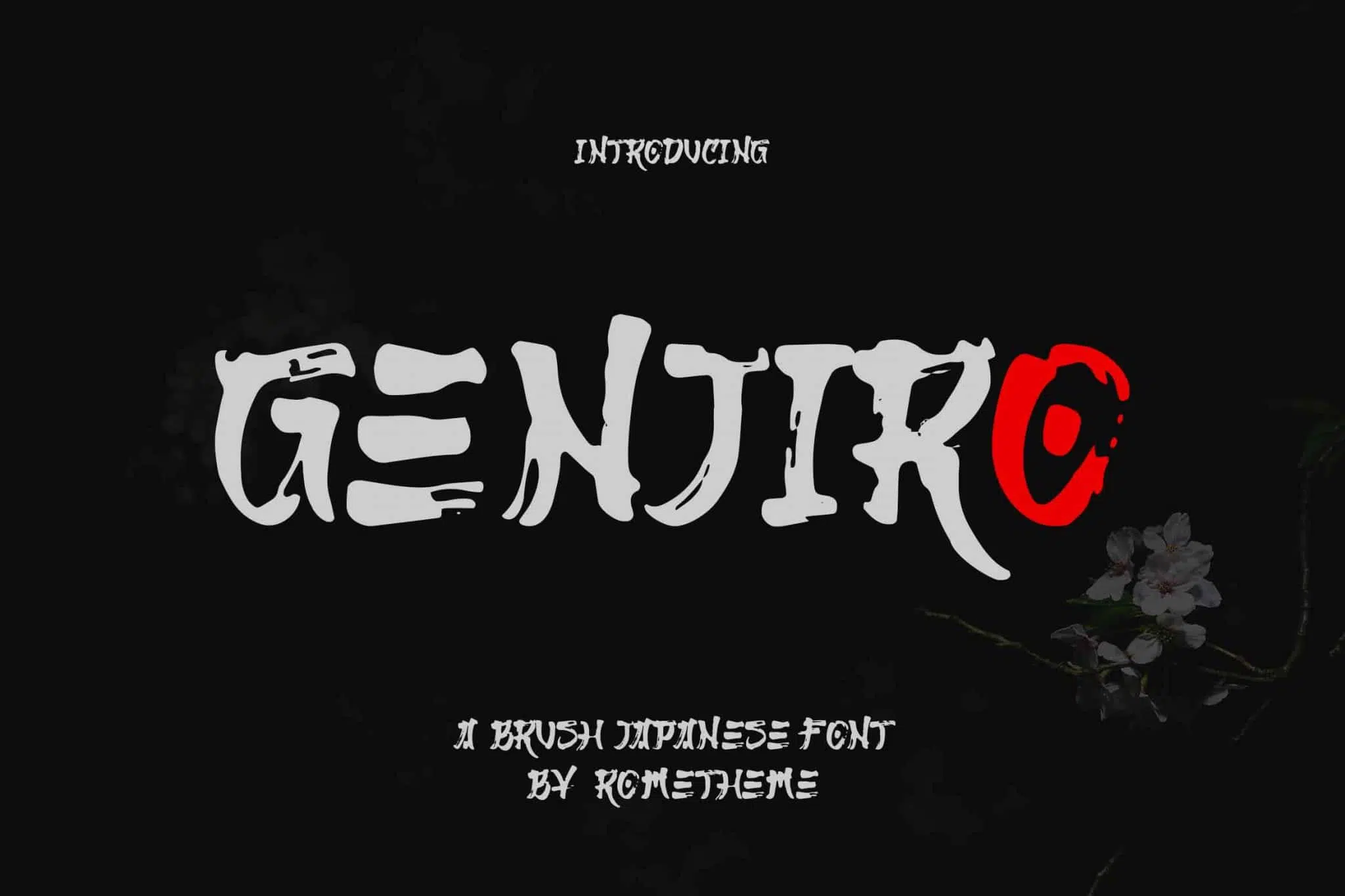 Floral Patterns
The floral pattern is a traditional Japanese motif. From ancient Japanese art to modern graphic design, flowers are a consistent element in Japanese art and design. Like the shape, flowers symbolize spiritual and emotional significance in Japanese culture, so it's no wonder why Japanese floral patterns have a calming vibe.
Japanese Design Ideas You Can Use for Your Brand
Try to design your logo, poster, or website with a touch of Japanese style to make it look more unique and fresh, but still consider the suitability of the design with your own concept.
Japan-Inspired Logo Design Ideas
If you own a Japanese restaurant, you can use Japanese typography like the one below in your logo.
You can also use a minimalist Japanese logo and use a Japanese pattern together, like this: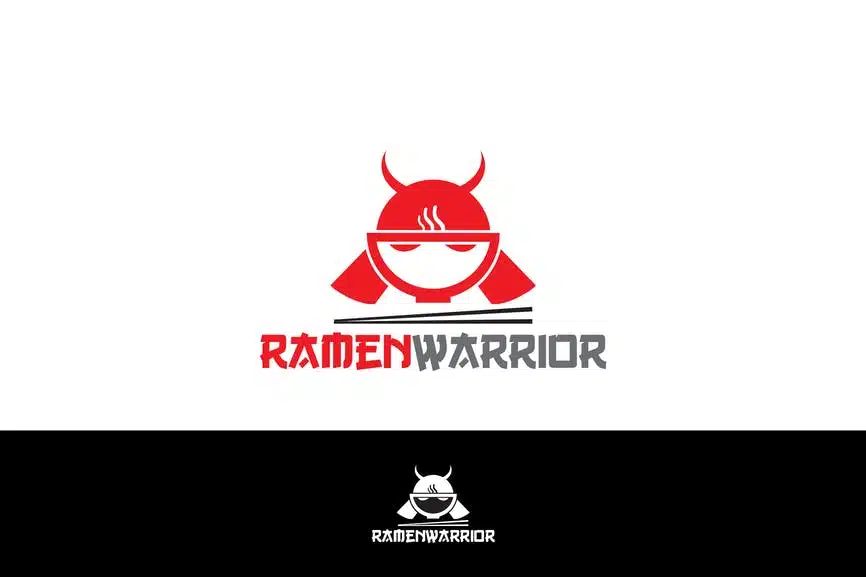 Japan-Inspired Website Design Ideas
Like the landing page below, we use red, a little Japanese pattern, typography, and ramen illustrations that show Japanese style.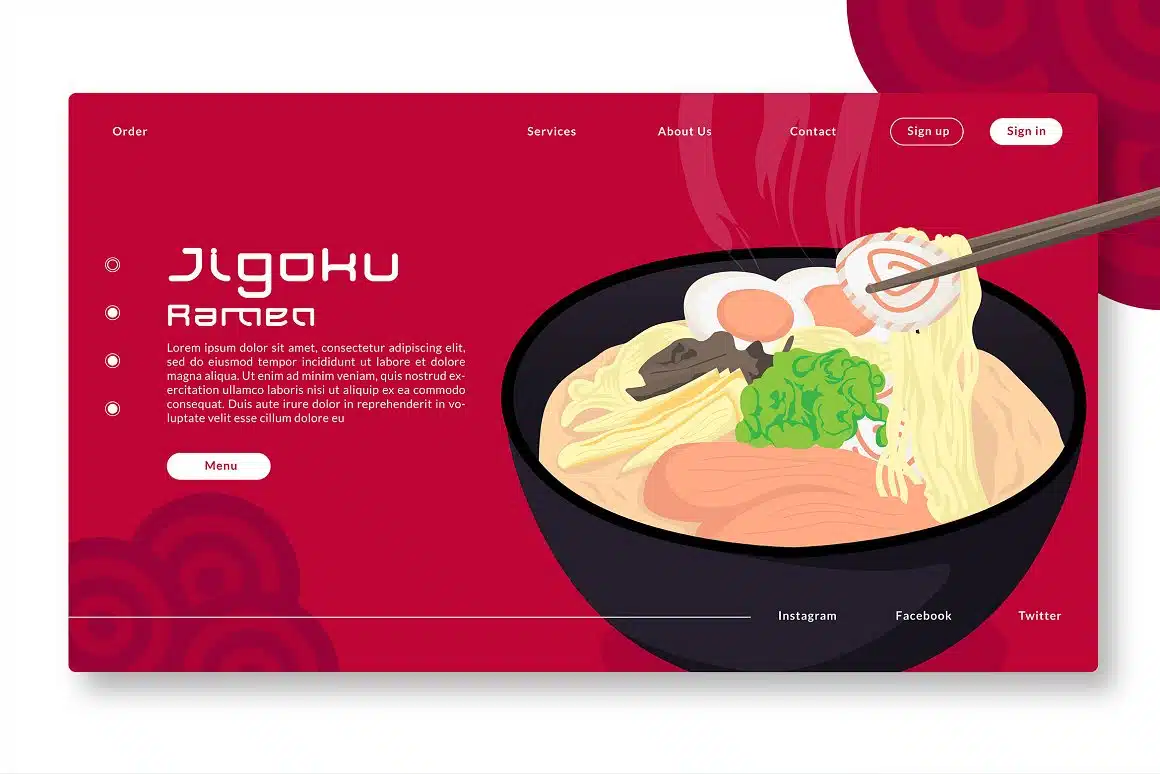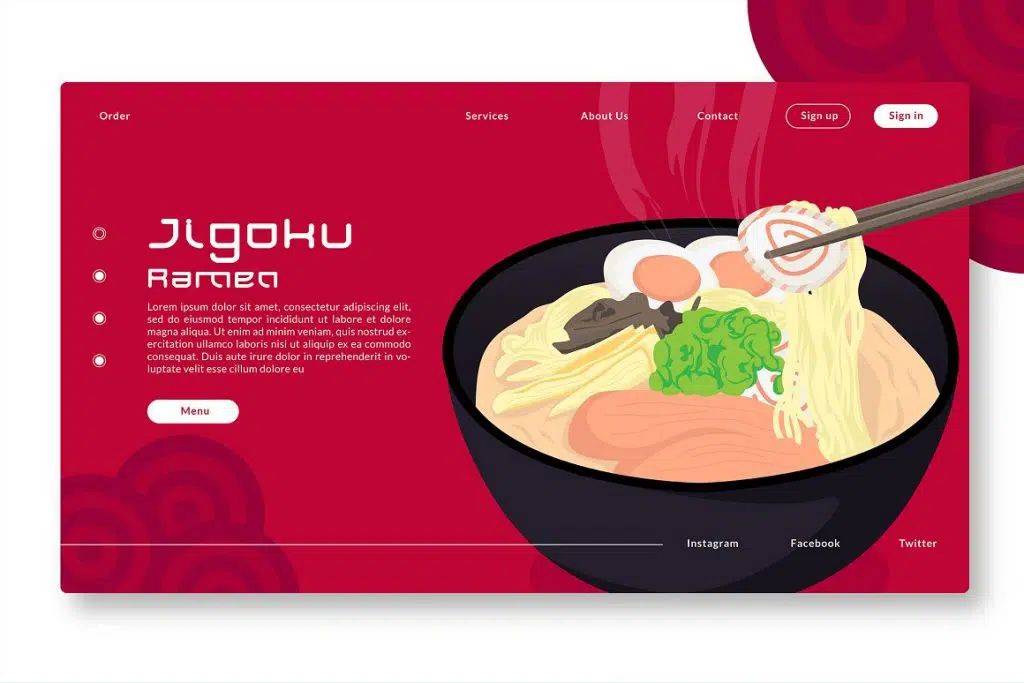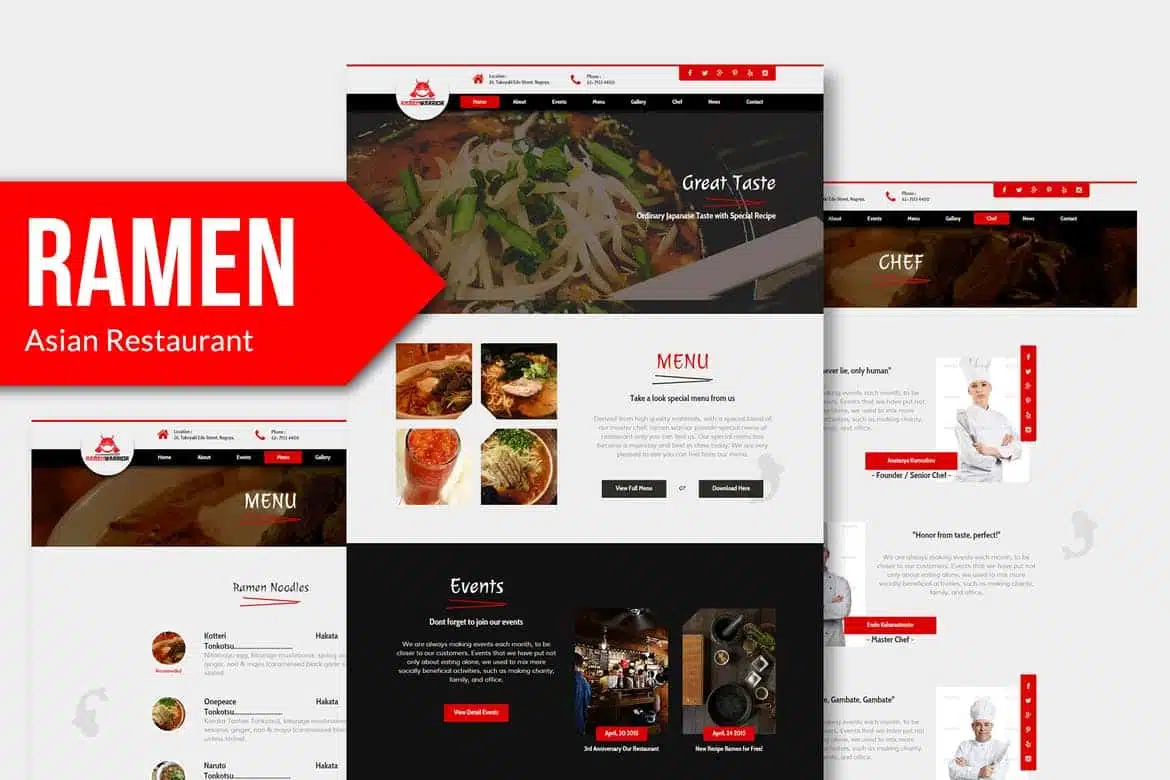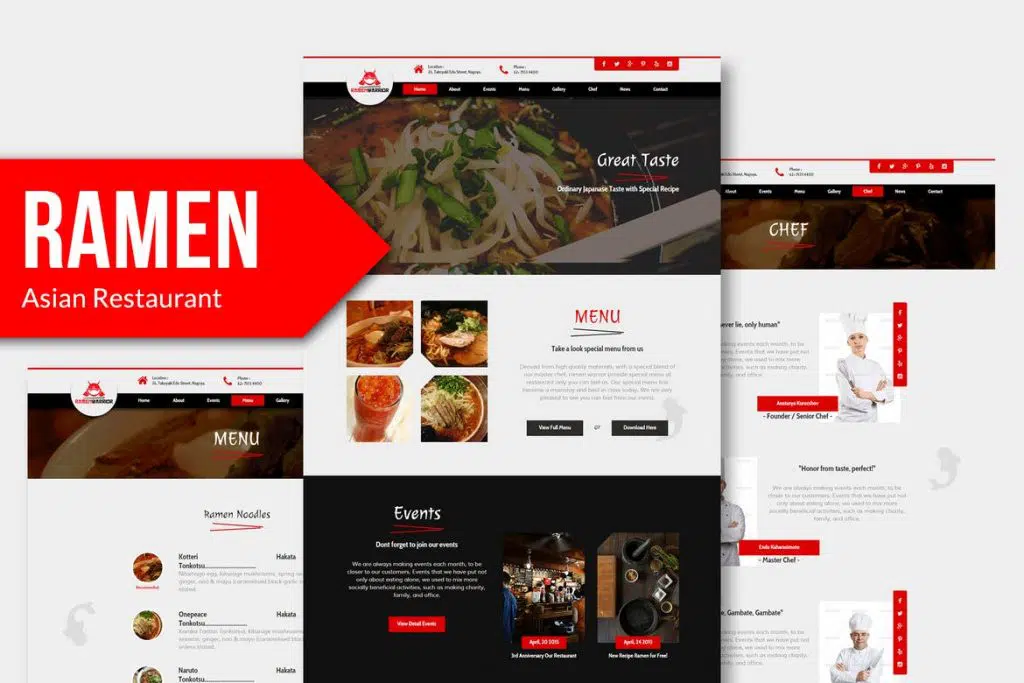 Japanese Graphic Design Poster Ideas
You can apply the Nihonga concept and create a poster design using a bird and flower pattern.
Also taking inspiration from Japanese art, you can use nature and Japanese culture as elements for your poster design. Like the flyer below which gives a silhouette of a traditional Japanese building in its design.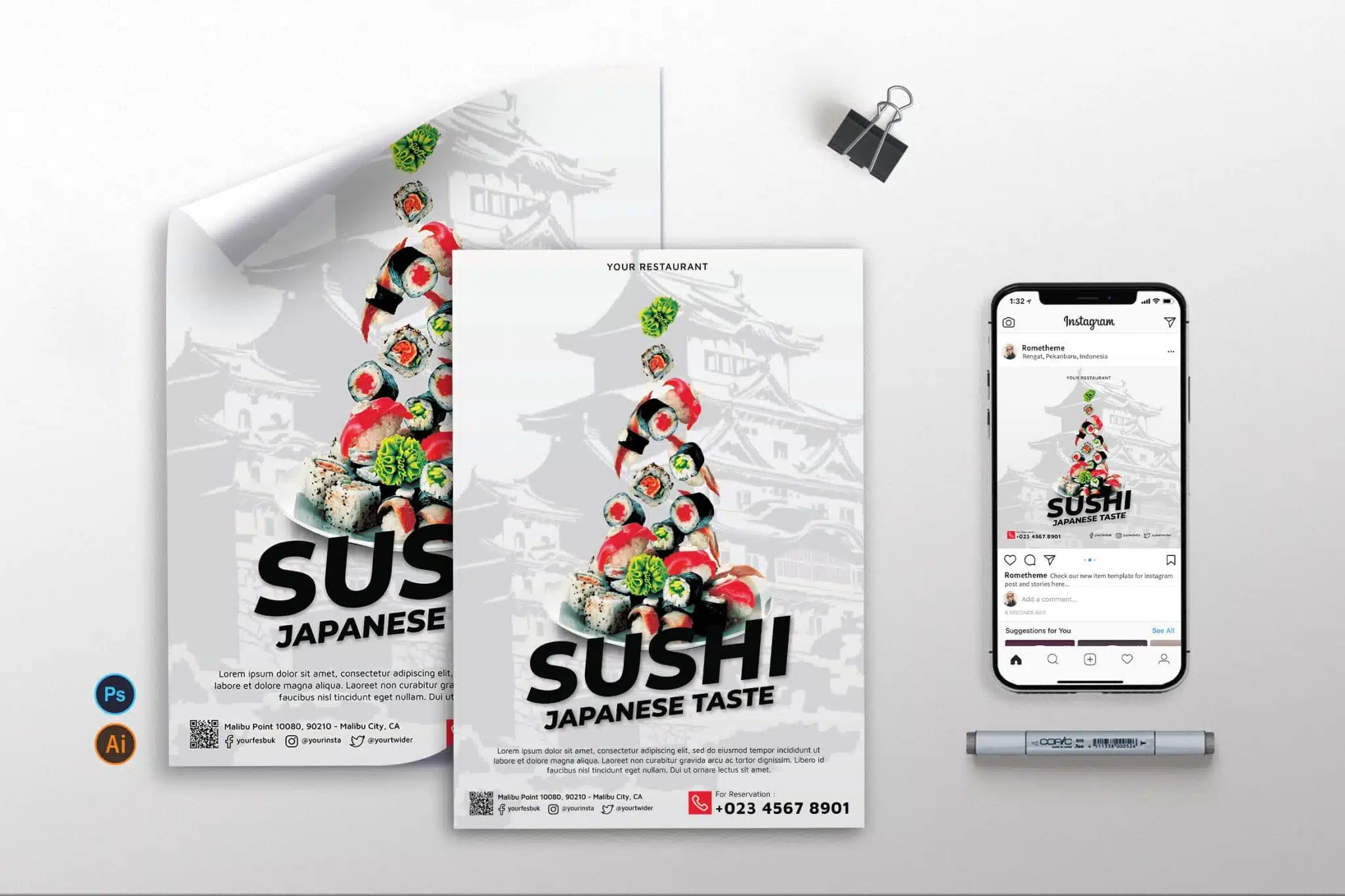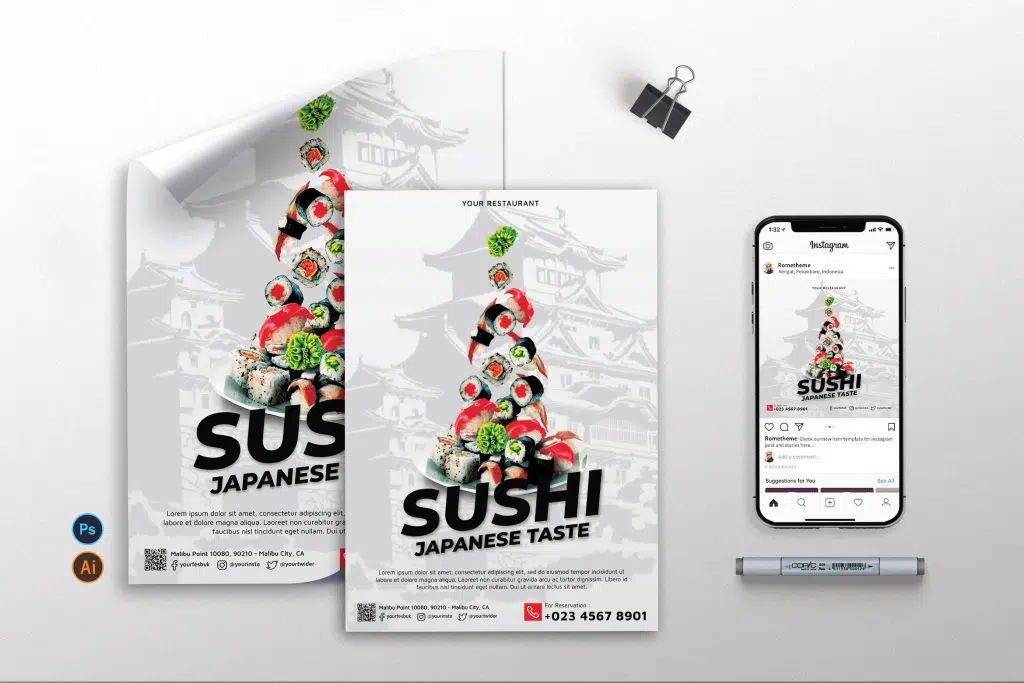 Source: creativemarket.com