If you're a photographer looking to create a stunning website to showcase your work, Elementor is an excellent choice. With its drag-and-drop functionality and extensive customization options, Elementor allows you to create beautiful and professional websites without any coding knowledge. In this article, we will explore the best template kit options for photographers using Elementor. Specifically, we will delve into FOCCUS, Kurohiko, Dinostic, and Piccaso template kits, discussing their features, benefits, and how they can elevate your photography website.
FOCCUS – Photography Community Elementor Pro Full Site Template Kit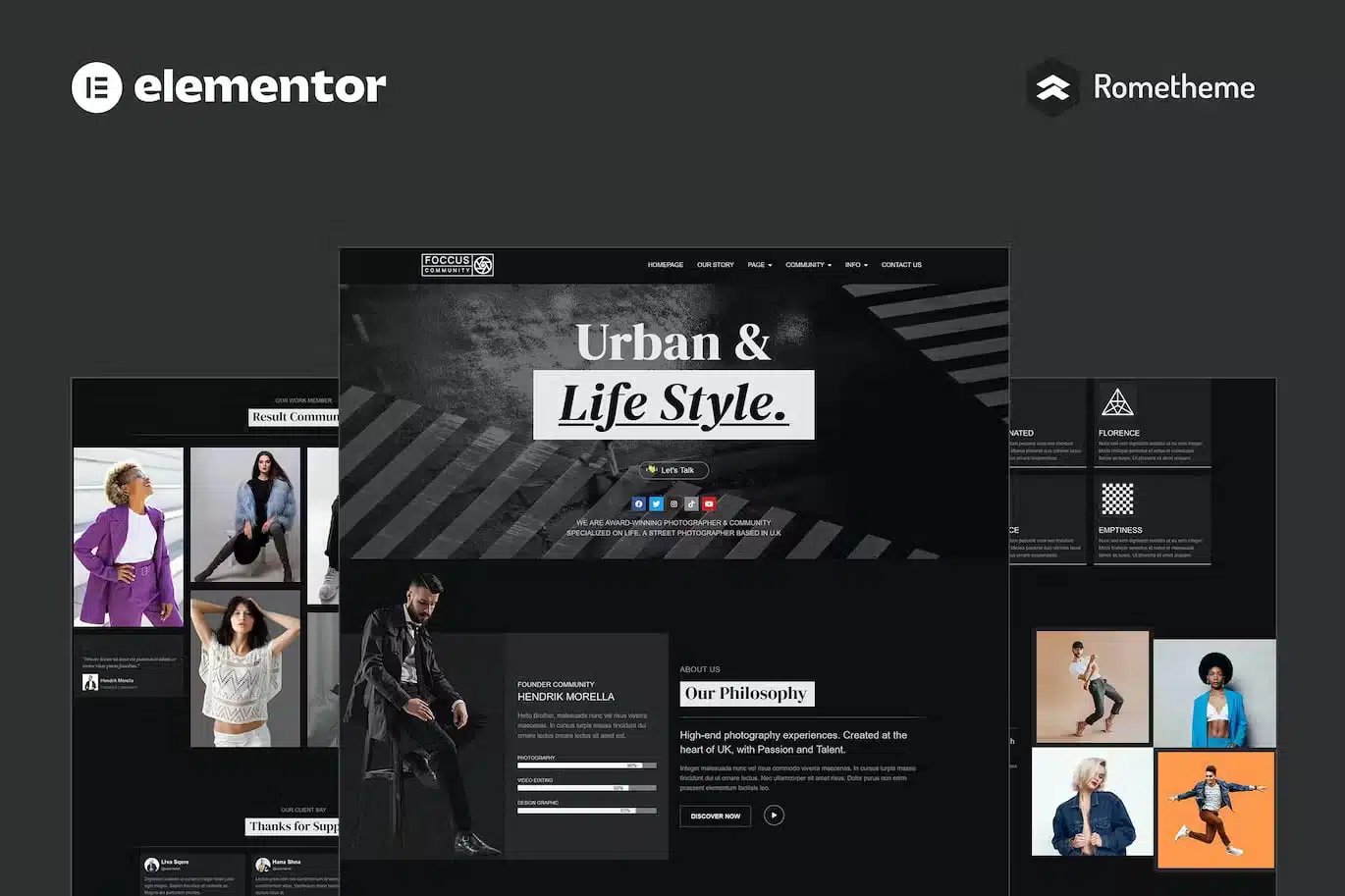 FOCCUS is a comprehensive photography community template kit designed for Elementor. It offers a wide range of pre-designed pages and features specifically tailored for photographers who want to build a vibrant and engaging online community around their work.
Key Features:
Fully Responsive Design: FOCCUS ensures that your website looks stunning on all devices, including desktops, tablets, and mobile phones, providing a seamless user experience.
Community-focused Elements: The template kit includes dedicated sections for user profiles, forums, photo challenges, and more, fostering interaction and engagement among your photography community.
Portfolio Showcase: Showcase your photography portfolio with customizable galleries and sliders, allowing visitors to appreciate your work in a visually appealing manner.
Integration with Elementor Pro: FOCCUS seamlessly integrates with Elementor Pro, unlocking advanced design options and functionalities to further enhance your website's appearance.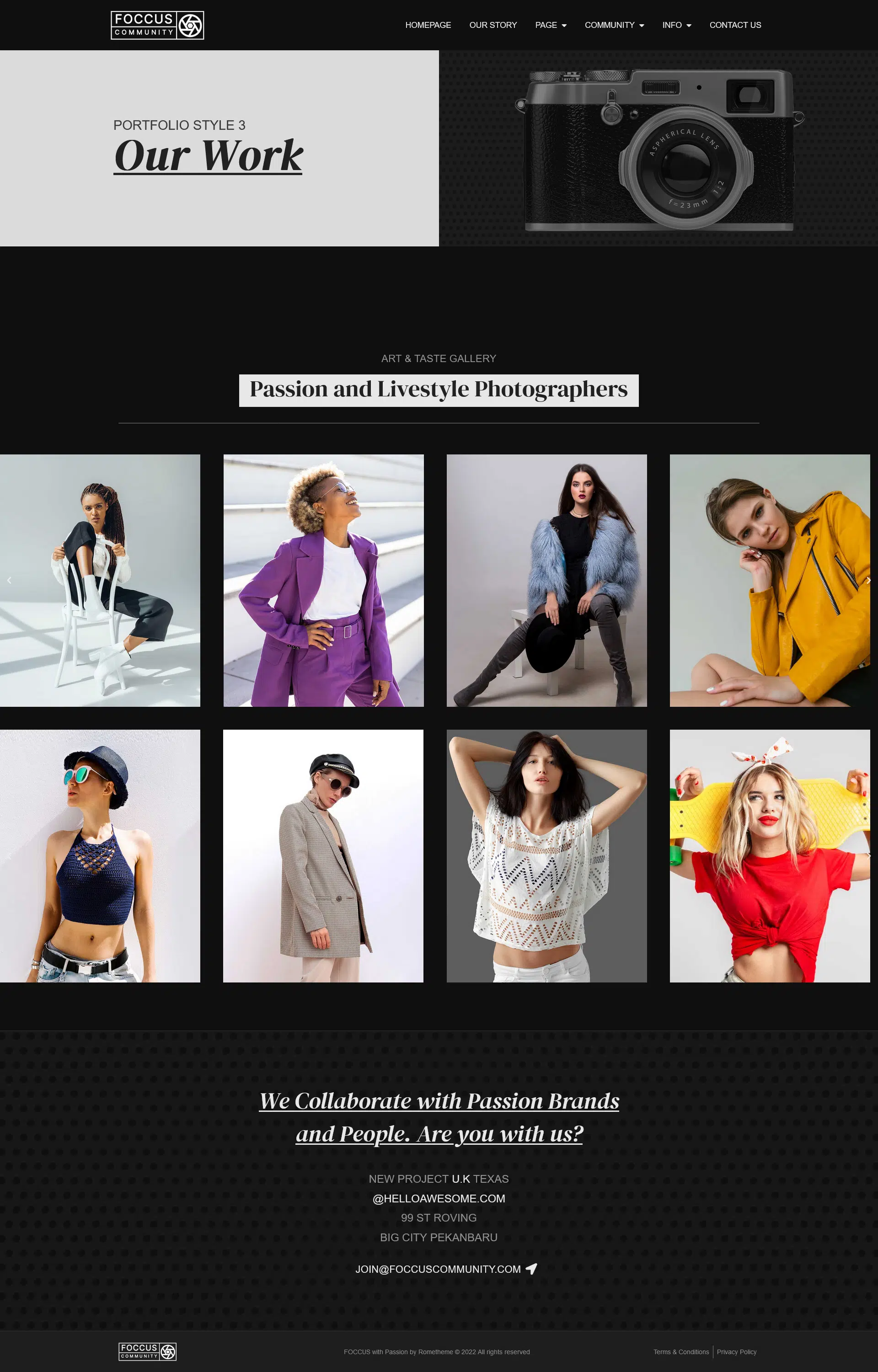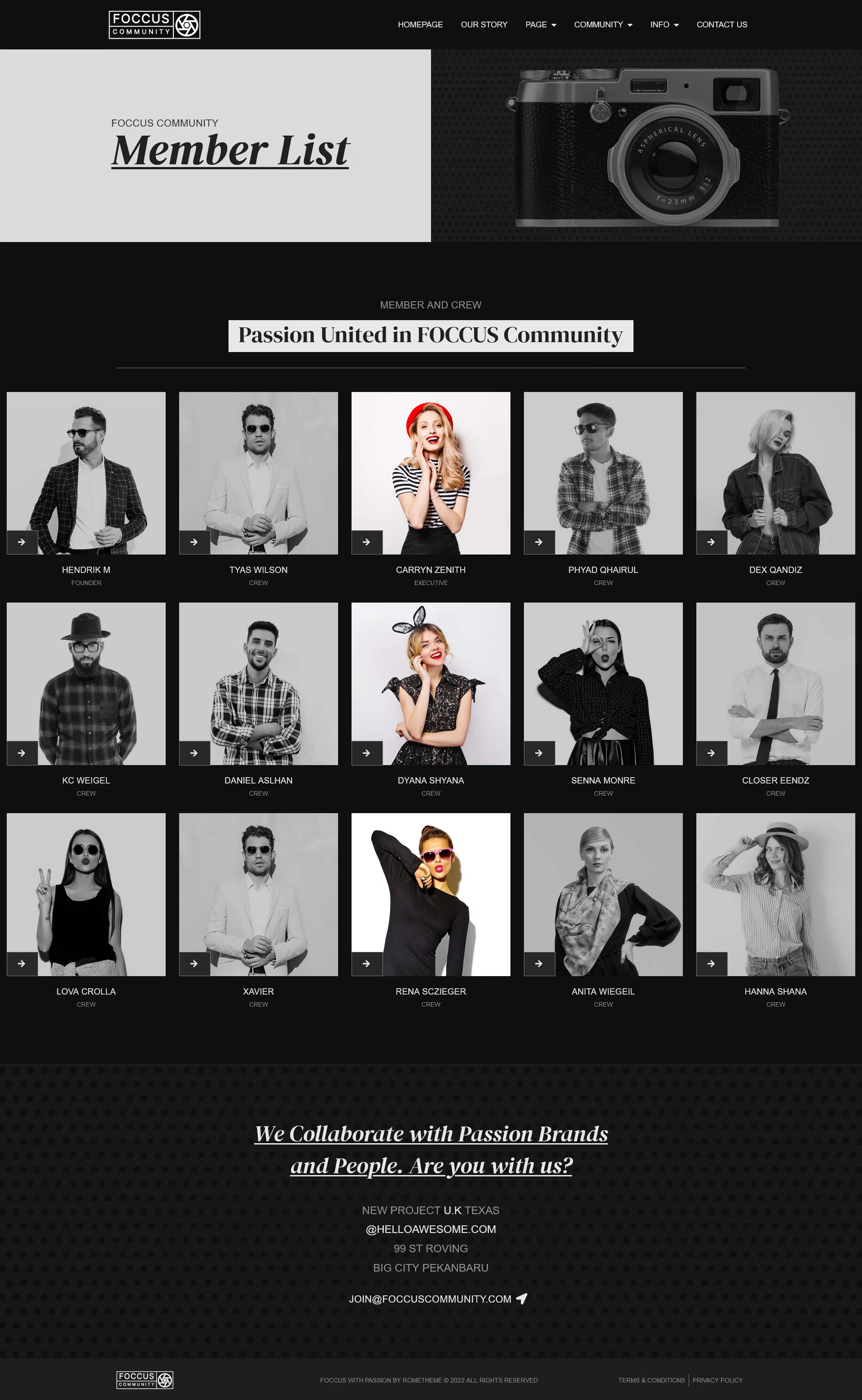 Benefits of Using FOCCUS:
Build a Photography Community: With FOCCUS, you can create a thriving community of photography enthusiasts, fostering connections and collaboration.
Engage with Your Audience: The template kit's community-focused elements encourage interaction, discussions, and sharing of photography tips and techniques.
Professional Portfolio Presentation: Showcase your work with elegance and professionalism, leaving a lasting impression on your visitors.
Time-saving Solution: FOCCUS eliminates the need for designing your website from scratch, providing ready-made templates and layouts that you can customize to suit your brand and style.
Kurohiko – Photography & Portfolio Elementor Template Kit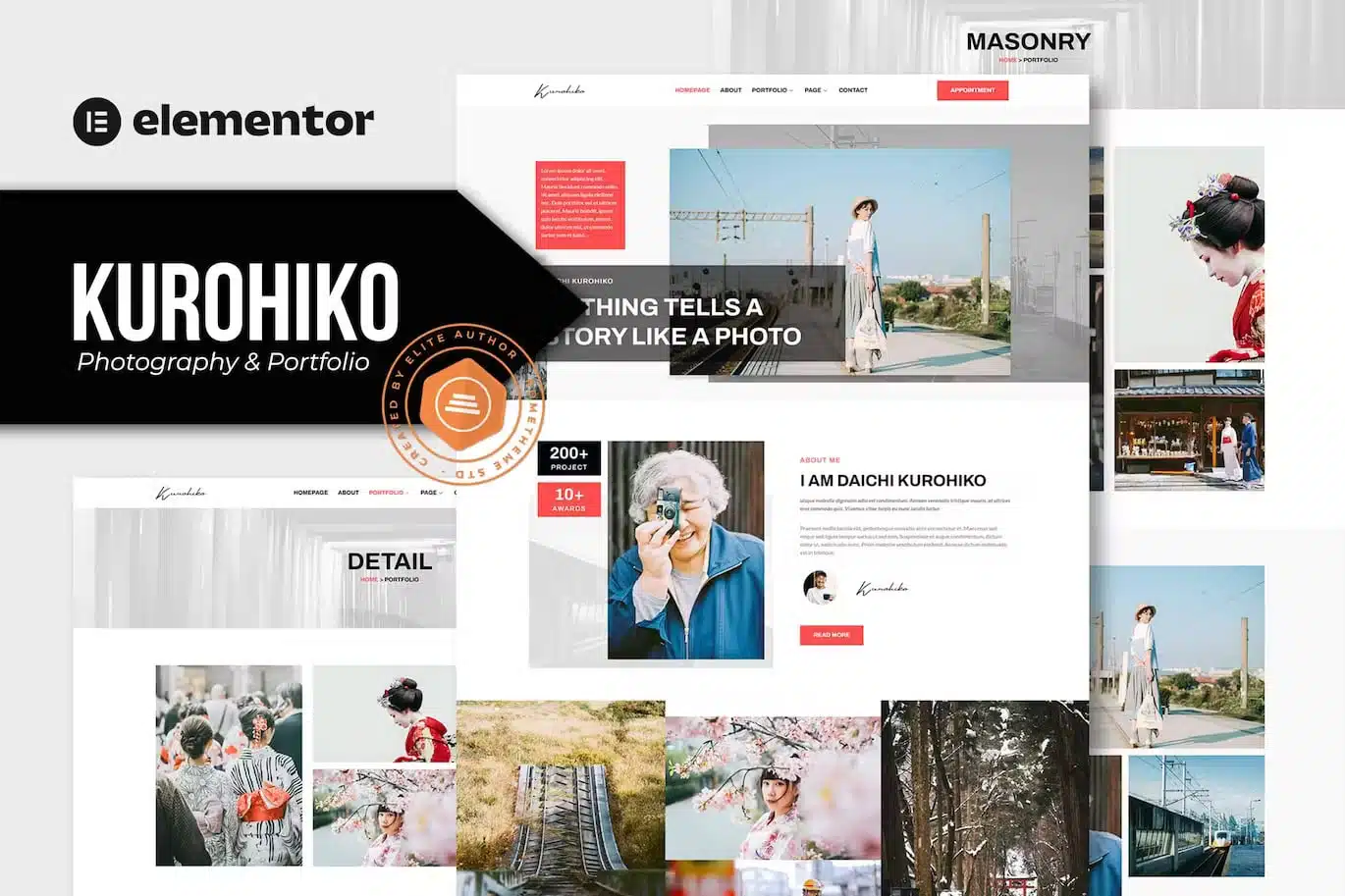 Kurohiko is a versatile template kit designed specifically for photographers and portfolio websites. It offers a range of stylish and modern templates that can be easily customized to reflect your unique style and vision.
Key Features:
Sleek and Modern Design: Kurohiko's templates feature a clean and contemporary design aesthetic, ensuring that your photography website stands out.
Flexible Portfolio Layouts: Showcase your photographs in stunning portfolio layouts, with options for grid, masonry, and carousel styles.
Integrated Blogging: Kurohiko includes blog templates, allowing you to share your insights, stories, and photography tips with your audience.
Optimized for Performance: The template kit is optimized for fast loading times and SEO best practices, ensuring a smooth user experience and improved search engine visibility.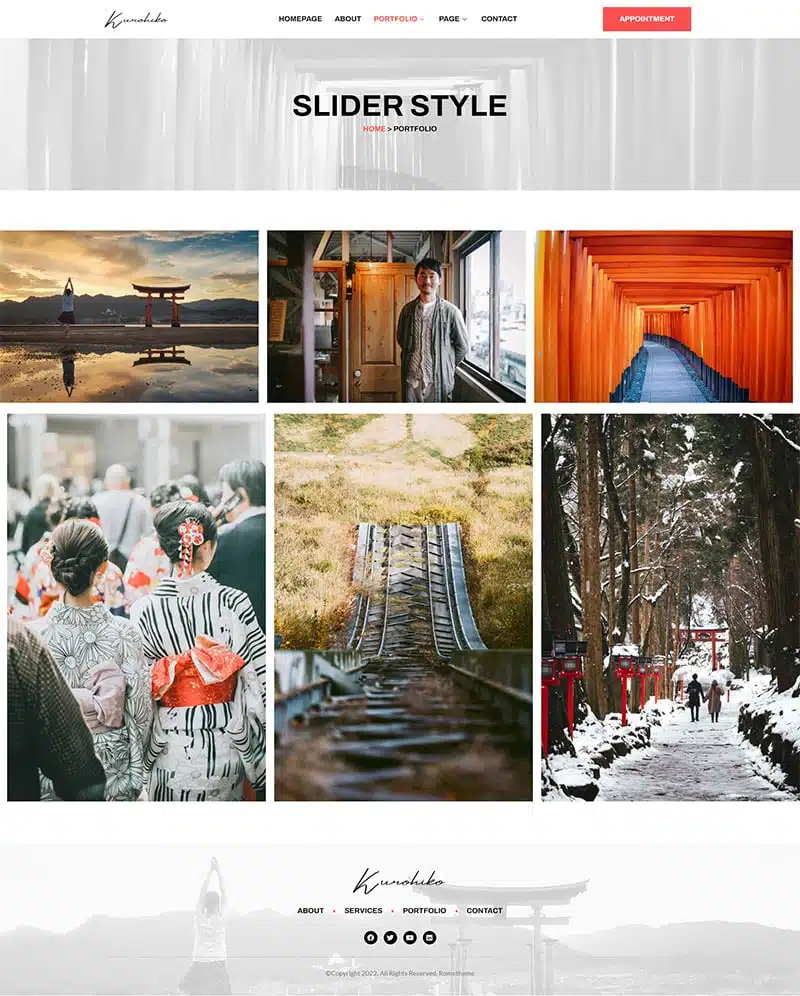 Benefits of Using Kurohiko:
Stylish and Professional Appearance: Kurohiko's modern design and flexible layouts give your website a professional and visually appealing look.
Easy Customization: With Elementor's intuitive interface, you can easily customize Kurohiko's templates to match your brand and personal style.
Seamless Blog Integration: Share your thoughts, experiences, and photography knowledge through the integrated blog templates, enhancing your website's value.
Improved Performance and SEO: Kurohiko's optimization for performance and adherence to SEO best practices ensure that your website loads quickly and ranks well in search engine results.
Dinostic – Animal Photography & Portfolio Elementor Template Kit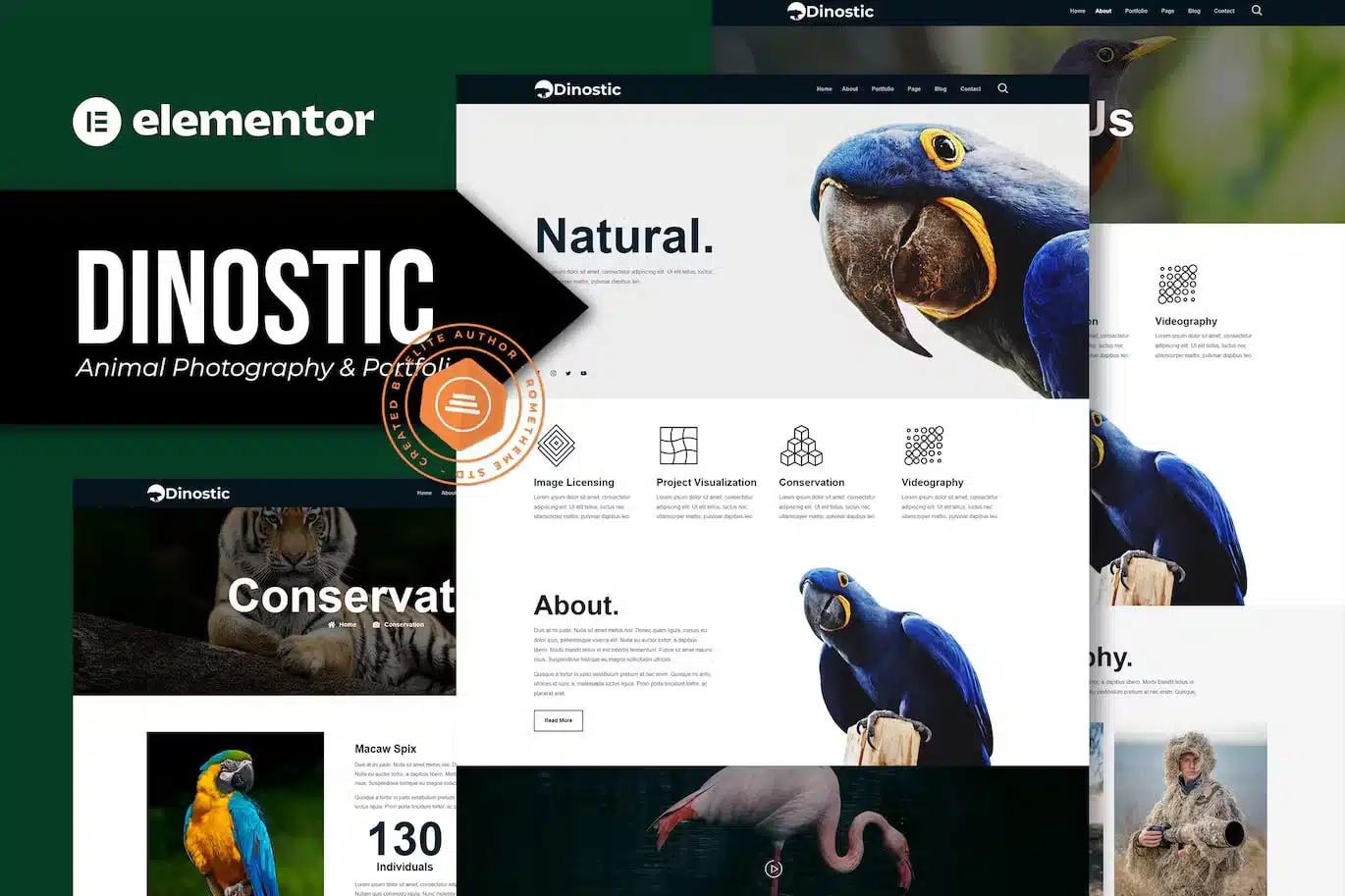 Dinostic is a specialized template kit designed for photographers focused on animal and wildlife photography. It offers a unique set of templates and features tailored to showcase the beauty and diversity of the animal kingdom.
Key Features:
Dedicated Animal Photography Elements: Dinostic includes pre-designed sections specifically crafted for showcasing animal photographs, such as wildlife galleries and species profiles.
Animal Conservation Focus: The template kit highlights the importance of animal conservation through informative content and interactive elements.
Engaging Storytelling: Dinostic's templates enable you to narrate compelling stories about your encounters with animals, creating a captivating experience for your visitors.
Responsive and Cross-Browser Compatibility: Your website will look great across different devices and browsers, ensuring a seamless user experience for all visitors.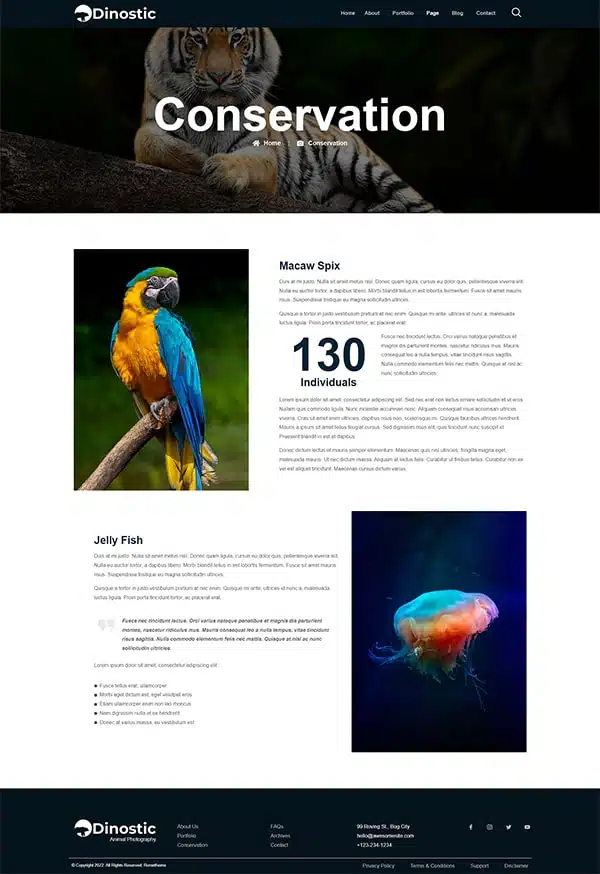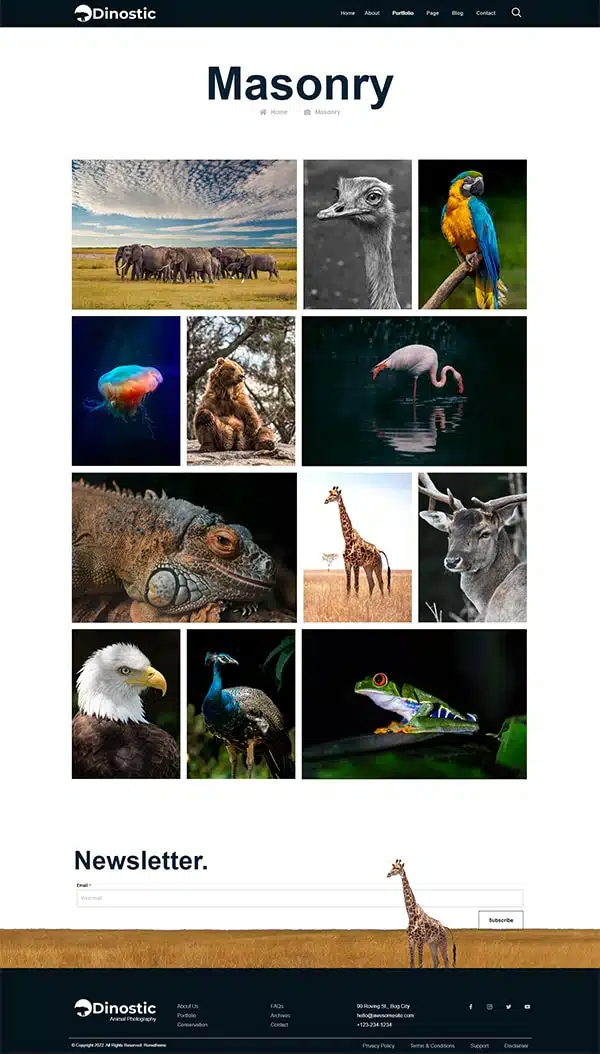 Benefits of Using Dinostic:
Specialized Animal Photography Presentation: Dinostic provides the ideal platform to showcase your animal photography skills and raise awareness about wildlife conservation.
Interactive and Informative: Engage your audience with captivating stories and educational content, inspiring them to appreciate and protect the animal kingdom.
Stunning Visual Design: Dinostic's templates are designed to highlight the beauty of animals, creating an immersive and visually appealing browsing experience.
Cross-Device Compatibility: Your website will adapt seamlessly to various screen sizes, ensuring a consistent and enjoyable experience for your audience.
Piccaso – Photography Elementor Template Kit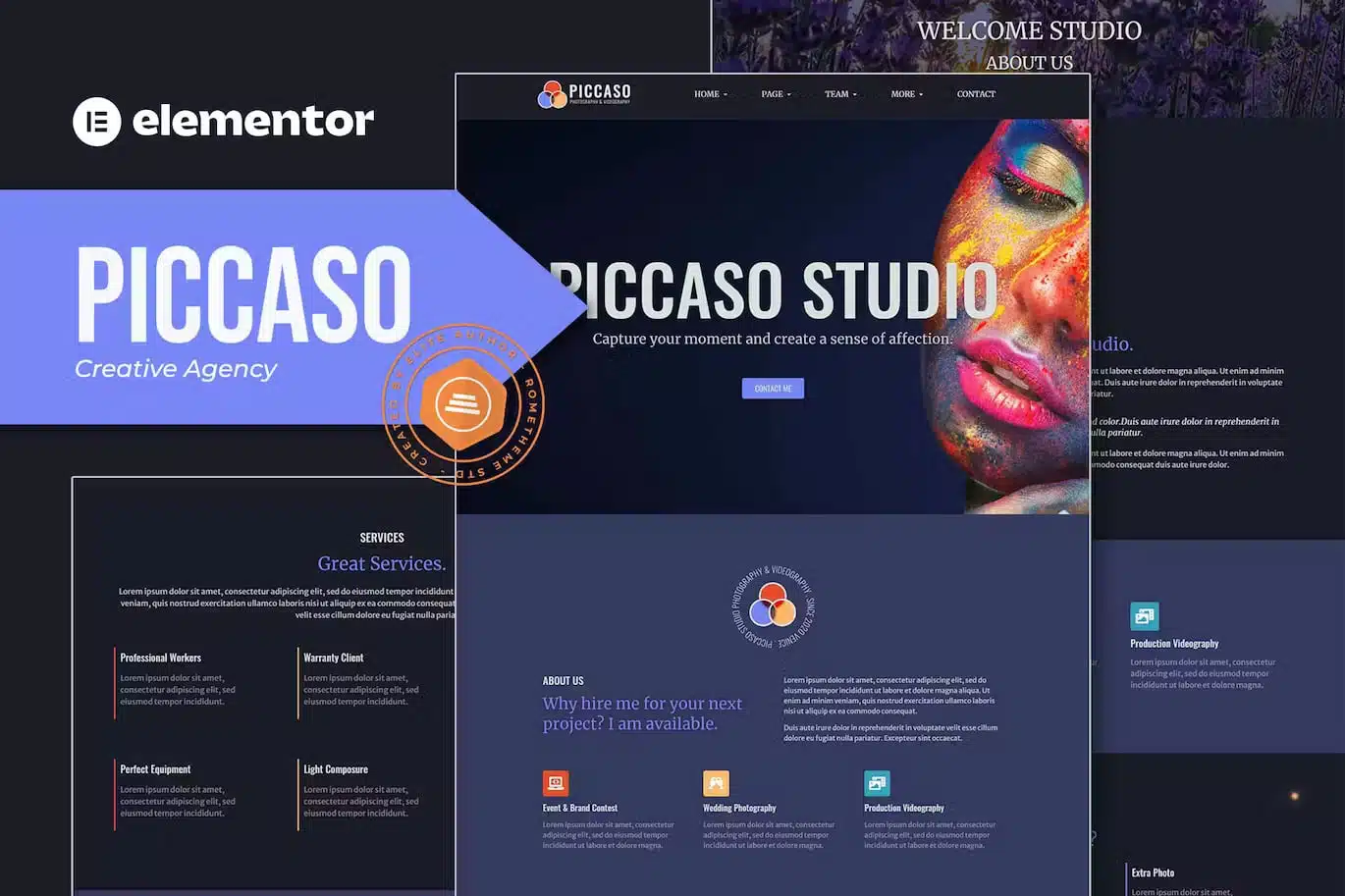 Piccaso is a versatile photography template kit for Elementor, suitable for a wide range of photography styles and niches. Whether you're a portrait photographer, landscape artist, or fashion shooter, Piccaso offers templates that cater to your specific needs.
Key Features:
Multiple Photography Styles: Piccaso provides templates designed for various photography styles, allowing you to showcase your work in a way that resonates with your audience.
Creative Presentation Options: The template kit offers unique and innovative presentation styles, such as split screens, parallax effects, and animated galleries.
E-commerce Integration: If you offer photography services or sell prints, Piccaso integrates seamlessly with popular e-commerce plugins, enabling you to monetize your website.
Customizable Pricing Packages: Piccaso includes templates for pricing packages, making it easy to present your services and their associated costs to potential clients.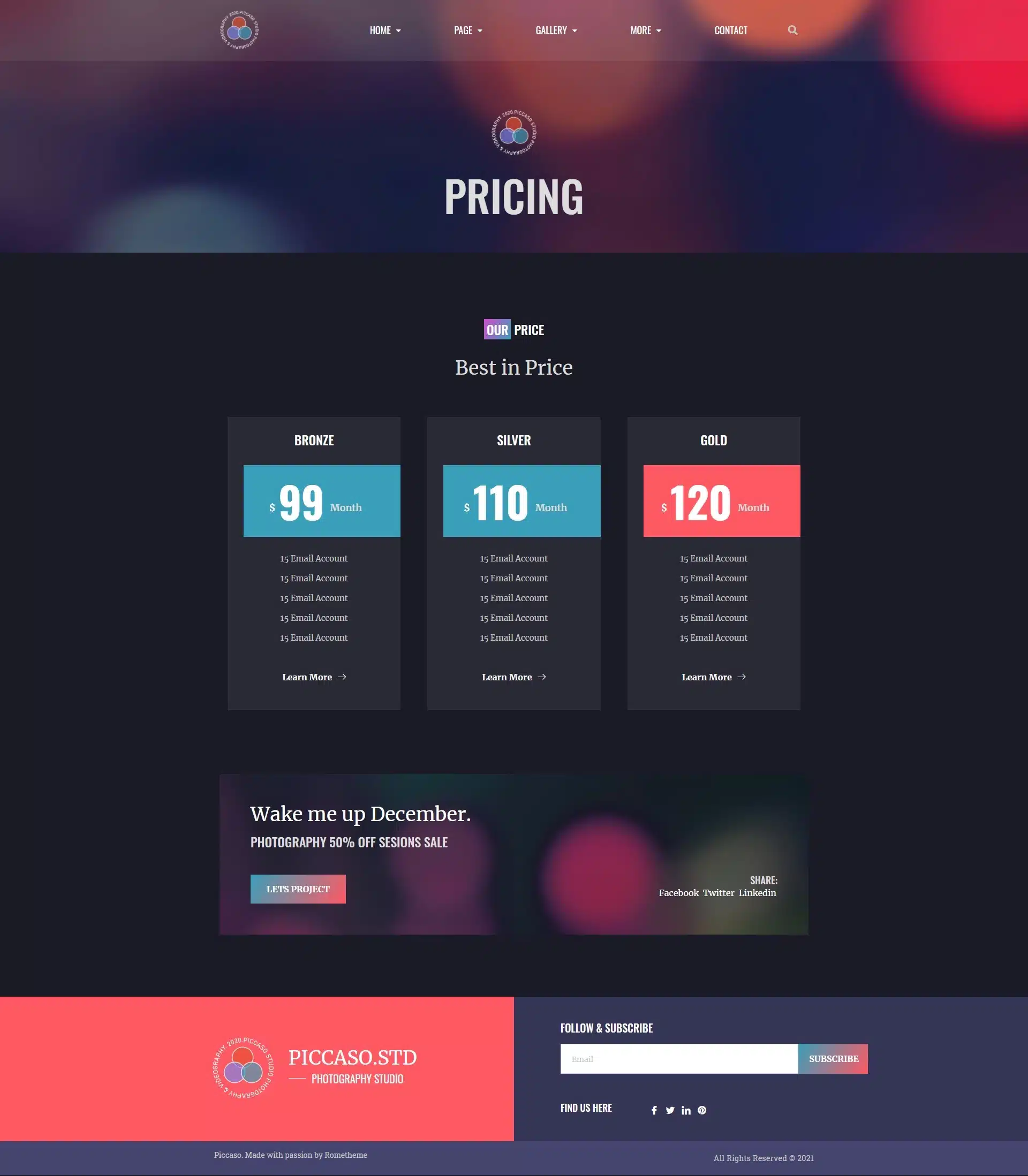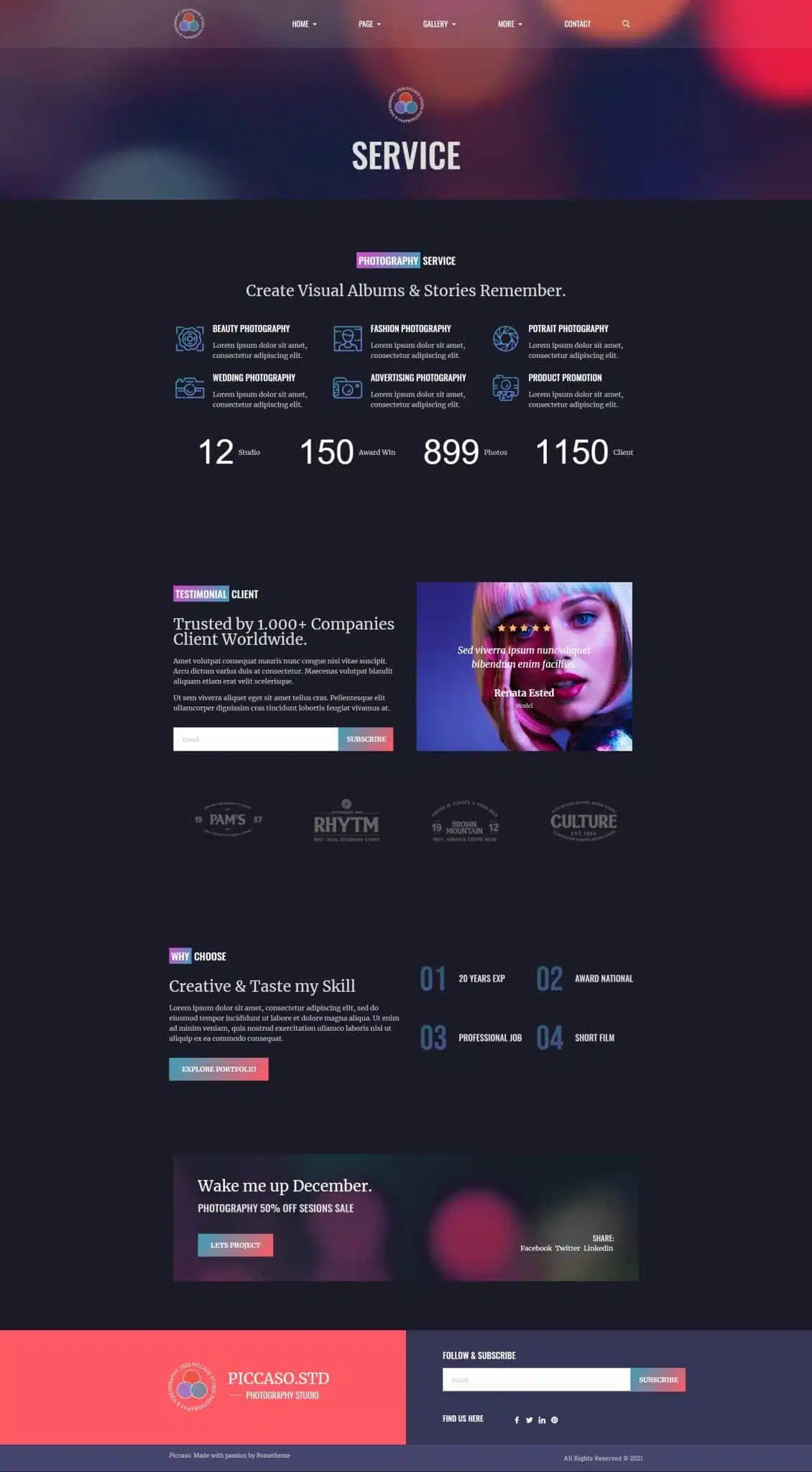 Benefits of Using Piccaso:
Versatility for Different Photography Styles: Piccaso's templates cater to a wide range of photography genres, ensuring that you can find a design that aligns with your artistic vision.
Creative and Dynamic Presentations: Stand out from the crowd with Piccaso's innovative presentation options, impressing your audience with visually captivating galleries and effects.
Monetization Opportunities: If you offer photography services or sell prints, Piccaso's e-commerce integration simplifies the process of showcasing and selling your work.
Transparent Pricing Display: The customizable pricing package templates help you clearly communicate your services and their respective prices, fostering transparency and trust.
Frequently Asked Questions (FAQs)
1. What is Elementor?
Elementor is a popular drag-and-drop website builder for WordPress, empowering users to create visually stunning and highly functional websites without any coding knowledge.
2. Are these template kits compatible with Elementor Pro?
Yes, all the mentioned template kits—FOCCUS, Kurohiko, Dinostic, and Piccaso—are fully compatible with Elementor Pro, offering advanced design options and functionalities.
3. Can I customize these template kits to match my branding?
Absolutely! Elementor allows extensive customization, including changing colors, fonts, layouts, and adding your own branding elements to personalize the template kits according to your preferences.
4. Are these template kits responsive?
Yes, all the mentioned template kits are designed to be fully responsive, ensuring that your website looks great on all devices, from desktops to smartphones.
5. Can I integrate a blog into these template kits?
Yes, both Kurohiko and Dinostic template kits include dedicated blog templates, allowing you to seamlessly integrate a blog section into your photography website.
6. Can I sell my photography services or prints using these template kits?
Yes, Piccaso template kit offers e-commerce integration, enabling you to showcase and sell your photography services or prints through your website.
Conclusion
When it comes to creating a professional and visually stunning photography website using Elementor, the FOCCUS, Kurohiko, Dinostic, and Piccaso template kits are outstanding choices. Each kit offers unique features, designs, and functionalities, catering to various photography styles and niches. Whether you aim to build a photography community, showcase your portfolio, highlight animal photography, or explore creative presentation options, these template kits provide the tools you need to create an impressive online presence. Choose the best template kit that aligns with your vision and start elevating your photography website today.
Visit our website to browse our stuff and follow our Instagram for great content!
Website: www.rometheme.net
Instagram: rometheme_studio