Current technological advances require you to involve all your work in an all-digital way. One way is by the many applications that provide services or facilities for users in various fields, ranging from finance, security, internet networks, corporate networks, and even robotics. For this reason, if you act as a technology or application service provider as mentioned, then try to use our design templates to present your services with a website to customers. In the following, we'll explore the best financial, security, internet network, enterprise network, and even robotic Elementor template kits available to help you create a professional and user-friendly website.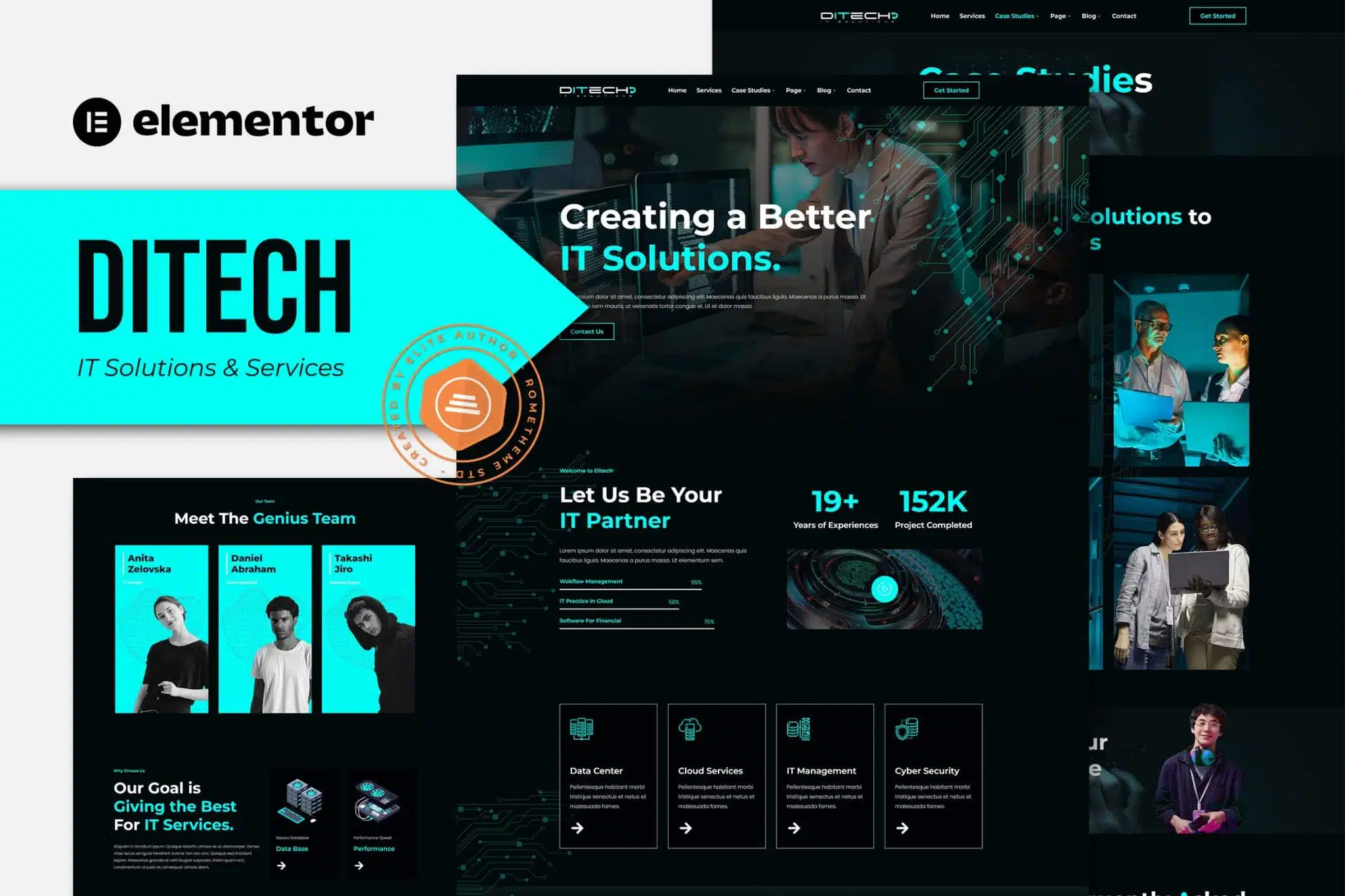 Ditech has 14+ ready-made templates with fully responsive dark clean designs and customizable themes including services, case studies, pricing, blog, and contact pages. Ditech can be used for IT Solutions & Services companies, Technology, Startups, Software, SaaS, Web Agencies, IT Companies, and any kind of IT-related business.
Virtu is designed for Tech and Software Company that wants to showcase their product in a professional way. It offers a clean and modern layout with intuitive navigation. The kit also includes career, service, and testimonial page templates that allow visitors to get information about user satisfaction with your services.
Digit is a fully responsive, dark, clean, and fully customizable tech and robotics theme. This template features a cool layout with a modern dark style design and a simple and professional look. The kit includes templates for home, project, service, blog, and team pages. Suitable for any business related to robotics and technology services. You can easily create modern robotics and technology websites. Just drag and drop, no coding is required.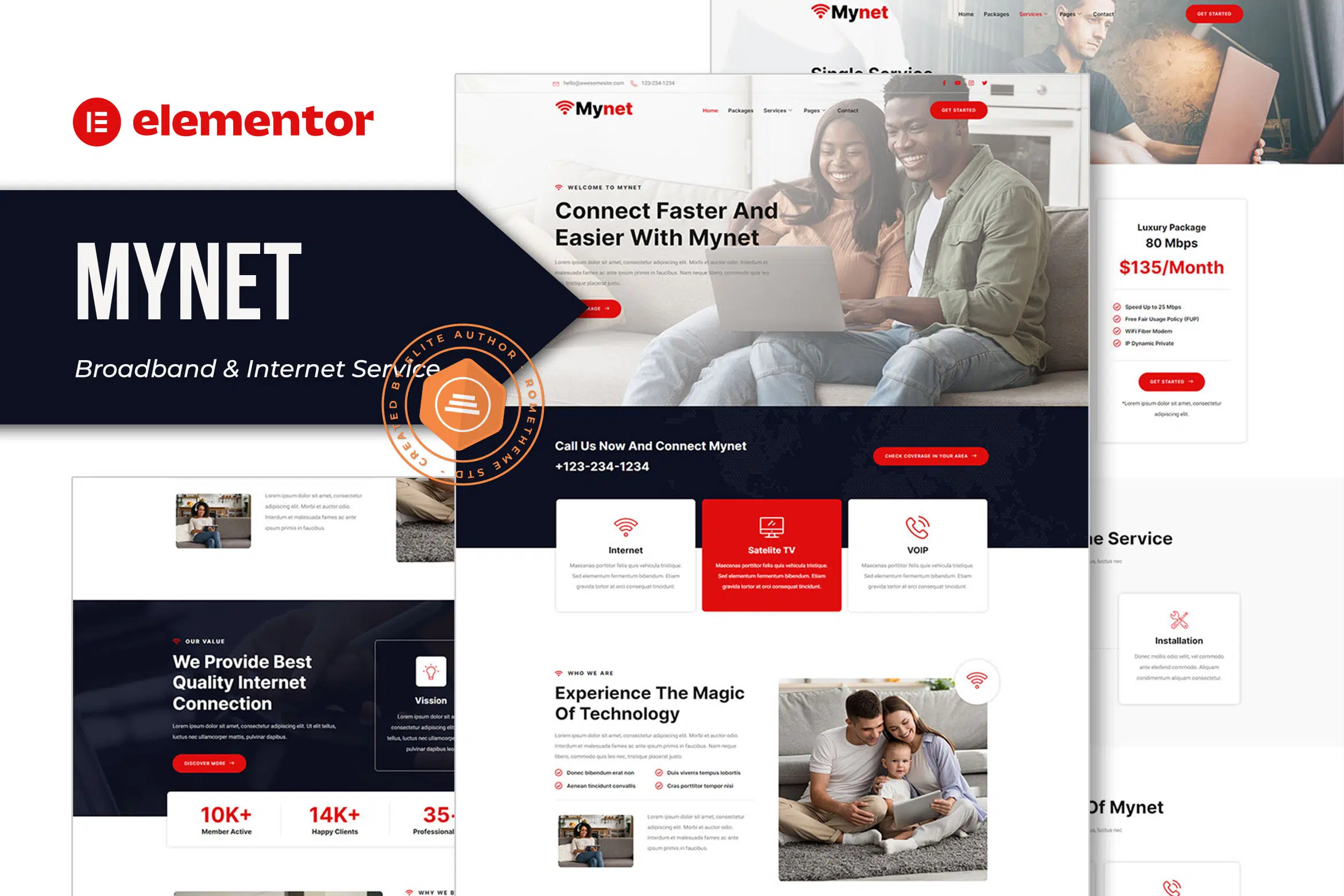 Mynet can be used for broadband & internet services such as WIFI, Satellite TV, Broadband, Online TV, Cable Television, Telecommunications Companies, and other related businesses. Mynet allows you to display service pages, service package prices, contacts, and steps to get services. With a simple design and seamless user experience, Mynet helps you promote your services to potential visitors and buyers.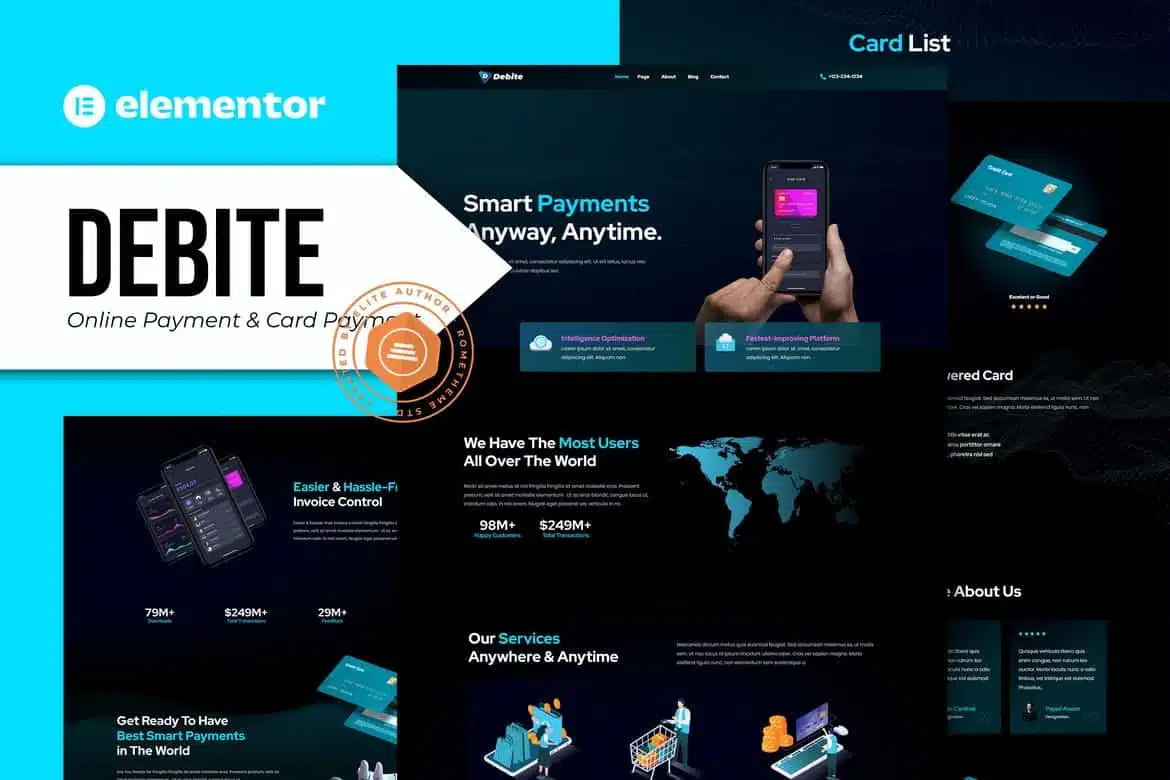 This kit includes templates for home pages, services, product details, articles or news, and contacts. With Debite, you can create a modern and informative website that highlights your futuristic and effortless offering of financial services.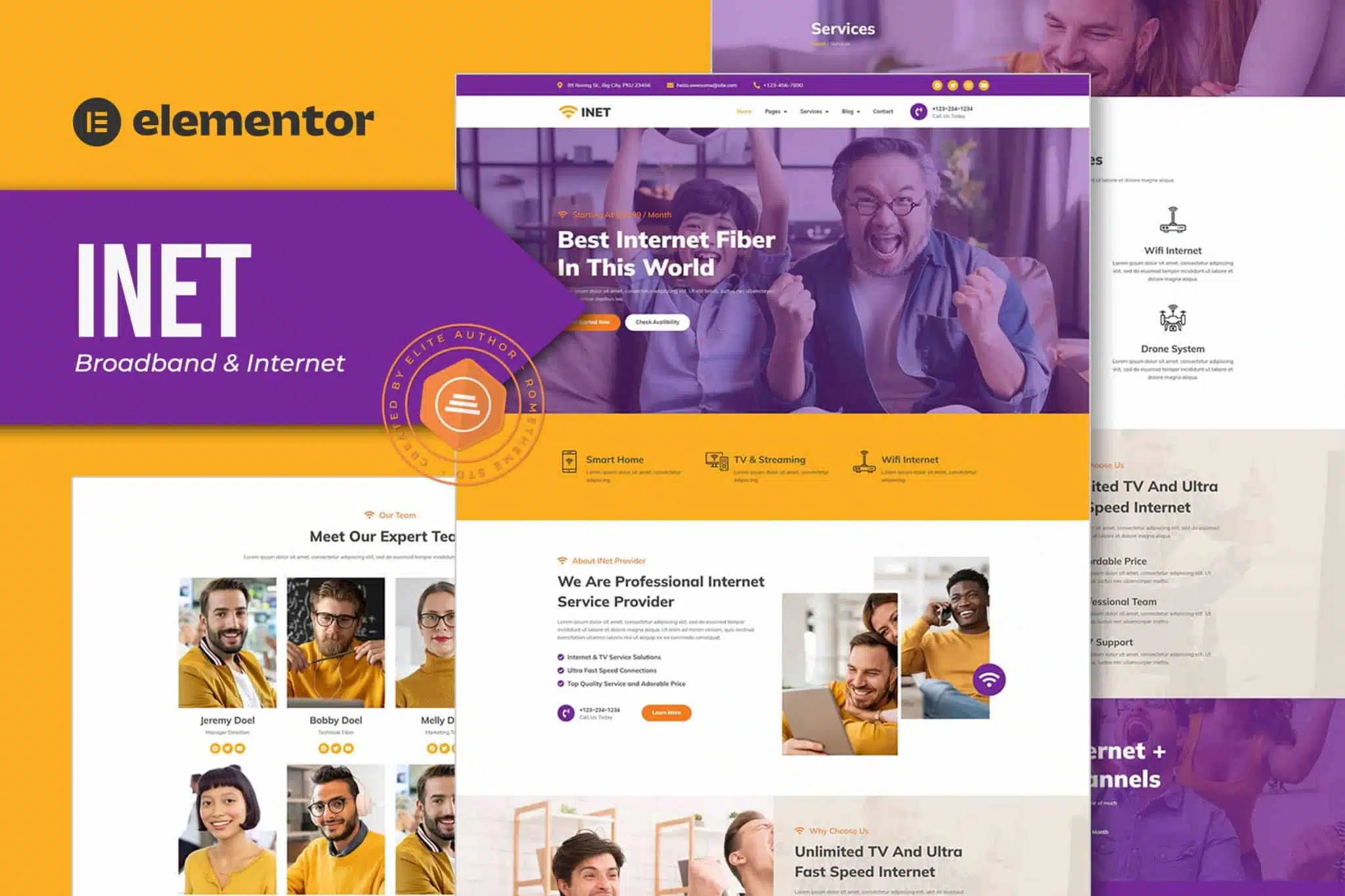 Inet – Broadband & Internet Service Provider is an Elementor Pro Template Kit to quickly and easily create a complete Elementor Pro website for your business featuring a modern and professional design and product advantages with easy-to-understand details. This kit features a fully compatible design system and professionally selected images for a premium branded start on your next project. Optimized for use with free Hello Elementor themes, this kit is well-tuned, fast loading and fully responsive.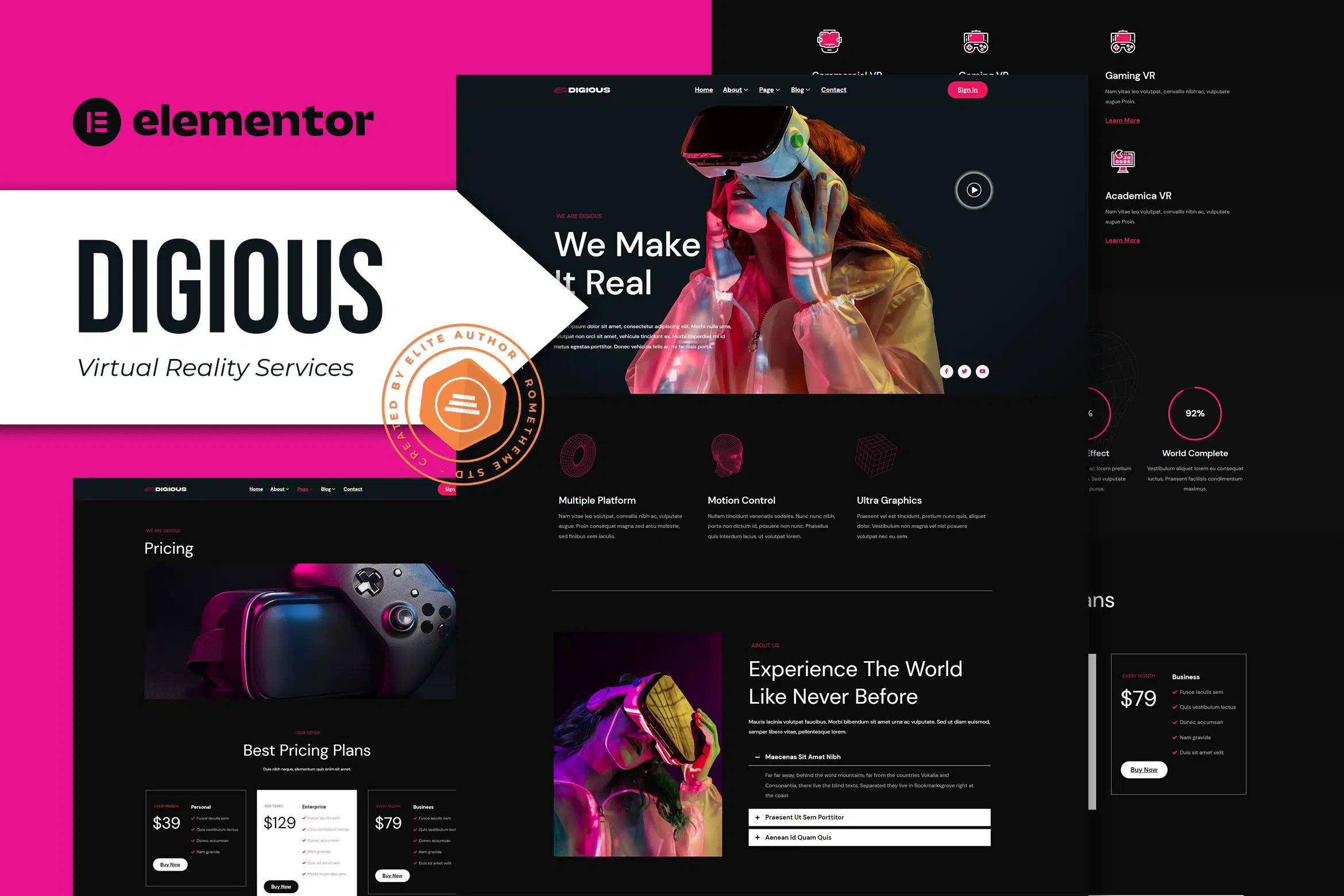 Digious has 12+ ready-to-use templates with fully responsive, clean dark designs and customizable themes. This kit provides templates for the homepage, team, service, pricing, and contact. This kit also displays the statistics of the projects they have completed to add value to attract customers. besides being used for Virtual Reality Services, this template can also be used for game room, crypto, or esports businesses.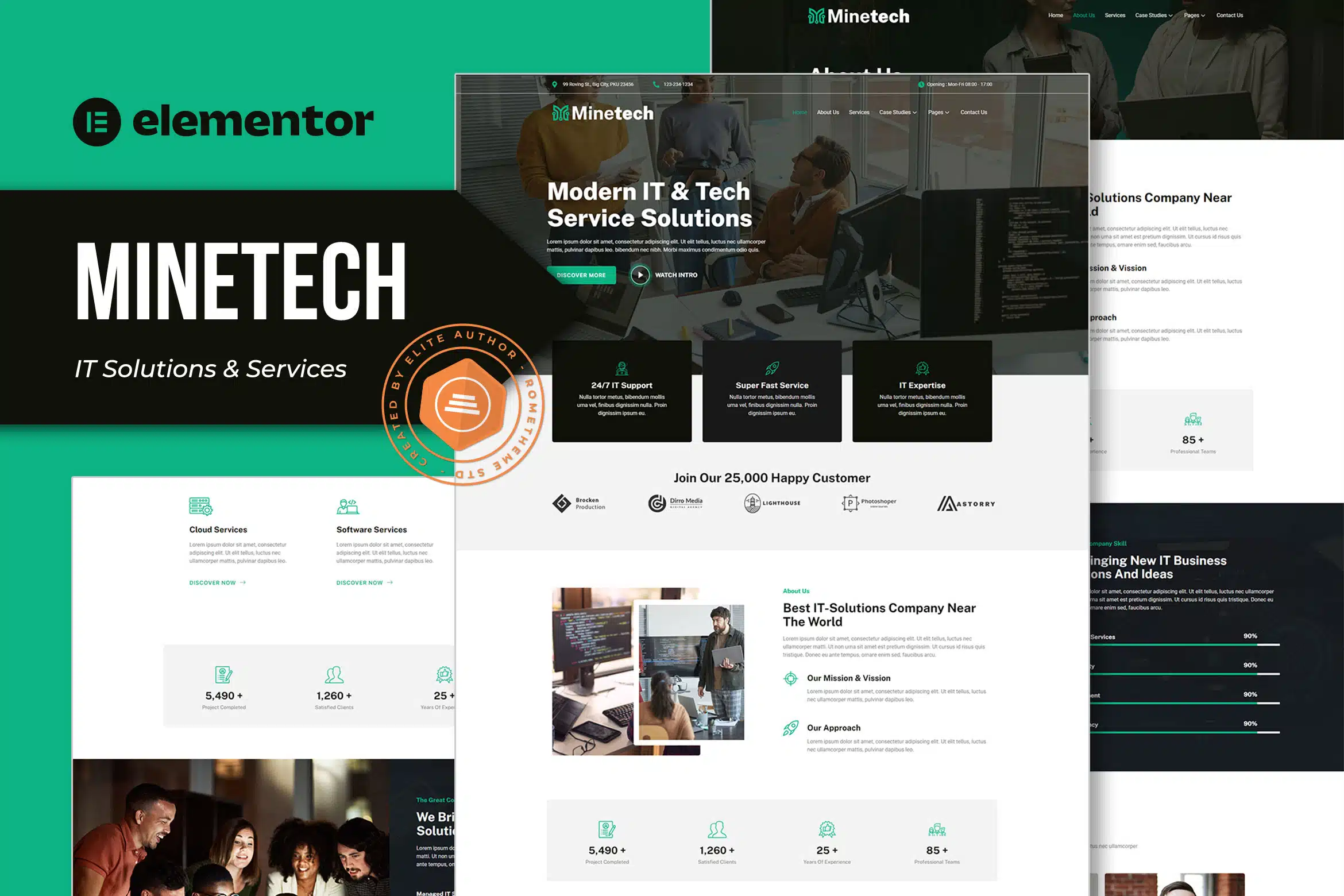 Minetech can be used for IT Solutions & Services companies, Technology, startups, Software, SaaS, Web agencies, IT Companies, and any kind of IT-related business. Minetch lets you showcase projects and solutions offered to customers and contact details in a visually appealing way. With Minetech, you can reach customers who really need your services in detail.
Vecure can be used for your startup and service company, agency, creative or corporate portfolio. Vecure and layouts for companies to bring their cool, modern, and digital look to your amazing projects.
Vecure provides a detailed view as you scroll through the pages. including the home page, service, team, pricing, as well as a detailed project portfolio.
In conclusion, having a well-designed website is very important for you as a provider of technology and application services because it will reflect your professionalism and your seriousness in the field of technology that you are in. Users will place more trust in your services. Browse through the template kits mentioned above and choose the one that best represents your company and digital offering.
Visit our website to browse our stuff and follow our Instagram for great content!
Website: www.rometheme.net
Instagram: rometheme_studio