Exploring the World of Elementor Kit Templates
Welcome to the world of Elementor kit templates, where creativity meets functionality to create stunning websites. In this article, we will delve into five exceptional travel accommodation templates that will transform your website into an inviting and seamless experience for your visitors. Whether you're a resort owner, a hotel manager, or an adventure enthusiast, these Elementor kit templates are tailored to suit your specific needs.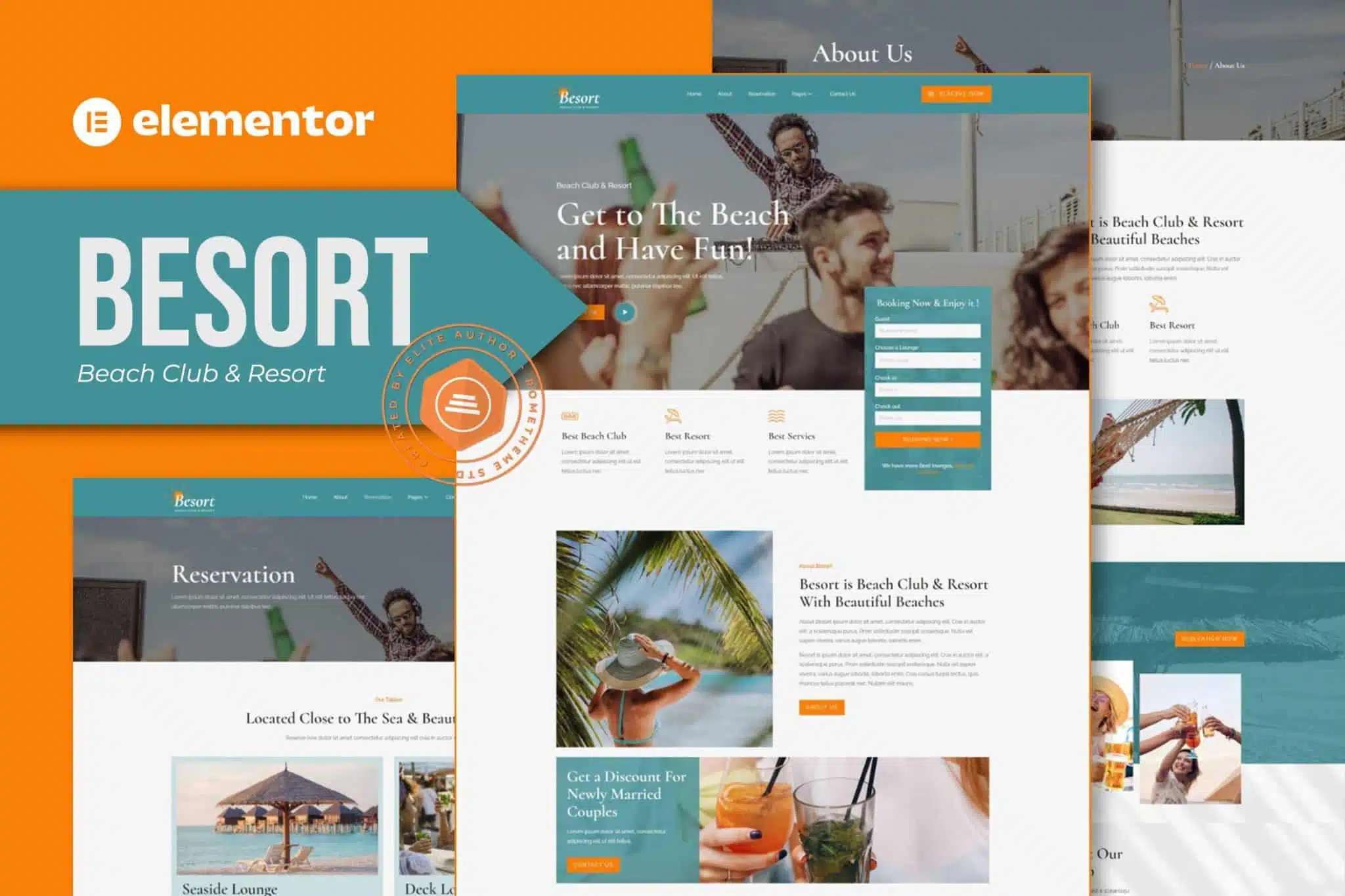 Besort – Beach Club & Resort is a captivating Elementor template kit designed for beachfront destinations and luxurious resorts. With its stunning layout and intuitive interface, Besort offers seamless navigation, eye-catching galleries, and interactive booking forms. The kit includes multiple pre-designed pages, such as Home, Accommodations, Dining, and Activities, making it a breeze to set up your dream travel website.
Besort's Key Features:
Attractive Hero Section: The hero section welcomes visitors with breathtaking images and a compelling call-to-action, instantly capturing their attention.
Responsive Design: Besort adapts to any screen size, ensuring a flawless user experience for both desktop and mobile users.
Reservation System Integration: Integrate your preferred booking system seamlessly and start accepting reservations in no time.
Testimonials and Reviews: Showcase glowing testimonials from satisfied guests, building trust and credibility for your beach club or resort.
Social Media Integration: Engage with your audience and expand your reach by integrating your social media accounts.
Besort – Beach Club & Resort Elementor Template Kit is the perfect choice for beach destinations seeking to leave a lasting impression on their website visitors.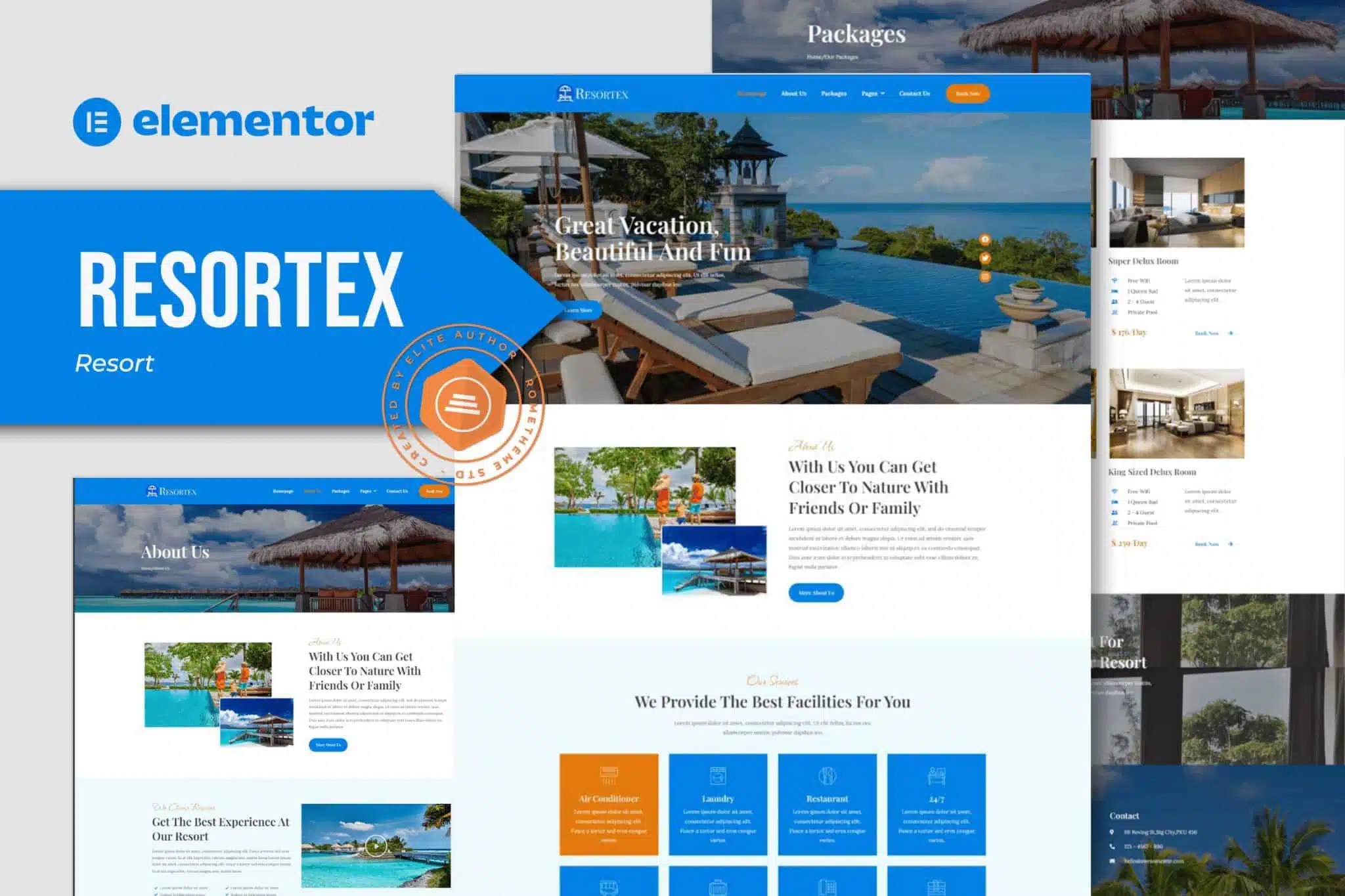 If you're in the hospitality industry and seeking an Elementor kit template that exudes elegance and sophistication, Resortex – Hotel & Resort is the answer. This template kit offers a perfect blend of style and functionality, making it ideal for luxury hotels, resorts, and boutique accommodations.
Resortex's Key Features:
Parallax Effect: Create a visually stunning experience with the parallax effect, adding depth and dynamism to your website.
Room Showcase: Showcase your rooms and suites with beautiful image galleries and detailed descriptions to entice potential guests.
Dining Menus: Display your restaurant's delectable offerings with customizable menus and enticing food images.
Interactive Location Map: Help your guests find your establishment easily with an interactive map that provides directions.
Resortex – Hotel & Resort Elementor Pro Template Kit will elevate your hotel's online presence, attracting discerning travelers seeking a luxurious experience.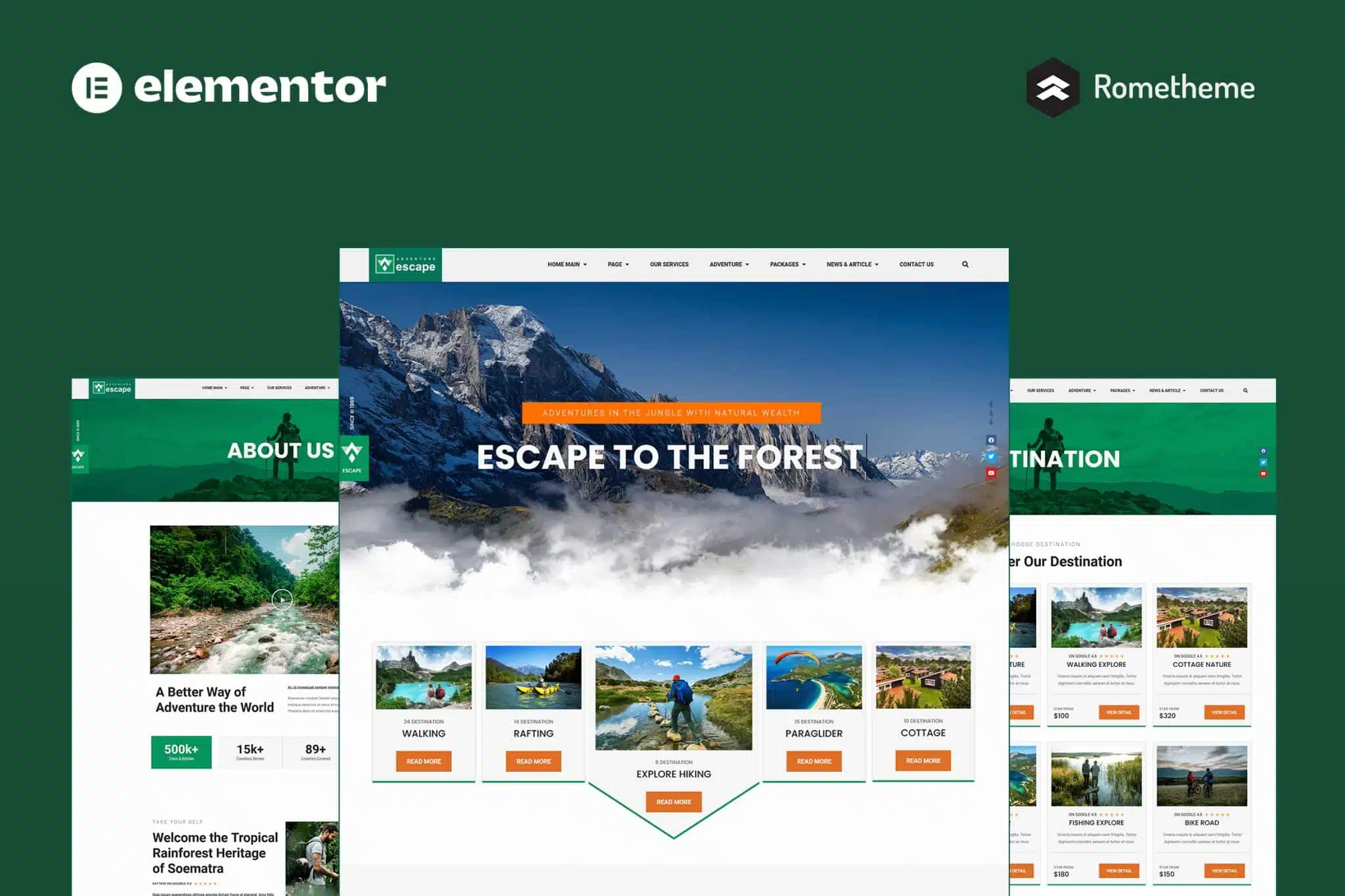 For adventure seekers and nature lovers, Escape – Forest Travel Adventure is a captivating Elementor template kit designed to bring the wilderness to your website. With its earthy tones and immersive design, this kit is perfect for promoting forest lodges, eco-resorts, and travel agencies specializing in nature adventures.
Escape's Key Features:
Adventure Itineraries: Showcase thrilling adventure packages with detailed itineraries, enticing adrenaline-loving travelers.
Image Galleries: Display breathtaking images of your forest destinations, inspiring visitors to explore the great outdoors.
Booking Inquiry Form: Streamline the booking process with a user-friendly inquiry form, converting interested visitors into potential customers.
Blog Section: Share engaging travel stories and insider tips to establish your brand as an authority in forest travel adventures.
Escape – Forest Travel Adventure Elementor Pro Full Site Template Kit is the gateway to connecting nature enthusiasts with unforgettable travel experiences.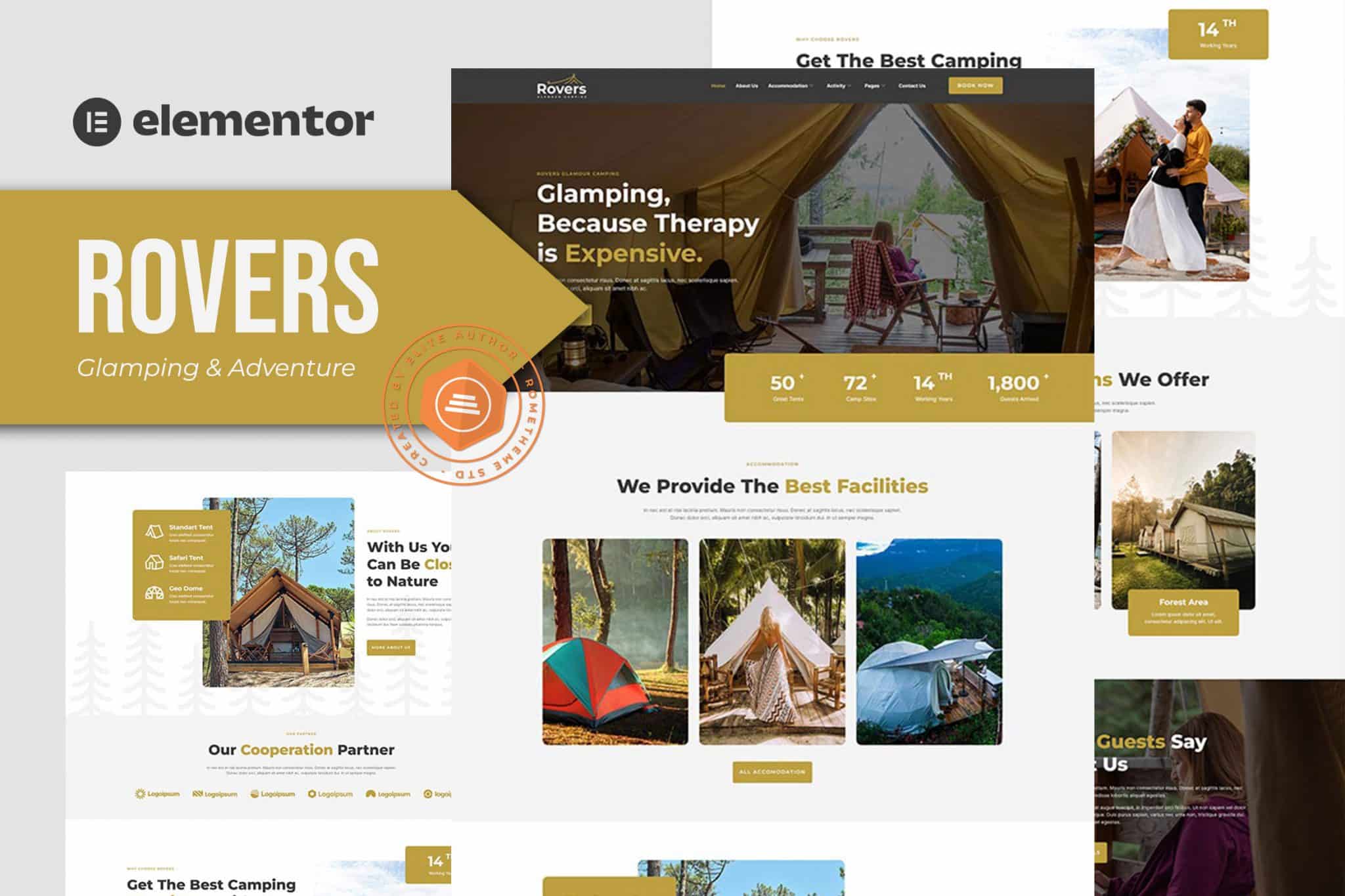 For those who seek a glamorous and adventurous camping experience, Rovers – Glamour Camping & Adventure is the perfect Elementor kit template. Ideal for luxury camping sites and outdoor adventure businesses, Rovers combines aesthetics with functionality.
Rovers' Key Features:
Glamping Accommodations Showcase: Display your luxurious glamping accommodations with stunning imagery and enticing descriptions.
Activity Schedules: Create a dynamic schedule of outdoor activities, providing guests with plenty of options to indulge in their favorite pastimes.
Team Members Section: Introduce your dedicated team members, creating a personal connection with potential guests.
Booking Calendar: Enable guests to check availability and make reservations conveniently with an integrated booking calendar.
Rovers – Glamour Camping & Adventure Elementor Template Kit is a must-have for camping businesses seeking to offer a touch of luxury amidst nature's beauty.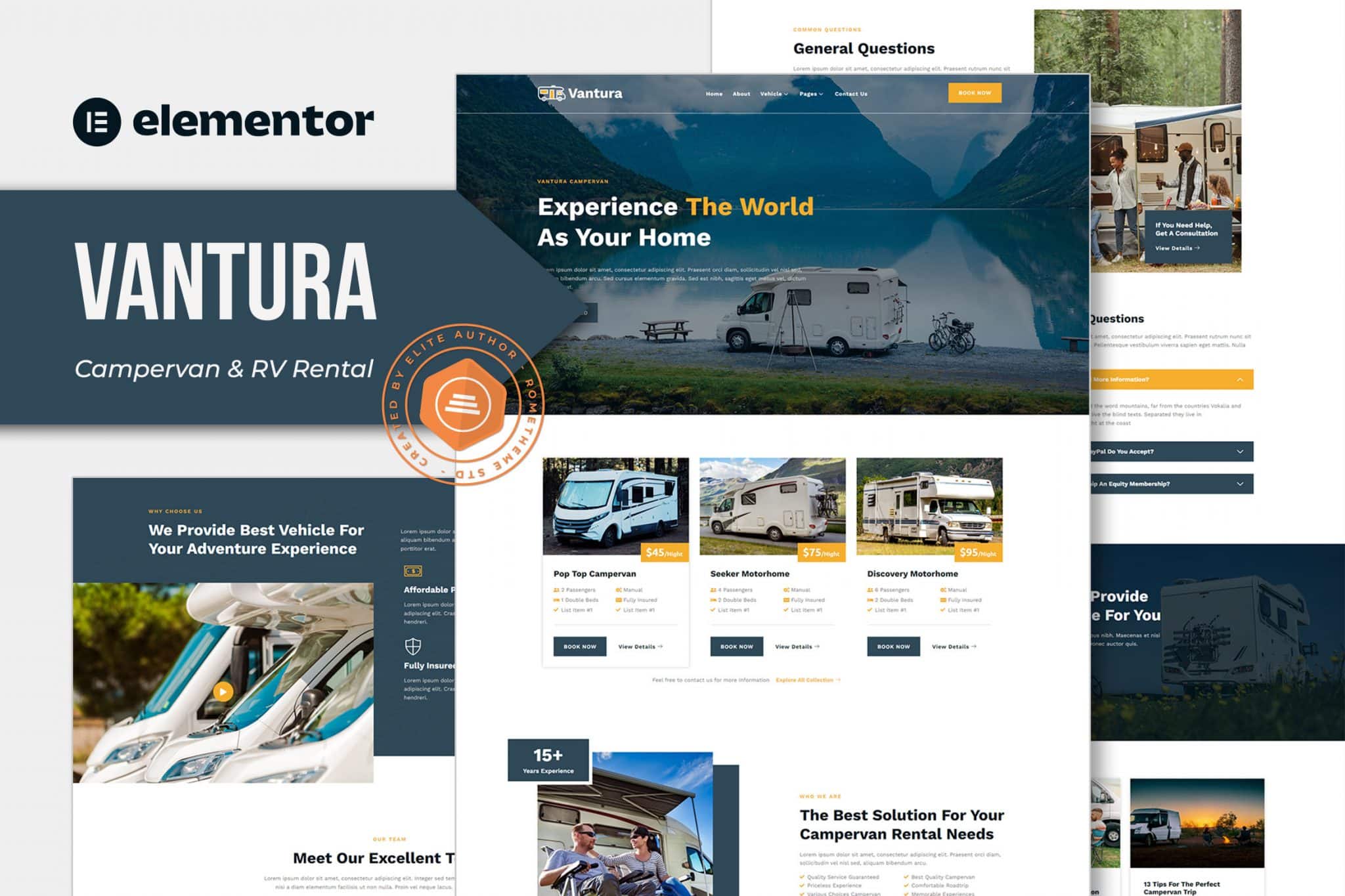 For adventurers who prefer life on the road, Vantura – Campervan & RV Rental Elementor Template Kit is the ultimate choice. This template kit caters to campervan and RV rental companies, offering a user-friendly and visually appealing design.
Vantura's Key Features:
Rental Fleet Showcase: Display your campervans and RVs with detailed specifications and rental options, simplifying the booking process for your customers.
Test Drive Booking: Encourage potential customers to book a test drive of your campervans, converting interest into bookings.
Customer Reviews: Feature feedback from satisfied travelers who have explored the world in your campervans, building trust and reliability.
Vantura – Campervan & RV Rental Elementor Template Kit is the go-to choice for businesses seeking to cater to wanderlust-driven travelers.
FAQs
Q: Are these Elementor kits compatible with WordPress?
A: Yes, all the mentioned Elementor kits are fully compatible with WordPress, making it easy to create and manage your website.
Q: Can I customize the templates to match my brand?
A: Absolutely! These Elementor kits are highly customizable, allowing you to personalize colors, fonts, and layouts to align with your brand identity.
Q: Is Elementor easy to use for beginners?
A: Yes, Elementor's drag-and-drop interface makes it beginner-friendly, allowing users to design stunning websites without coding knowledge.
Q: Are these templates mobile responsive?
A: Yes, all the Elementor kits mentioned in this article are mobile responsive, ensuring a seamless experience for mobile users.
Q: Can I add additional features and functionality to the templates?
A: Yes, Elementor offers a wide range of plugins and integrations to enhance your website's features and functionality further.
Q: Are there support and documentation available for these Elementor kits?
A: Yes, each template kit comes with documentation and support to assist you throughout the website-building process.
Conclusion: Elevate Your Travel Accommodation Website Today
In conclusion, the Best Travel Accommodation Elementor Kit Templates – Besort, Resortex, Escape, Rovers, and Vantura – offer a myriad of possibilities to enhance your travel-related business. Whether you're looking for luxury, adventure, or nature-inspired designs, these Elementor templates have you covered. Elevate your website and provide your visitors with an unforgettable online experience by choosing the perfect Elementor kit template for your unique brand.
Remember, the success of your travel accommodation website lies in its ability to captivate and engage visitors, and with the right Elementor kit template, you can achieve just that.
Visit our website to browse our stuff and follow our Instagram for great content!
Website: www.rometheme.net
Instagram: rometheme_studio