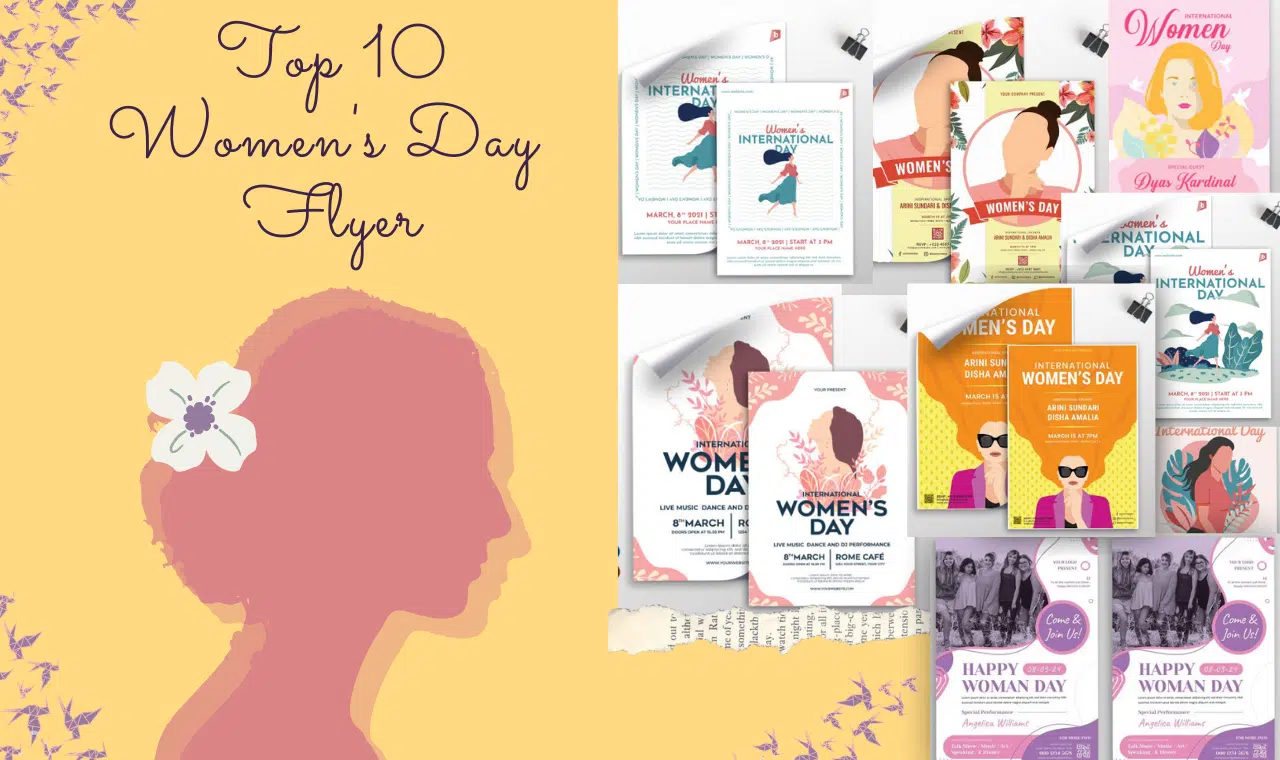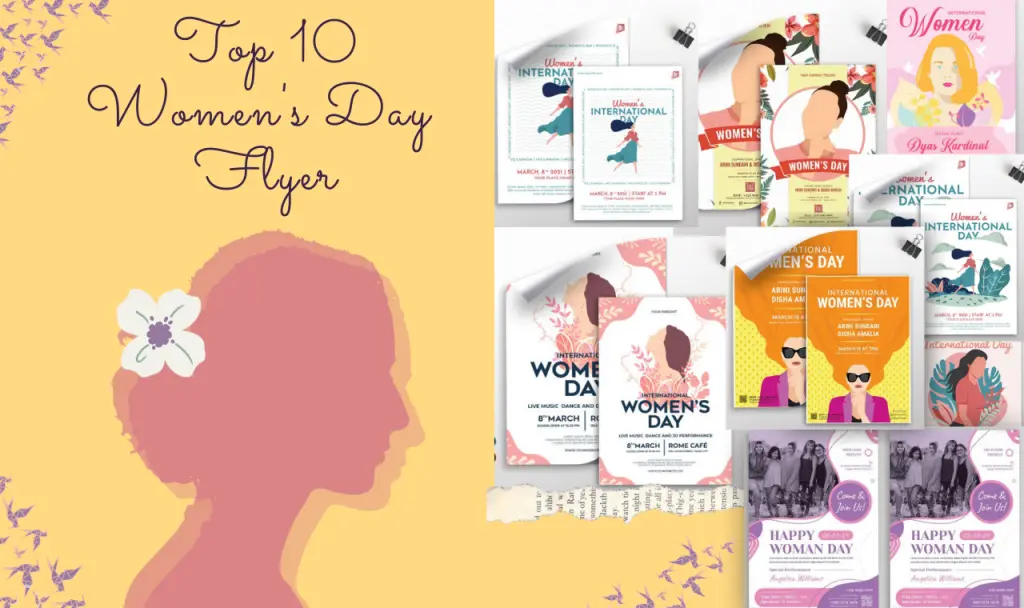 Every big day celebration other struggle of a character and many more greetings that will always be needed by personal or business owners who have websites and social media to support branding that can be recognized by many people. Sometimes it's not just a greeting, but on one occasion also makes an event related to that special day. At this time we have collected flyer designs related to commemorating world women's day. International Women's Day in it's history it is not known exactly what date it fell, because there is no agreed date for the same. Women's day with today's development is very significant. Now there are many figures from the creative industry who have more attention to women around. Hope of women today is that there will be no gender differences that make women always become the ones later. We pack more of the women's day design in the form of attractive illustrations with cheerful colors. Associated with the colors celebration symbolizing is purple, green, and white have been assigned. Let's take a look at some flyers that you can use to participate in celebrating a special women's day.
1. Happy Woman Day – Flyer
This flyer design uses a real pict combined with pink and purple shapes. Really looks charming and depicts the colors that are liked by women. When you print this flyer design, the image you will get will look clean and real. You can find many other flyers in the many creative markets that are available, but here we have a design that can attract more attention to those who see it.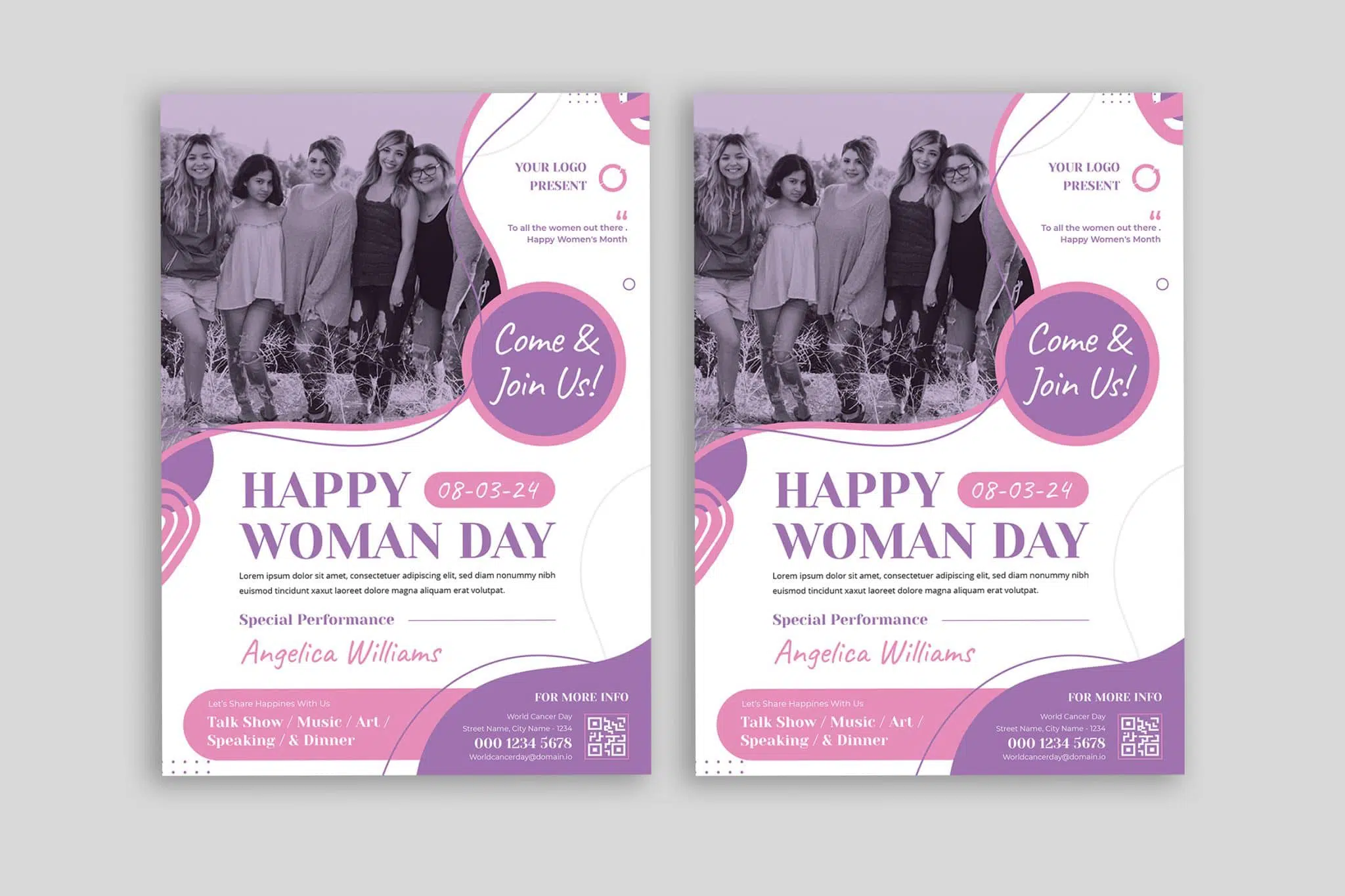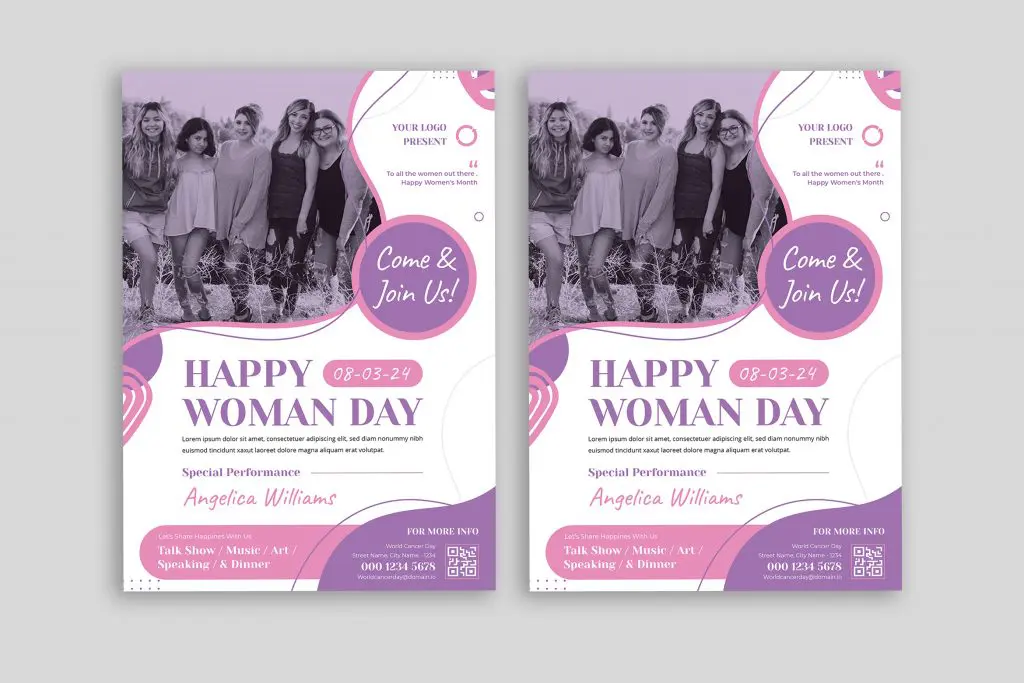 2. International Women Day vol.1 – Flyer, Poster, & IG
Where you get an illustration design that can attract attention with good illustration quality and of course also has a uniqueness that is different from most other designs, on our website you can get a design that is able to meet your needs to be published and is very easy to edit.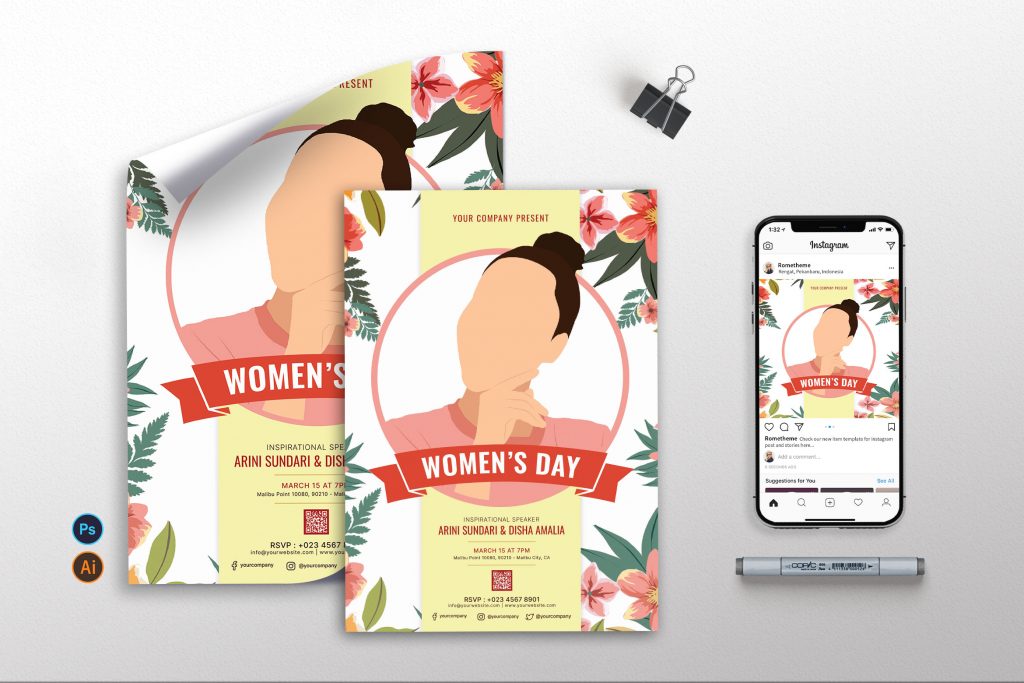 3. Women's International Day v3 – Flyer, Poster & Instagram
Do you know why nowadays there are many designs that use a variety of illustration formats and illustration icons have their own characteristics and various shapes, making this design have many enthusiasts who prefer it. Behind this, brush strokes or soft color play are also related to the illustration designs that are currently being found. You don't need to be awkward choosing the flyer that we have provided.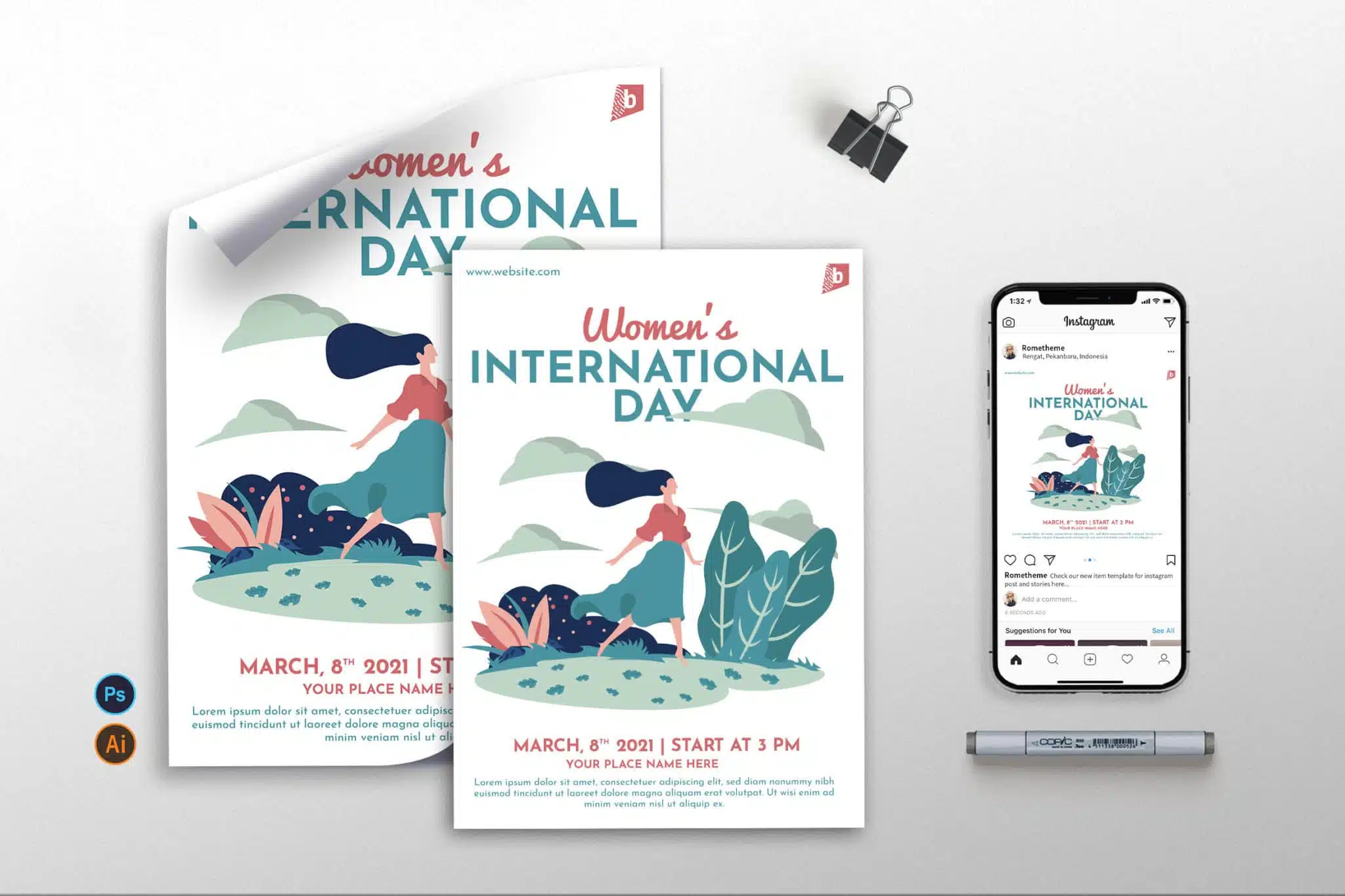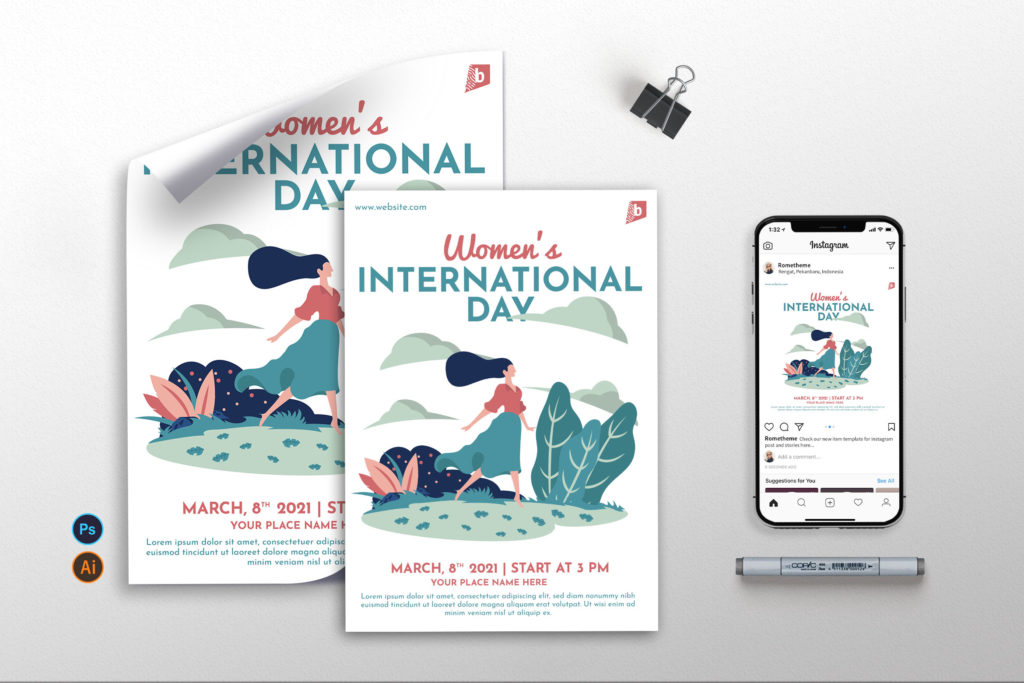 4. International Women Day vol.2 – Flyer, Poster, & IG
This flyer design gives the impression of a brave career woman to face the world. This flyer is also equipped with a poster and instagram format. The woman's face and hair in this design have given the meaning of strength, wisdom, and she deserves to be given a place to achieve the highest success.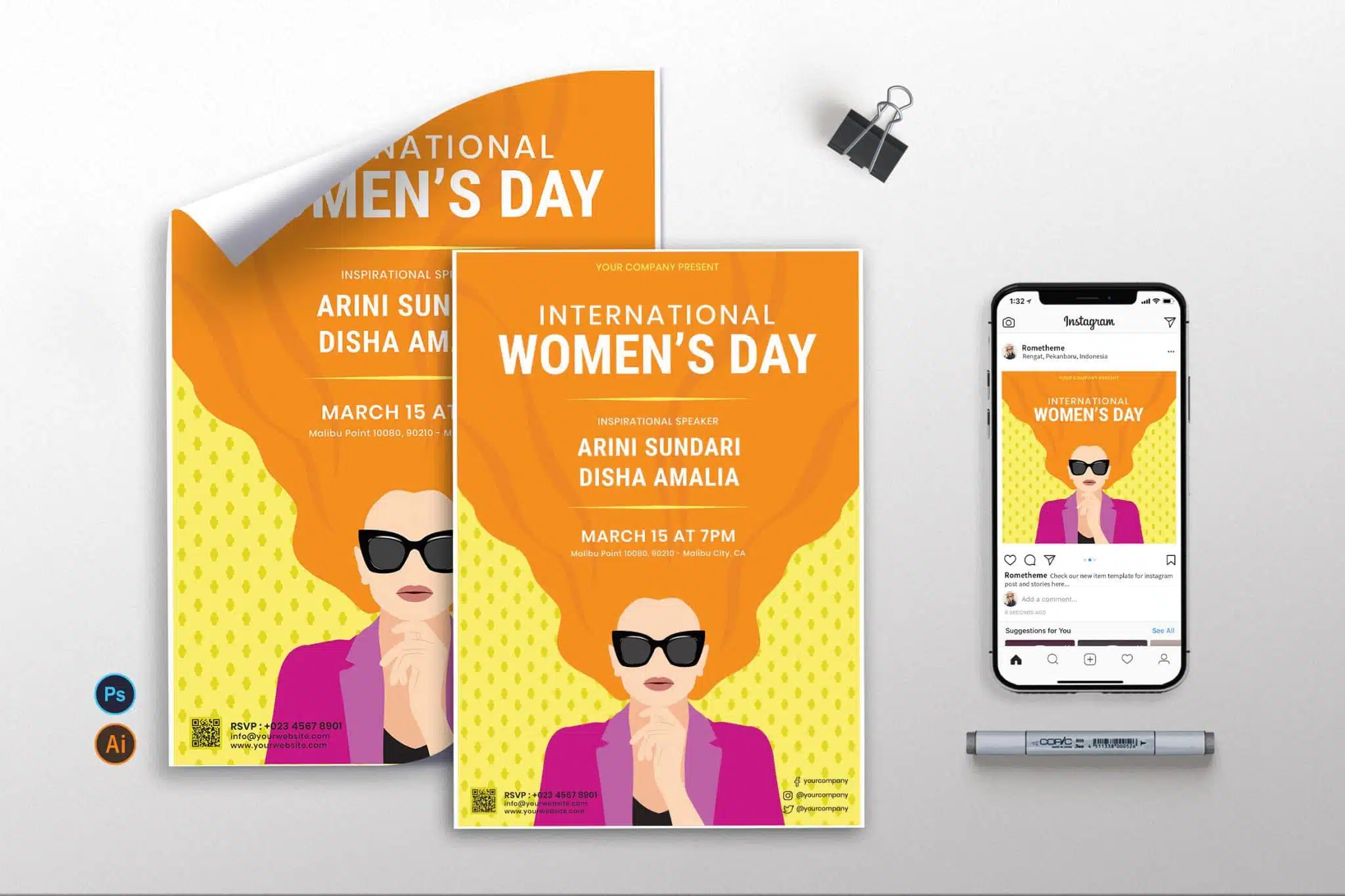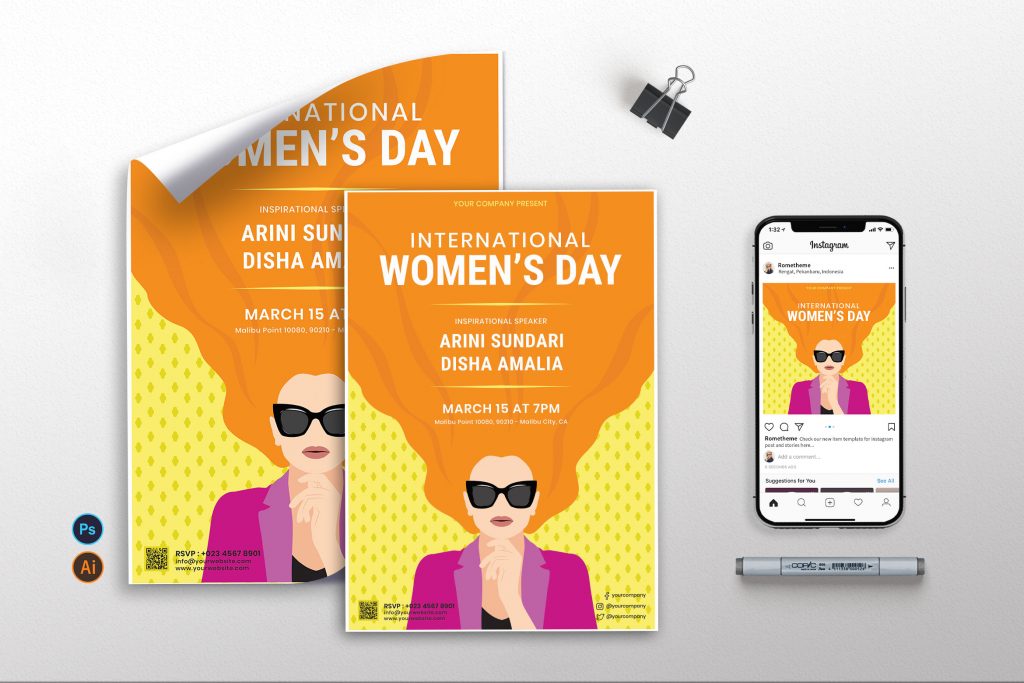 5. Women's International Day v4 – Flyer, Poster & Instagram
Simple and minimalist are the right words to describe this design that is in the 5th place. The interest in works that are not so iconic makes this design convey a clearer purpo se in it. At first it looks like a woman who lets her hair down in the wind, followed by a charming skirt. You deserve it, so buy it now!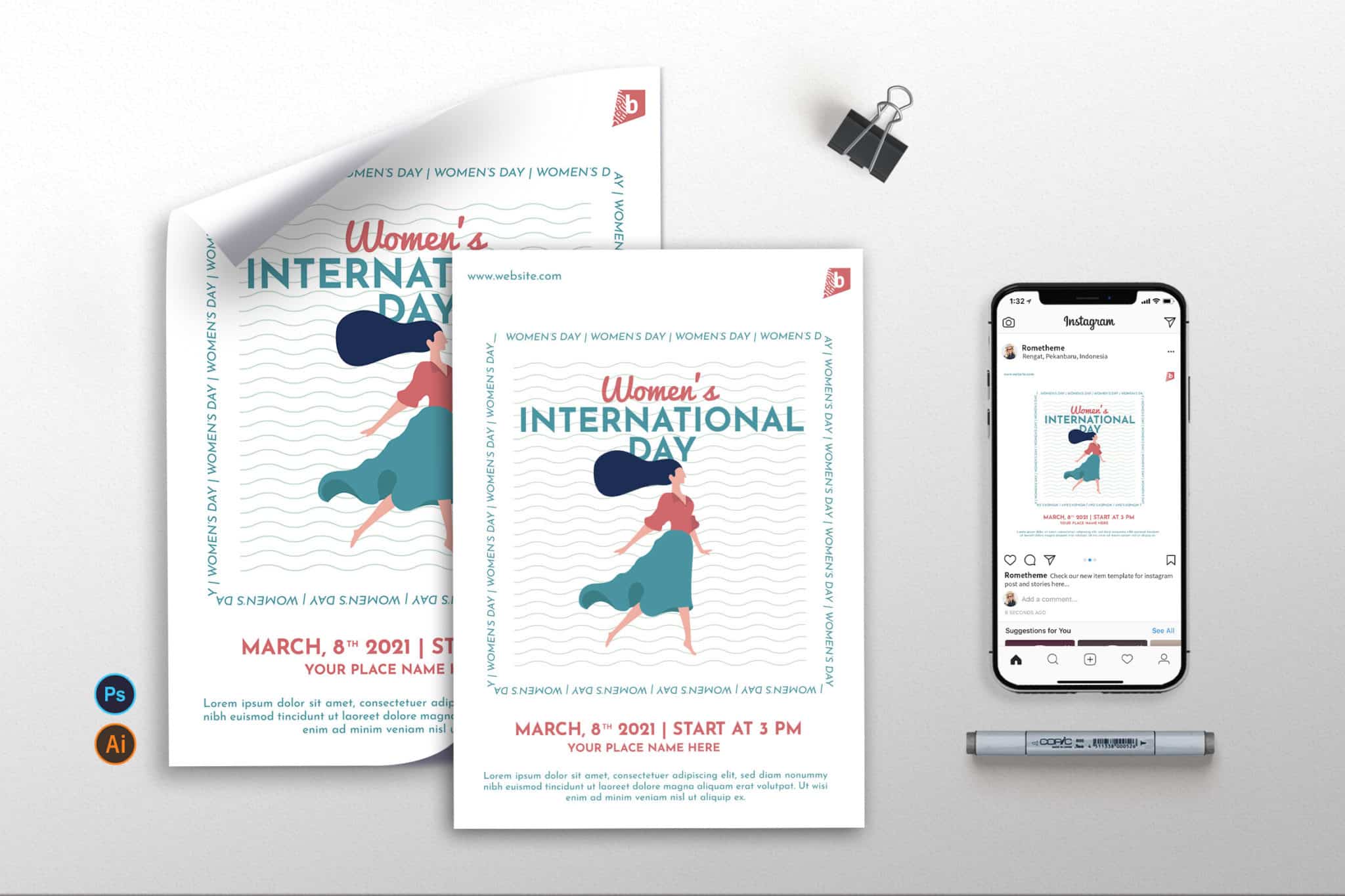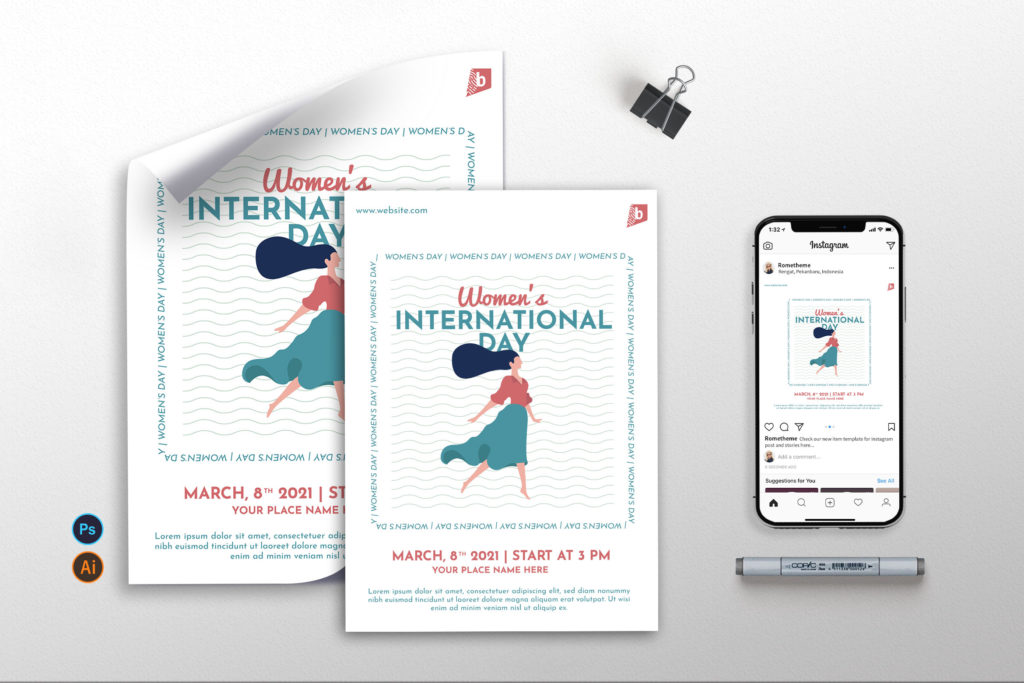 6. International Womens Day vol.2 – Flyer, Poster & Instagram
The right design influences your development to further think about promotional content that will be distributed to a set of targets that you have set. Drawing body parts or faces that match the characters needed by the customer is an important thing to pay attention to. You can choose some interesting elements in the set of flyers that you find.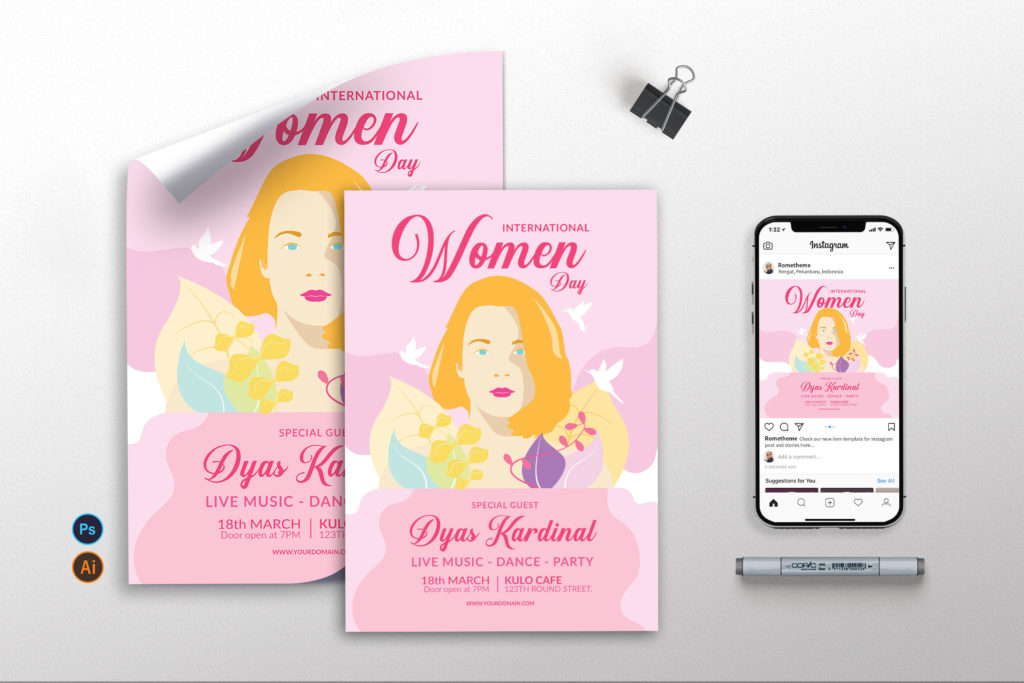 7. Women's International Day v2 – Flyer, Poster & Instagram
A strong soul need to be possessed by women in the world, from the flyer design that we see this time it gives the right meaning for that. Women can move beyond borders. Let them be free. You will be proud to have a great flyer. Available in PSD and AI formats.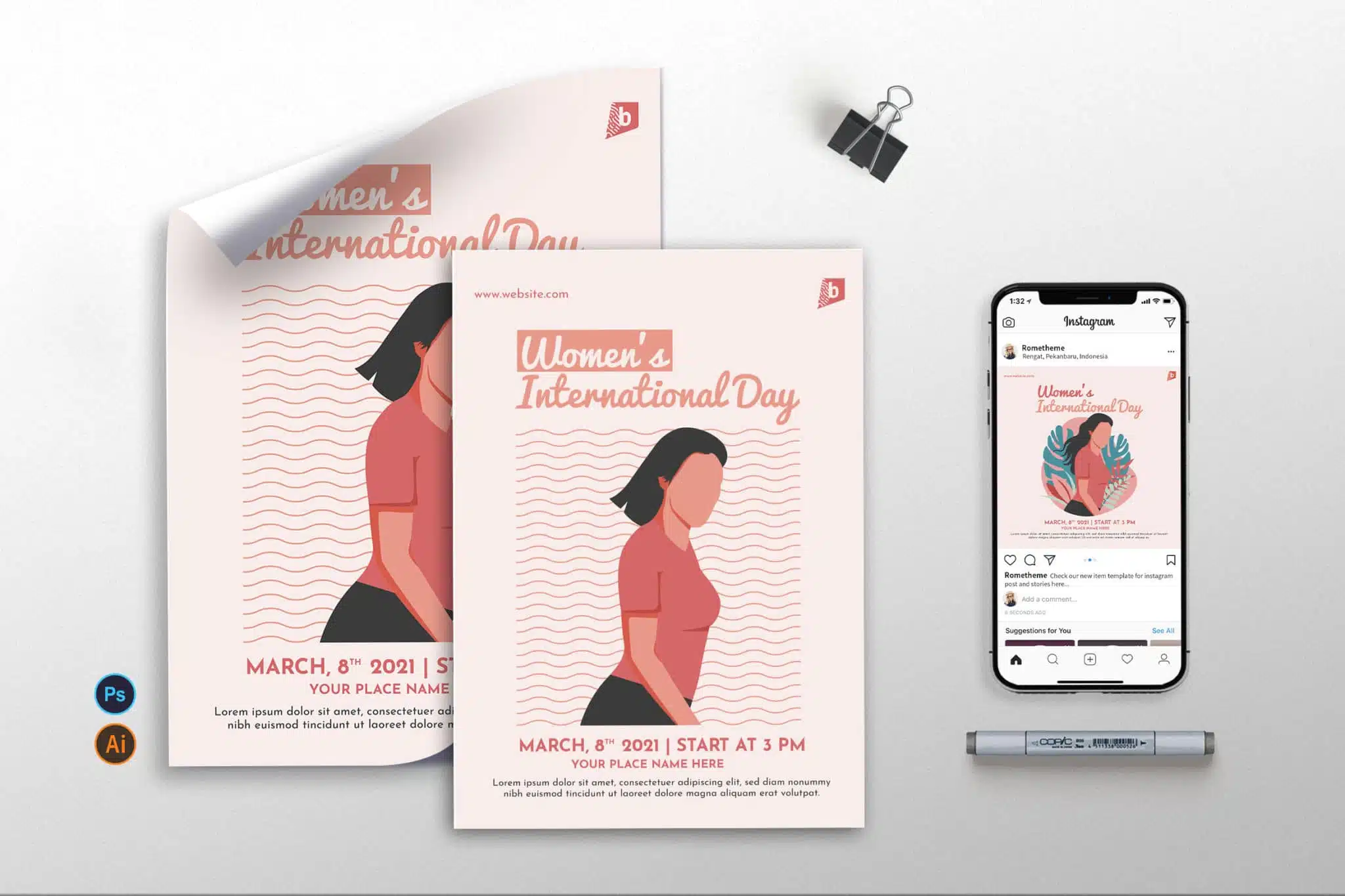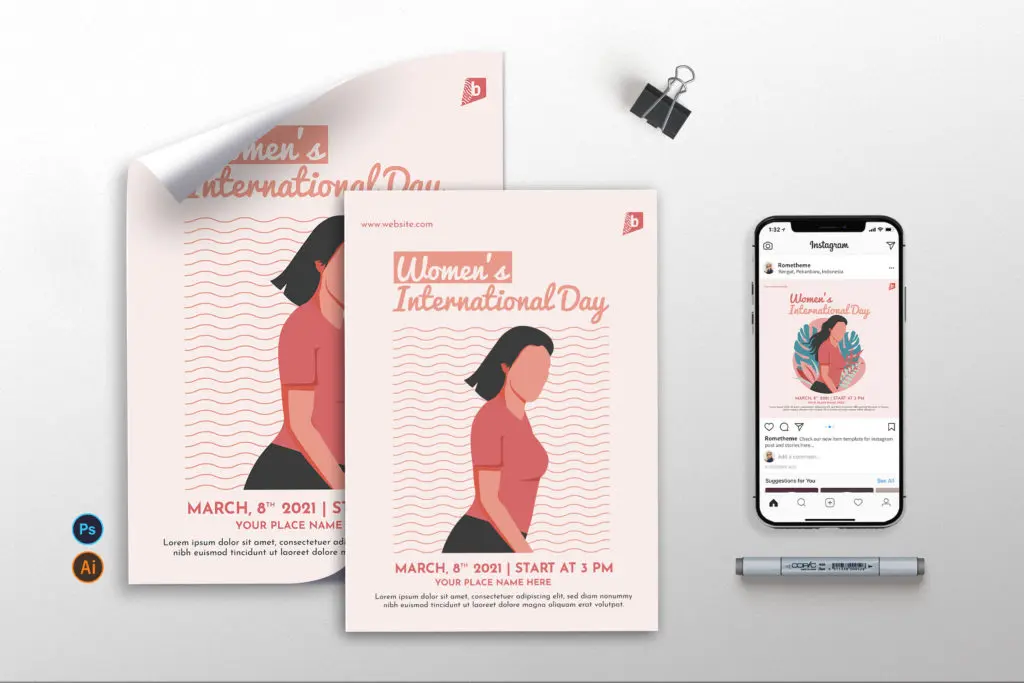 8. Women's International Day – Flyer, Poster & Instagram
An attractive flyer, of course in accordance with the current theme. Although you can create them to your liking and inserting all kinds of colors and elements, we recommend using soft pink as a color representative of feminism. You will find original Women's Day templates to celebrate such a unique day with your customers, either only to congratulate them or to announce any sort of event.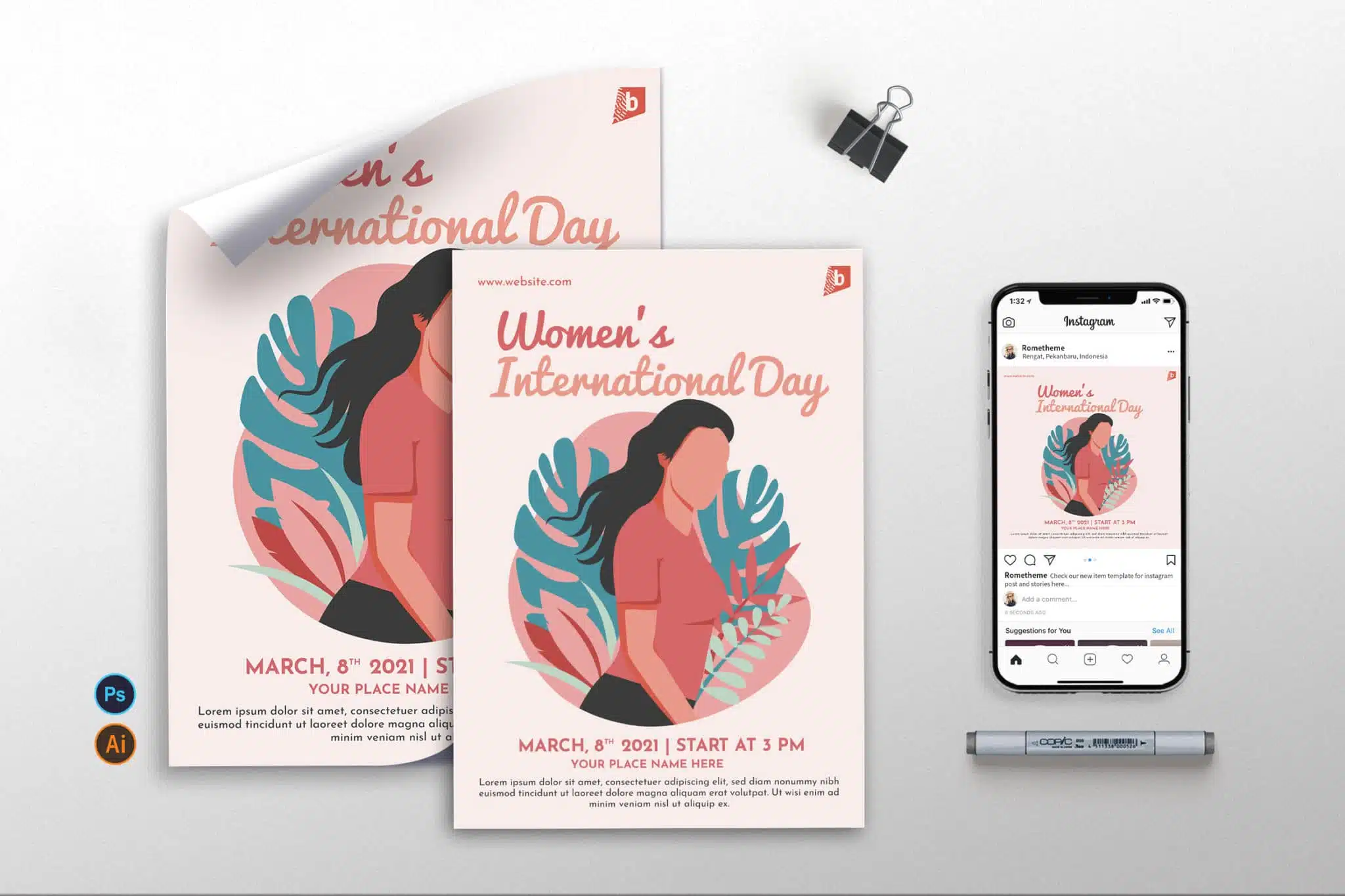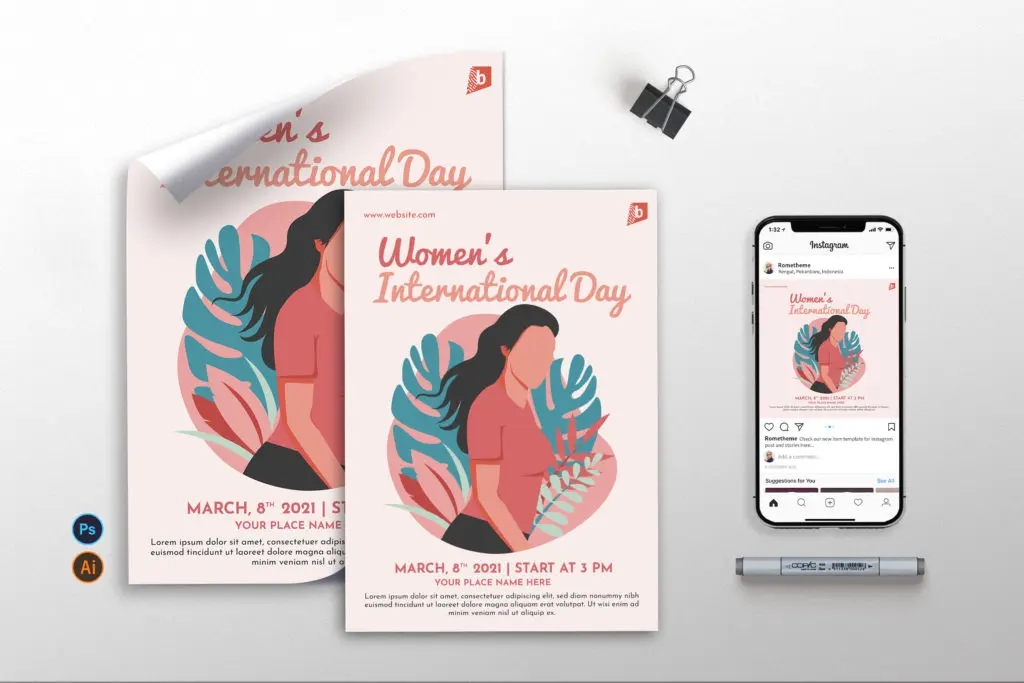 9. International Womens Day – Flyer, Poster, & Instagram
The painting of a woman among the leaves gives a very deep meaning to women. The inner beauty of women is very visible from the illustrated paintings pinned to the faces and leaves that beautify the aura of women to always give sincere love from within. No more thorns that pierce her essence as a woman.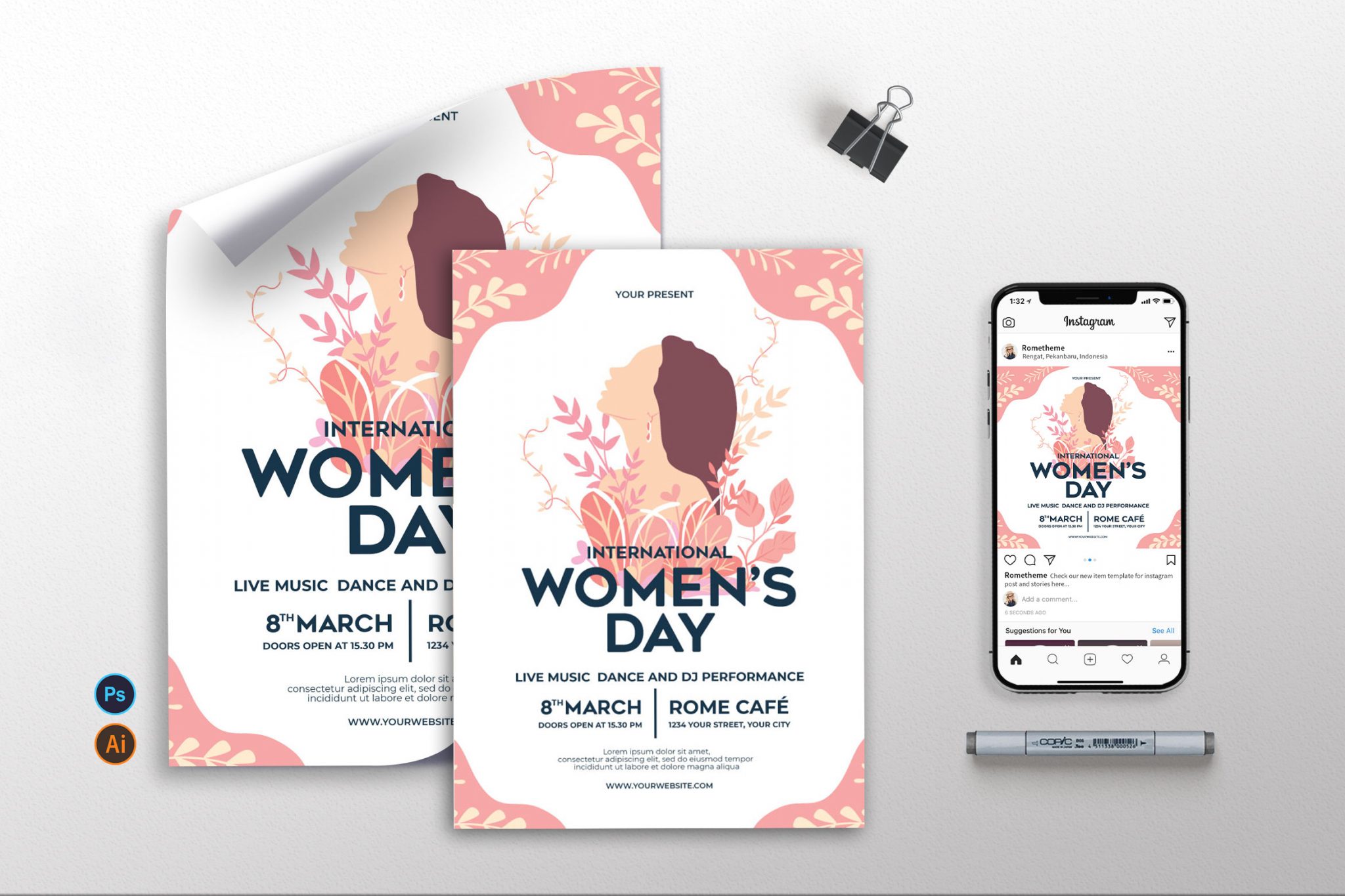 10. Womens Day vol.01 – Flyer, Poster, & Instagram
The Dutch noni with a hat on this illustration looks like Cinderella, her sweet smile makes this design has a strong characteristic in the application of world women's day designs. Let's add a stunning design to your pocket. See first? may and may. Don't get caught!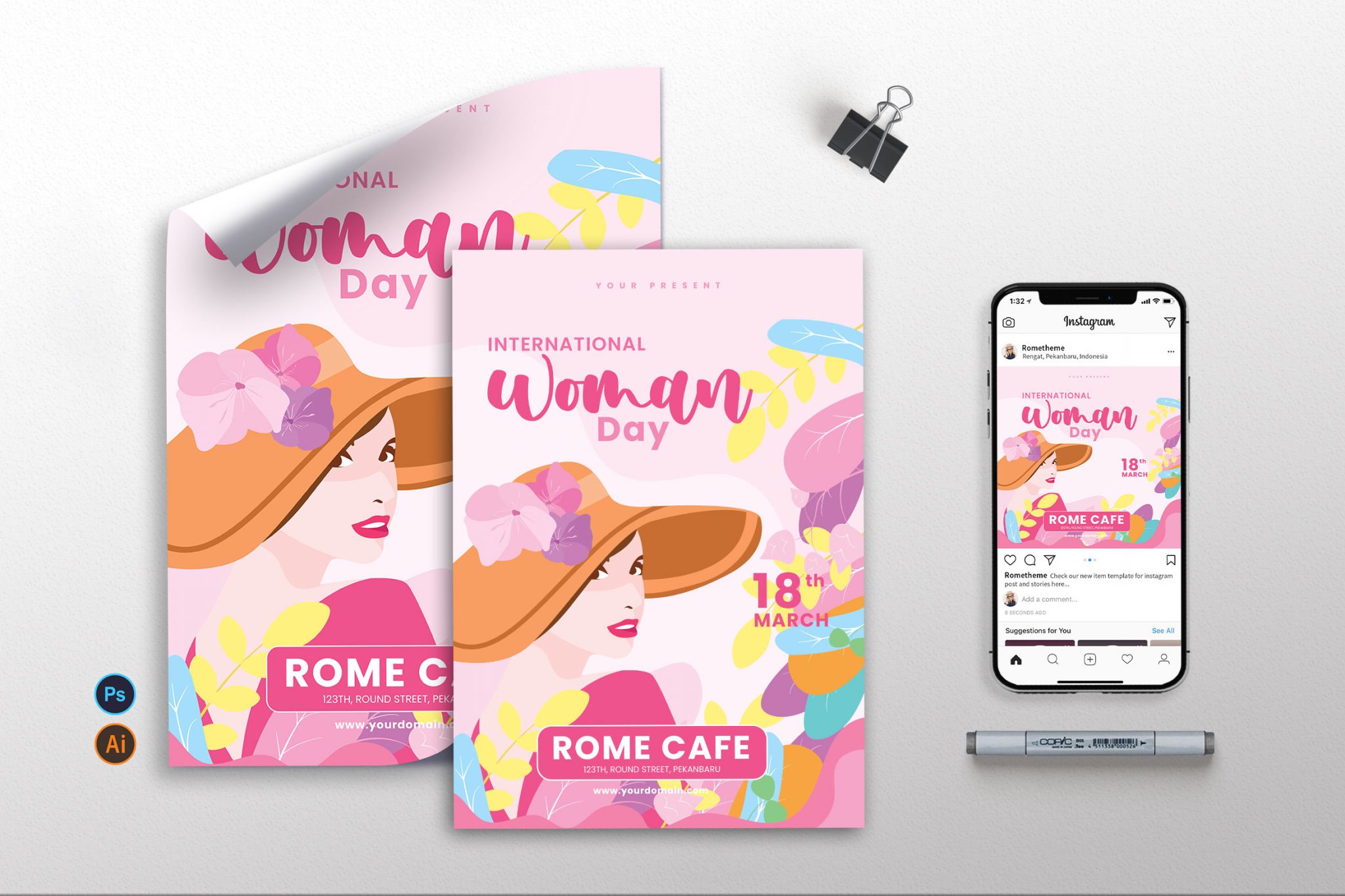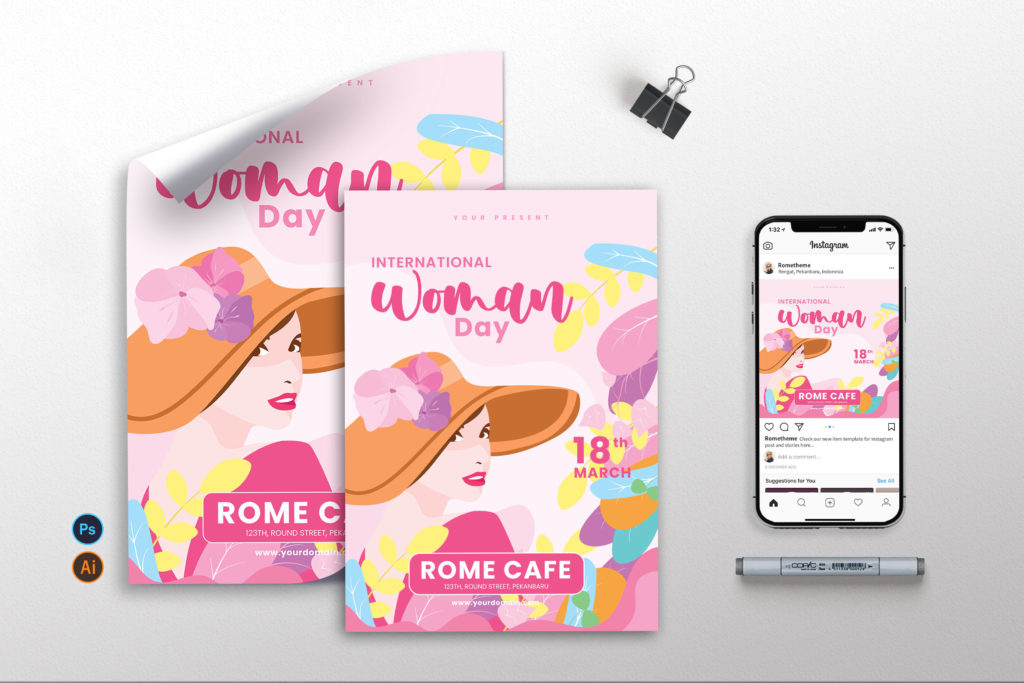 Finally, we have reached the end of the summary of flyer designs related to international women's day. We hope that this article makes it easier for all of you to choose which style and design taste is more appropriate to use. You can buy various kinds of design work on our website, for detailed questions or design costumes, please contact us immediately at the contact provided.
Thank you, Enjoy.
Rometheme.